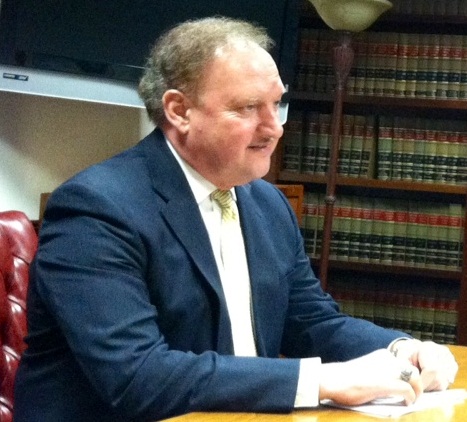 Today could have been Russell J. Bono's first day of retirement after a long career as a trash collector. Instead, he hung up his Norristown Police Department uniform yesterday after 42 years of service, the last 15 as chief.

"To this day, I'm interested in things people throw away — one man's trash is another man's treasure," he said. "But it's physically demanding work."
Apparently, he means more physically demanding than being a police officer.
So Bono made a career of policing, a job that appealed to his dislike of routine and his desire to help others. Police work "is a series of poignant moments," he said. "I've helped deliver babies. I've seen people die."
In his retirement, he plans on spending more time with his wife, Linda, their three grown daughters and seven grandchildren. He knows he missed birthdays, Christmas and other holidays because of his job. His wife and children understood, he said, because "that's the only life they knew."
Bono is 100-percent Norristown, born and raised in the seat of Montgomery County.
His mother stayed at home and his father worked at a factory making bricks, Bono said. His dad got emphysema, which ended up killing him. For a year, Bono was trained as a lathe operator and worked at the Hale fire pump factory.
"I knew I didn't want to do that the rest of my life," he said. So he joined the Army and served as a military policeman as part of a stateside honor guard platoon in Kansas that escorted the bodies of soldiers who died in Vietnam.
He joined the Norristown Police Department on June 1, 1971 as a patrolman. Back then, everyone knew their neighbors and stable neighborhoods made for easier policing. Crime — and drugs — were less intense then.
It was a big deal, he said, if someone was caught with one marijuana joint: "It was unheard of."
Heroin became a problem in the late 1970s and early 1980s, followed by the spread of cocaine. Crime increased as the drugs became more addictive.
"It got more violent and it got more frequent," he said. "People were desperate to get money" so they could feed their habit.
Bono thinks drugs continue to be the driving force behind most crime in Norristown.
Some big changes in policing occurred during his tenure.
There wasn't much undercover investigative work when Bono joined the force. The growth of drug use and drug-related crimes changed that.

"With drugs there was a whole network and we needed to get cops to go undercover or get informants to purchase drugs," he said.

Other advancements included computerized crime-mapping and portable technology.
"You get into a [police] car now and it looks like a space shuttle," with a computer and other electronic gadgets.
His proudest accomplishments were restoring calm and trust in the department when he took over as chief from his controversial predecessor, Thomas Stone, and helping the department to become accredited, which requires meeting high industry standards.
Bono, a Roman Catholic, always will remember meeting Mother Teresa when she visited the Church of St. Patrick in Norristown.
His hardest moment?
"The murder of Police Officer Tommy Barone in 1992," who was killed while responding to a domestic violence call.
Larry King, a former Inquirer staff writer, reported the incident on Nov. 6, 1992:
A single light bulb illuminated the stairway landing outside Walter H.G. Baker's dark second-floor bedroom in Norristown. Against that harsh light, Baker later told police, he could see the silhouette of a man stepping into his doorway at 3:30 a.m. Oct. 11.
He raised his .38-caliber blue-steel handgun and fired two quick shots, watching as the figure in the doorway crumpled out of view.
"I'm sure I hit him with one of the first two shots," Baker said in a signed statement given less than three hours later at the Norristown Police Department. But the 53-year-old handyman said he didn't realize at first that he had fatally wounded a police officer.
"I was asleep, it was like 3 a.m.," Bono said. "I got a call from Capt. Richet and he told me that Tommy Barone had just been killed. It was like someone punched me in the stomach and I actually fell to my knees in my kitchen."
Richet is now the interim police chief until a search committee chooses a permanent successor.

Bono — who has been shot at but never hit and who never killed anyone — thinks Barone's death changed the entire department.
"It just makes you more appreciative of life, more aware."