Plymouth Meeting Police Officer Bradley Fox and four other law enforcement officers killed in the line of duty last year were memorialized in Harrisburg Monday.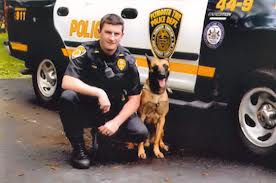 The Fraternal Order of Police Pennsylvania State Lodge organized the ceremony, which was held in the state's Capitol Complex. Others killed last year were Officer Avery Freeman of the Chester Police Department (April 30), Philadelphia Officers Brian Lorenzo (July 8) and Moses Walker Jr. (Aug. 18), and Trooper First Class Blake T. Coble, of the Pennsylvania State Police (Oct. 4).

State Rep. Marcy Toepel (R., Montgomery) presented a resolution in the House Monday that recognized Fox for his service to the community with Fox's family, friends and colleagues present. At the memorial ceremony, Rep. Mike Vereb, a former police officer, presented a resolution on behalf of the House of Representatives.

"Our brave law enforcement officers don't think about the dangers they face each day, and today is proof of how dangerous it is out there on the streets for our men and women i
n uniform," said Vereb (R., Montgomery). The first officer in Pennsylvania believed to have died in the line of service was a Venango County constable who died in 1825, according to Vereb's office. Since then, 731 law-enforcement officers have died while doing their job.

This is the 20th time the Fraternal Order of Police state lodge has organized such a memorial.
(Photo above of Officer Bradley Fox and his K9 police dog Nick, from Officer Brad Fox Memorial Website. To the right Fox's wife, and parents stand in the first row along with state representatives from Montgomery County and county District Attorney Risa Vetri Ferman. Photo courtesy of Reps. Toepel and Vereb.)