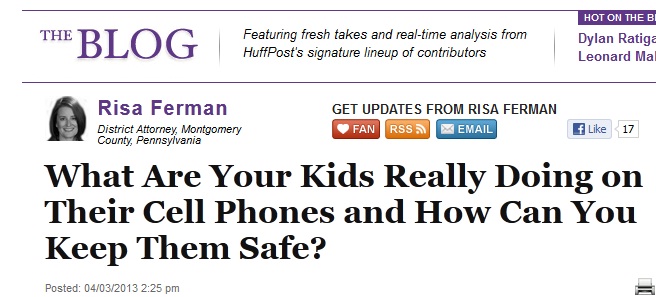 We don't usually like to talk about competitors, but we will this time, because Montgomery County District Attorney Risa Vetri Ferman will be blogging regularly for the online Huffington Post. Her latest posting was Wednesday and was about cell phone safety with your children. Here are the first couple of paragraphs:
"Mom, when can I have a cell phone? I need a cell phone! Everyone has one!!"
How many us of have fought this battle with our kids? How many of us have given in and handed over a mobile device that gives our children, at the youngest ages, complete access to the world -- with all of its lures and dangers, with access to predators and opportunities to bully? Many of us feel helpless when faced with both the youthful demand for technology and our own inability to understand how it works and how it can be used -- or misused.
How did all this come about?
"At the L'Oreal Women of Worth Awards Dinner in New York City in December, Arianna Huffington presented my award. I had the pleasure of sitting with her during the evening and talking throughout dinner. We discussed my work in Montgomery County, particularly my focus on the safety and security of children. She asked me to consider blogging for The Huffington Post and we traded information," Ferman said Friday afternoon.
"The first Blog post I wrote was about, no surprise, the importance of child advocacy centers, like Mission Kids. That post was done as part of a series written by each of my fellow "Women of Worth." Thereafter, the editorial staff from The Huffington Post gave me blogger credentials so that I have the ability to log in and post new content whenever I choose."
She isn't sure how often she will be writing.
"As you know, my "day job" keeps me pretty busy," she said. "I plan to write when a topic arises on which the District Attorney might be able to offer a relevant viewpoint or voice. It makes sense to me to focus on issues related to keeping our community and children safe."