I saw three memorable shows on consecutive nights this week, and if I had to rank them, I'd say: Roky Erickson, on Monday night at Johnny Brenda's - good. Roger Waters, on Tuesday at the Wells Fargo Center - better. And Sufjan Stevens, Wednesday at the Academy of Music - best.
Stevens gets points for daring to follow his instinct for near total re-invention and for the plain fact that no matter how hard he tries to break his sound down to drum machine beats, glitchy synths and screaming guitar clotted noise - as he does on the frankly difficult The Age Of Adz - he can't help but make beautiful music when he simply sings and plays an acoustic instrument.
My review of Steven's show is here. Below is my one cell phone shot that didn't come out terribly. That's Suf crouching in the background, behind his dancers.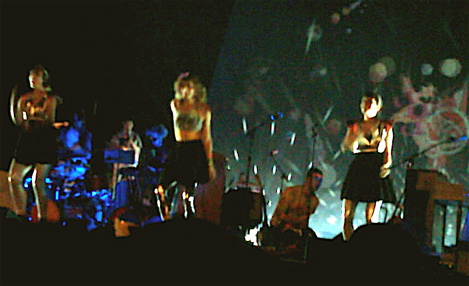 Previously: Danilo Perez' Panamonk Revisited