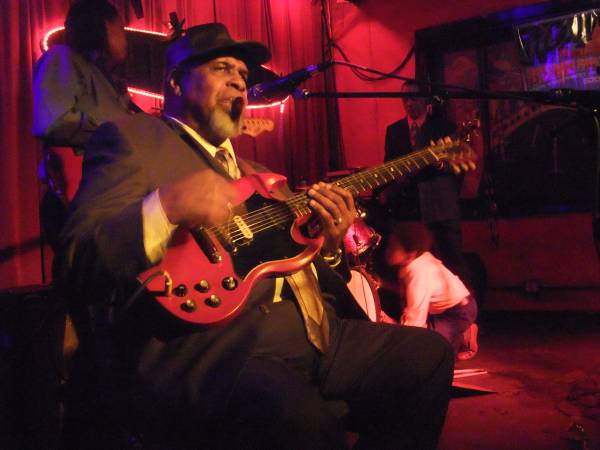 My first out-of-the-blue discovery of SXSW was last night at the Continental Club, where after catching Sonny Throkmorton (who wrote "The Way I Am" and "If We're Not Back In Love By Monday" for Merle Haggard) and unjustly obscure Lubbock songwriter David Halley at Threadgill's, I was off to see Black Joe Lewis & the Honey Bears celebrate the release of their wicked new Scandalous with a hometown show.
I had never heard of the opener: Classie Ballou & the Family Band. Ballou is the Waco, Texas based sizable gentleman seated Solomon Burke-like on the left. That's his daughter Cechaun, who's got a warm caramel colored soul voice ("She sings almost as good as Beyonce," according to her father) on second guitar, and his 11 year old grandson Cam'ron on rub board. (Later Cam'ron switched to drums, and after the show I asked him who his favorite drummer was. "Tony Royster Jr." Ever heard of ?uestlove? "?uestlove? No.")
Classie Ballou, it turns out, is a Lousiana born guitarist who's played with Big Joe Turner and Boozoo Chavis, and had a couple of regional hits of his own - "Hey Pardner" and "Classie's Whip," each of which work a pretty irresistible super old school R & B groove and are delivered with the stinging precision of surf-rock. The man's an entertainer. Though he may be a bit out of practice, admitting that when he plays his music in Waco, they look at me like I'm crazy," while apologizing in advance for any bum notes. He's got a little doo-wop and a dash of zydeco in his repertoire, and geographical proximity can be blamed for the Dallas Cowboys references he drops into Chuck Berry's "Johnny B. Goode." Read more about him here.
Previously: From the 215 to the 512