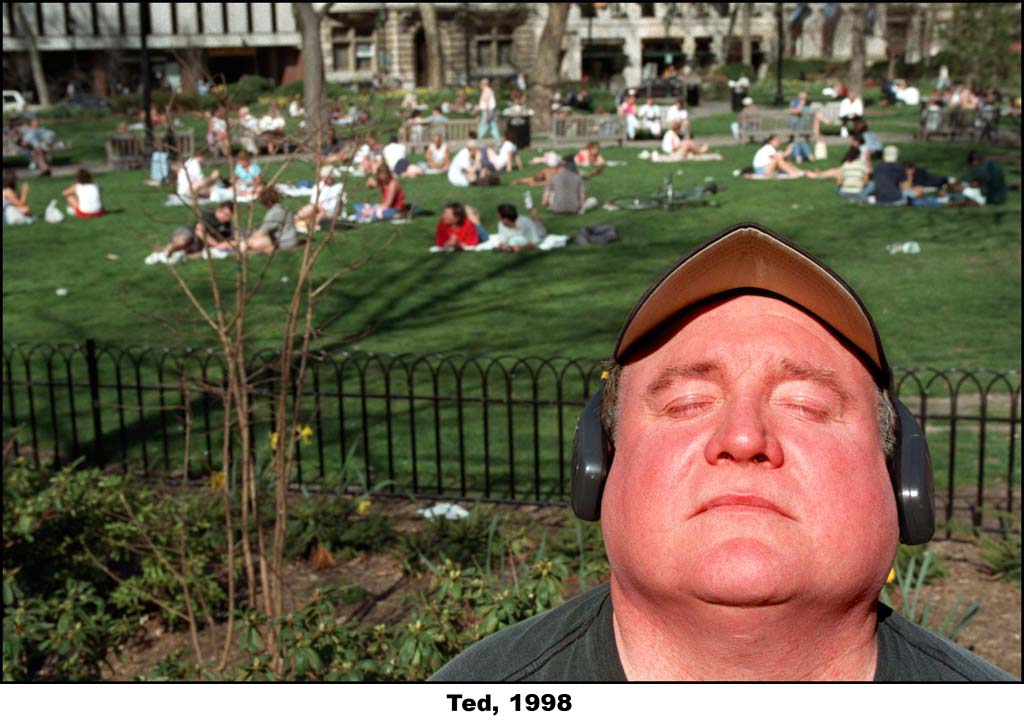 Ted was one of the people interviewed by Inquirer reporter Jeff Gammage last week for his story on new census figures released for Center City. Ted has lived 30 years on Rittenhouse Square and watched Center City change.
"It's a great city," he told Jeff, "Plenty of eateries, theater, art, a lot of nice people - and not so nice people…The park attracts everyone, the richest to the poorest, every race and color. It's neat."
When I started photographing him, he said "My picture was in the Inquirer before. I was sitting on the wall over there - I wasn't in a wheelchair then - with my Chihuahua."
Well, lots of photographers take pictures in the park. Many from the Inquirer. I've even made a few, but I didn't recall ever shooting Ted and his small dog.
Ted continued telling us about how his face was "all over the city - literally." Ted described seeing the newspaper blowing on the sidewalk, laying lying on a park bench, and he imagined - lining bird cages and wrapping fish.
I wondered to myself which of my co-workers it might have been, and chuckled as I was reminded once more how temporary newspaper images really are.
Then he said, "it was in March, a really warm day." That's when I realized I was his photographer.
I don't believe I didn't recognize him. The picture is even one I show when making presentations at camera clubs for years, at the point in the Q&A, when the inevitable question "how do you approach people about taking their picture?" comes up. As I answer the question, I open the folder of "people pictures" and Ted's is the first one that pops up on the screen.
"Imagine you're in the park, headphones on, eyes closed, grooving to the music, soaking up the sun on your face on the first really warm day of the spring," I tell the audience. "And then you feel someone real close. Opening your eyes, it's a guy with a giant lens inches from your face!"
So, I tell the audience, I had no choice but to disturb hm. To get the picture - and show all the other people on the grass behind him - I had to tap him on the shoulder for one of those, "just keep doing what you're doing."
I've always thought of him as the "sunburned guy with the serene face." Never the "guy on a wall in the park with a small dog."
I still don't remember the dog.