The beginning of September means the end of summer at the Jersey Shore (the place, not the MTV show), back to school, hurricane season (and the anniversary of 9/11 - tomorrow's post topic). A busy week.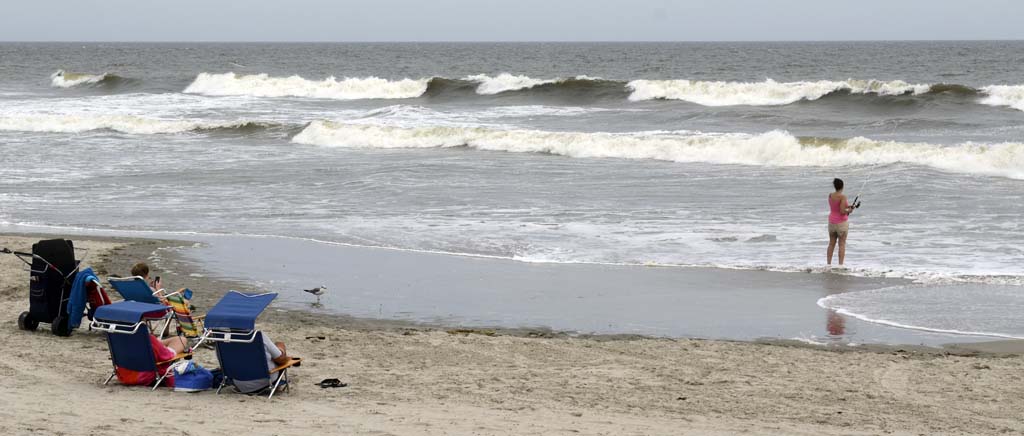 After vacationers were evacuated during Hurricane Irene, there was a lot of media attention to the Labor Day holiday. The Inquirer had stories all weekend, and I was there on Monday as everyone headed home again, this time leaving behind the year-round residents, and for a few days anyway, the international student workers here under the State Department's J-1 visa program. These guys are all from the Republic of Macedonia. Click on one of the shore photos, or here, for a gallery with more images.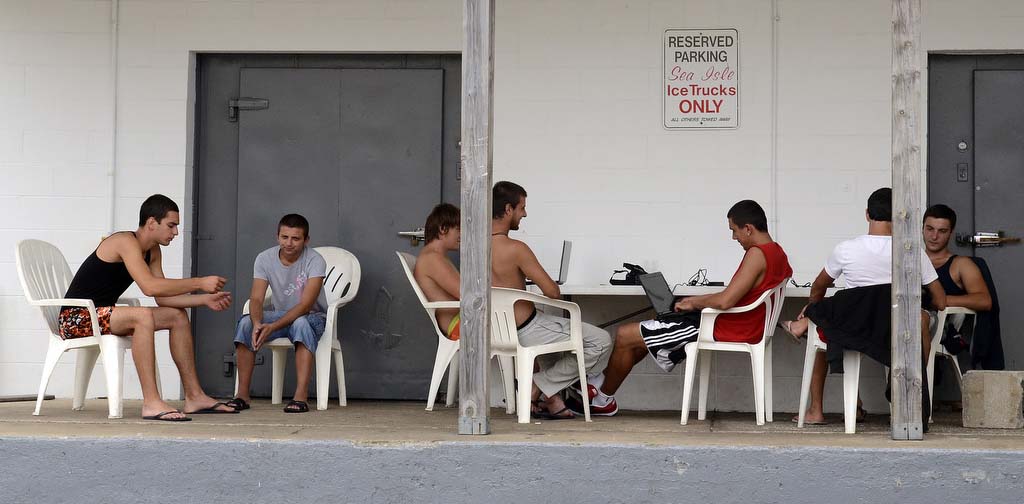 I photographed at two NJ high schools his week: a new charter school in Camden, and in the suburbs, in South Jersey's fastest-growing district. Both schools were very accommodating.
I am still amazed - and grateful - that ordinary people allow journalists into their lives: "Getting ready for school to begin? Can I come in and see what you're doing for a half hour or so?"
That's what happened as teachers prepared classrooms at the former Washington School building for some of Camden's most at-risk students. Inquirer writer Claudia Vargas reported this is the first time the Camden School District is partnering with a private entity for an alternative-education program. Click on the photos, or here, for a gallery of more of my photos.
Kingsway Regional High School in Woolwich Township, which serves students from Gloucester County five communities is the fastest-growing district in South Jersey. It the first day of school, and the first school day for brand new principal.
The "day in a life" theme is one of the oldest in photojournalism, and the type of assignment I still relish most. There is nothing like having the luxury of time to photograph life as it unfolds and cooperation of people to allow us to watch them go about their day.
Principal Craig Stephenson let us be "flies on the wall," following him around the hallways freelance writer Robert Strauss said in his story could "rival rush hour on the Commodore Barry Bridge for congestion."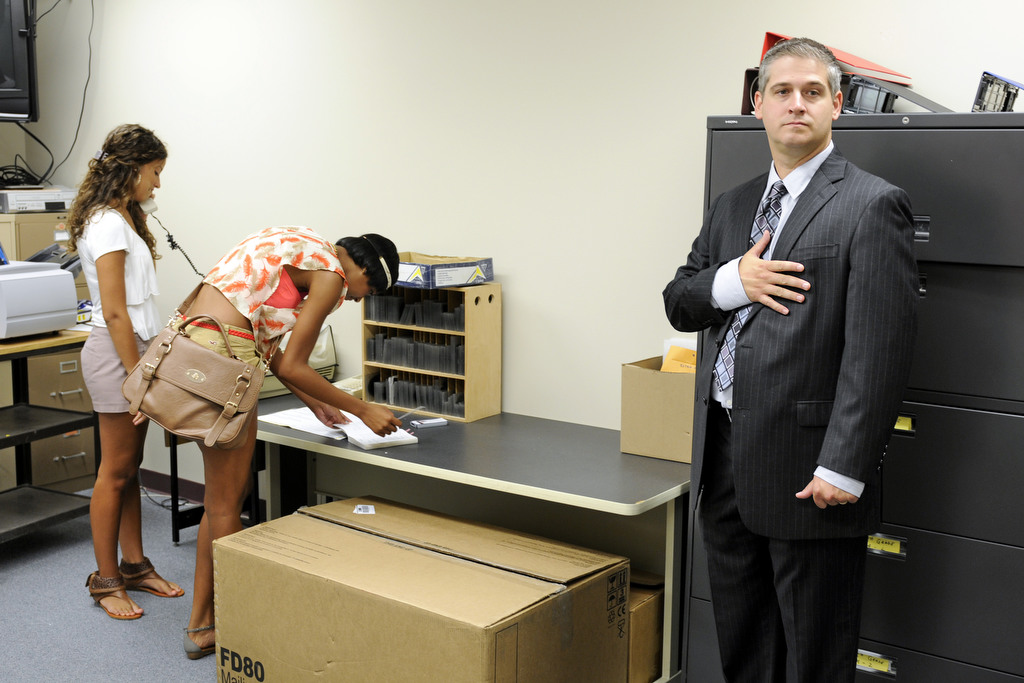 The first day of school is not the most typical for a principal, especially on a compressed half-day schedule, so a few hours doesn't always produce a great variety of visual opportunities.
But that is also part of what makes a "day in a life" assignment fun and photographically challenging. You get to see patterns emerge and often get second chances to shoot the same situations (he spoke at 15-minute assemblies of each of the four grades).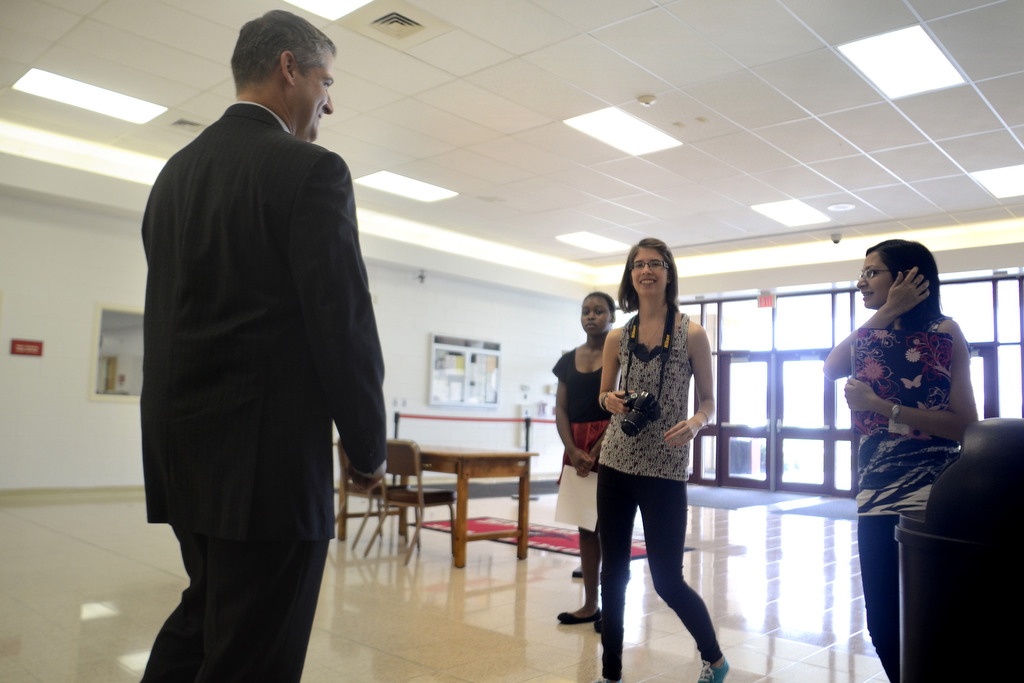 Every time the hallways filled with students, and Stephenson stood by greeting students giving directions was an opportunity to try a higher angle, a slower shutter speed, a longer lens. That's the school newspaper - "The Braggin" Dragon" - interviewing him. Again, Click on one of his photos, or here, for more.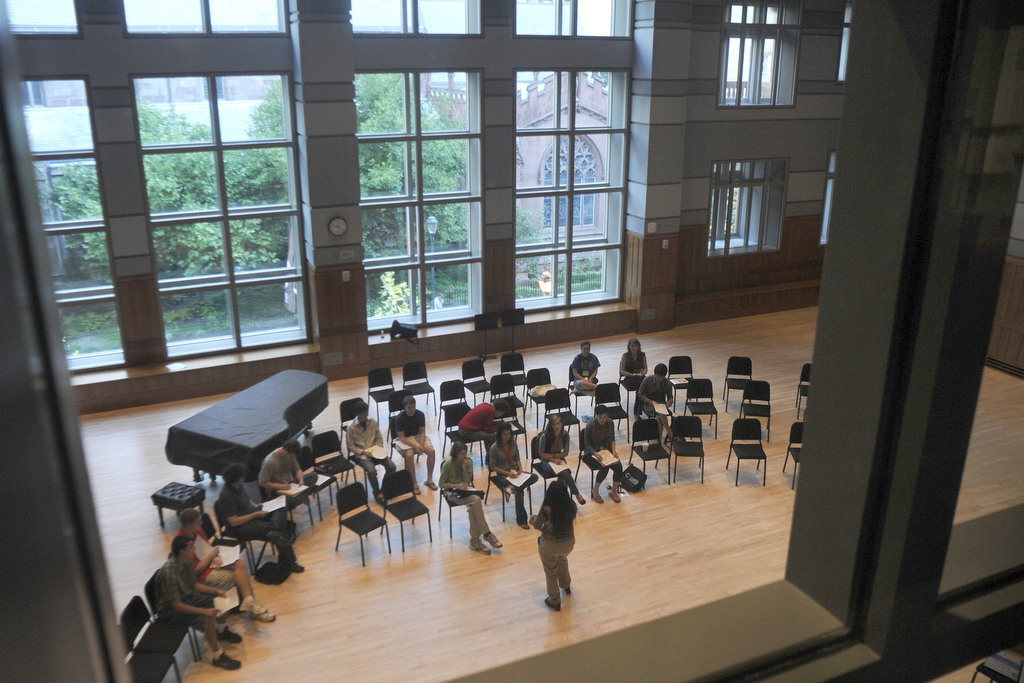 Back to school also means college "Move in Day." I skipped the usual suspects; Penn, Drexel, Temple, & St. Joe's to photograph students moving into the brand new dormitory at the Curtis Institute of Music. Using the nine-story Lenfest Hall - the first major expansion at the school in more than two decades - as a news peg, The Inquirer is planning a package of stories, and a web presentation for next month, on the prestigious school that most Philadelphians don't even know is here.
So I have been photographing on and off at the school since last April, starting with the orchestra's final concert with student members of the Class of 2011.
Because the dorm is a new experience for Curtis, they wouldn't let me onto any of the residence floors, so no pictures of students settling in. Also, unlike the bigger schools mentioned above, only 80 students (half the student body!) will live in Lenfest Hall. So pictures were kind of hit-or-miss. Over the three days of moving in, with students not required to tell anyone when they'd be coming, I spent most of the morning just hoping. That meant watching entry ways on two sides of the building, in between trying to photograph activity in the common areas on the open floors of the new building for a story Inquirer critic Peter Dobrin was writing in advance of the official ribbon cutting. See those photos here.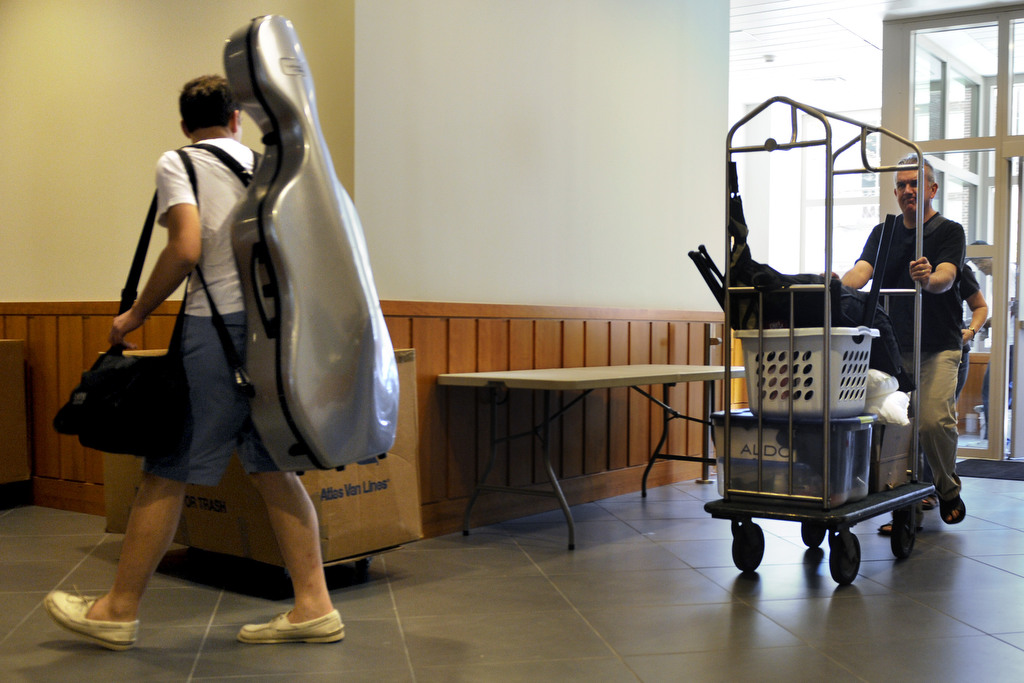 I would be upstairs in the percussion studio when a Curtis staffer would say "so and so just arrived," and I'd run down to see them just heading into an elevator door. At one point a cello student was leaving with his parents and a luggage cart. I asked if everything was out of the car yet, and he said, "We're not using a car. I'm moving from an apartment a block away." I debated asking to come with them, but didn't want to scare them off after the lobby "ambush" and figured the photos were not about the old living quarters anyway. So I asked if I could photograph them when they return.
Waiting outside for them to walk up the street, I decided to shoot video. It made for a good b-roll scene, real urban-looking, complete with a small dog pooping on the end of a leash held by a well-dressed woman in the alley behind them. But the cart was filled mostly with sealed cardboard boxes, so I asked if they were making any more trips.
On my way in through the back door, I saw a taxi pull up in front, and a young person emerge. By the time I ran through the building out to the sidewalk, he'd already taken his two bags out of the trunk and the cab was pulling away from the curb (he said he travels light, and his instrument is internal - he's a voice student - so no big case for that.)
By the time I remember my cellist, and head back down to the back door, he is already back in the building - with the cello on his back!! I completely missed them coming up the street, and was only able to grab a quick frame as he turned toward the elevator.
A few days later, at the actual ribbon cutting, I felt free to concentrate on images of the rain, since the we had already done so much on the building (there was also a review of the building by Inquirer Architecture Critic Inga Saffron).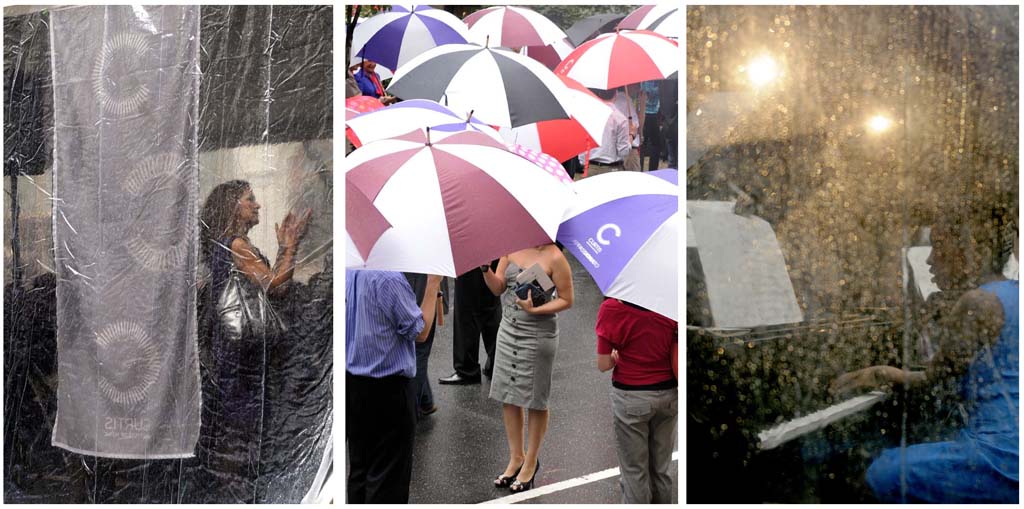 The photo above, of St. Marks Church in the rain, viewed through the roof of a tent on Locust Street set up for the ribbon-cutting reminds me, I once promised to run the color versions here of photos that appear in B&W in my weekly newspaper column, "Scene Through the Lens."
A longtime reader asked about last week's photo - of what she called a moonflower blooming next to a partially-demolished monastery near Girard College (The Poor Clares lived and prayed there for decades before departing in 1977). So Anne, here it is in color:
Back to the rainy tent photo. That will be Monday's photo in the column. So you're seeing it here first. It's one of those monochromatic "color" photos, that probably won't look that much different in B&W.
Unbeknownst, to me, or apparently many Thursday morning commuters, that rain was just the start of a seemingly interminable spell generated by the remnants of Tropical Storm Lee. The rain - more than generated by Hurricane Irene two weeks ago - swelled rivers, caused mudslides (closing down the Schuylkill Expressway) and cutoff whole towns turning roads into waterways.
I was working a later shift, and already had a couple of assignments, so when I awoke and heard all the traffic reports I figured the early shooters had it covered, and it'd be all over by the time my day stated.
Not so. It ended up being an all day event, even bigger - except for the power outages and lost lives - than Irene.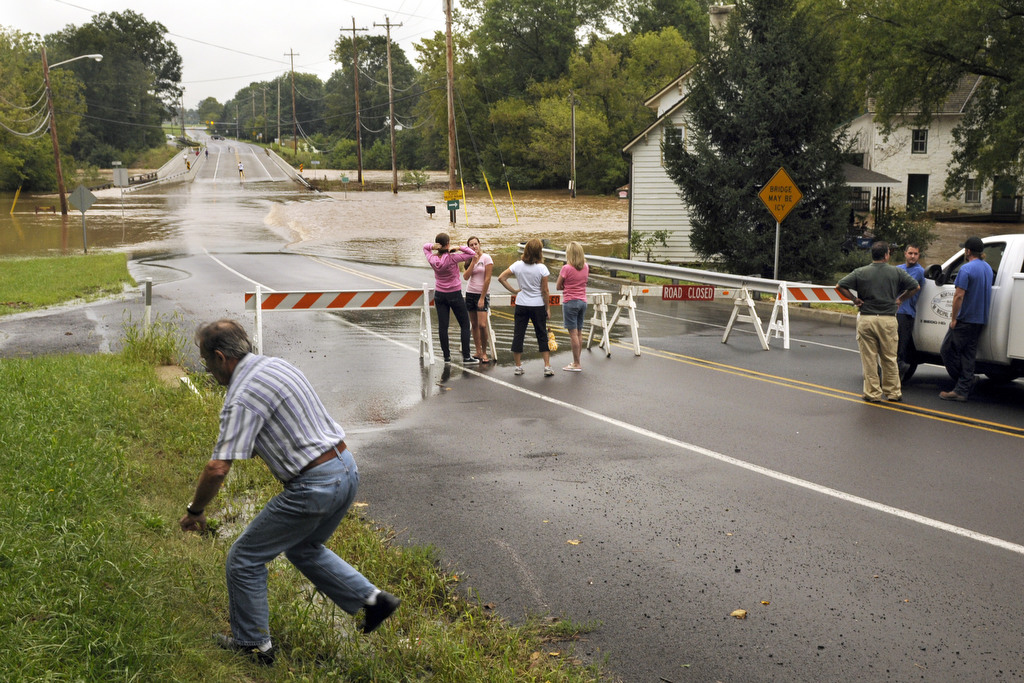 I was first dispatched to the Ambler area, where ramps to the major highways - Route 309 and the Pennsylvania Turnpike were flooded and jamming up roads all around. Almost an hour drive from my home on a good day, as I listened to traffic reports on the radio as I drove it was looking like it could be hours before.
After pulling over a few times to check traffic and other media reports of areas flooding, I decided to head instead to Bucks County, where Newtown was cut off from the south by flooding of the Neshaminy Creek, near all five bridges into the borough.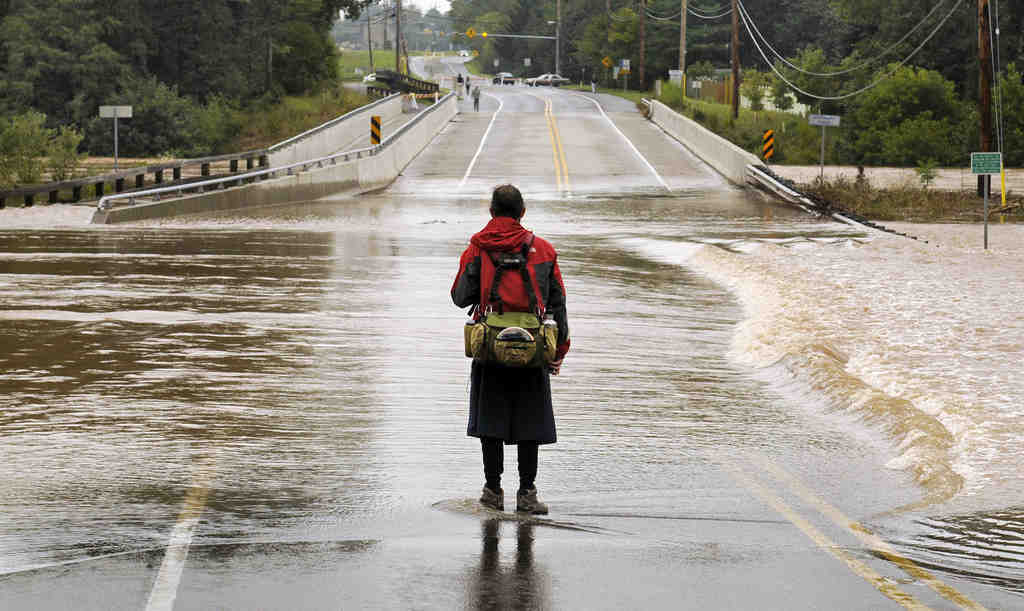 A young man, on his way to practice his disc golf in Tyler State Park for this weekend's Eric C Yetter Champion's Cup Tournament was debating crossing a washed out road. He made a few cell phone calls, studied the current, and started walking. Turned out the water only came up to his thighs. I don't know how he did in the tournament, or if the pratice made any difference.
Watching him, a young mother of two boys decided to follow. I was already back at my car when I saw them get halfway across before tuning back. She told me she had no reason to cross, that she just wanted her sons to "experience" the flooding...
Trying to cover widespread events news breaking in unfamiliar areas is always tough. You can't really call pubic safety officials to ask "where is it bad?" when they're usually very busy, well, keeping the public safe.
You can often get to a starting point by listening to traffic reports and looking at maps. Then when you show up in a neighborhood, the people you meet there are always helpful in directing you to spots where trees are down, power is out, roads are closed, the snow if really drifting - or which coffee shop is still open. More photos are included in the gallery of flooding throughout the region.