I was in Camden's Tent City again this week, looking to photograph activity before, during and after an April 15 "deadline" to evict all the residents from the woods inside the I-676 exit ramp. Click here for a gallery of photos from the compound over the past year.
There was a meeting of the Tent City Task Force the day before looking for the best way to close down the compound and place everyone in housing. The group, comprised of government officials, homeless advocates, and representatives of non-profits has been unable to come up with a coordinated plan or timetable.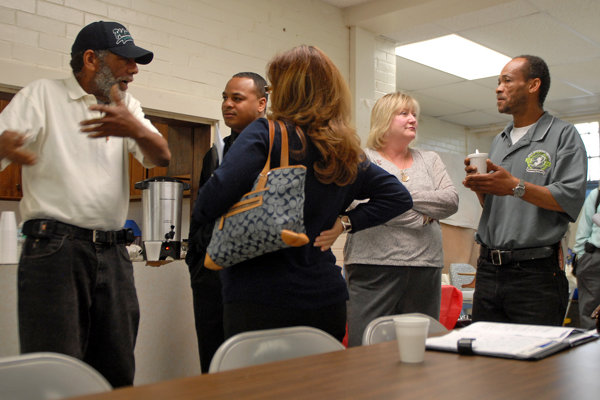 Speaking after the meeting, Jennifer Fradel, an attorney for the state Department of Transportation, which owns much of the land, told Inquirer writer Matt Katz, "There's no specific policy or strategy that's been determined by the state as to what to do...but continued occupation of that area can't continue."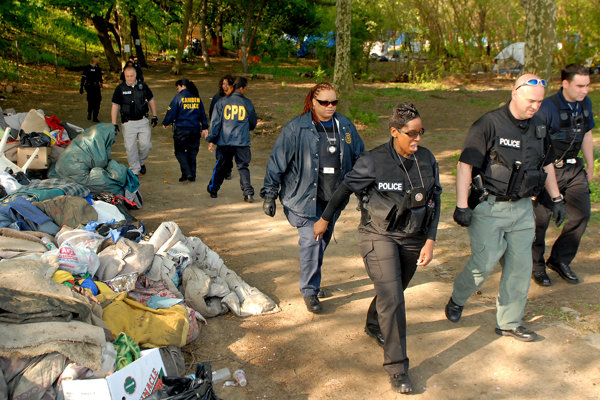 Early Thursday morning the cops arrived. They were looking for a suspect in a downtown robbery. The residents weren't worried. Later on, it got even busier. I was photographing the activity, looking for a way to crop out all the other cameras, media, and visitors hanging around - including one guy in designer shades, hands crossed behind his head, face turned looking up toward the sun, just sitting on a folding chair in the dead center of the compound. I talked with Inquirer columnist Karen Heller, who was looking around Tent City for the first time. I found her perspective - "you know, we're all part of the problem" - refreshing.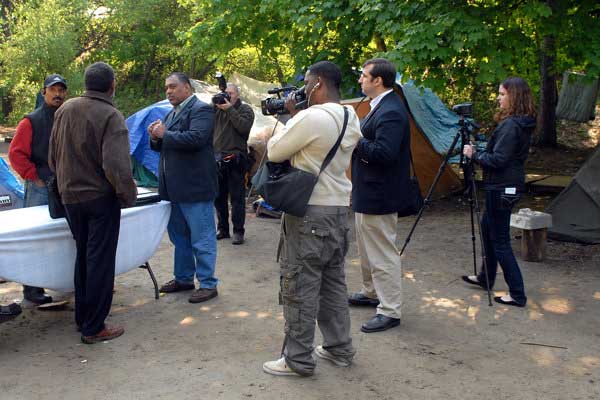 She writes in today's newspaper, "perhaps the attention has become the new drug, one that rather than hastening [Tent City's] dissolution is sustaining its momentum." Karen wonders if the campground, with its mayor, press-savvy spokesman with a laptop and cellphone, and a board of directors, isn't getting a bit too used to looking at themselves in the newpapers and on television.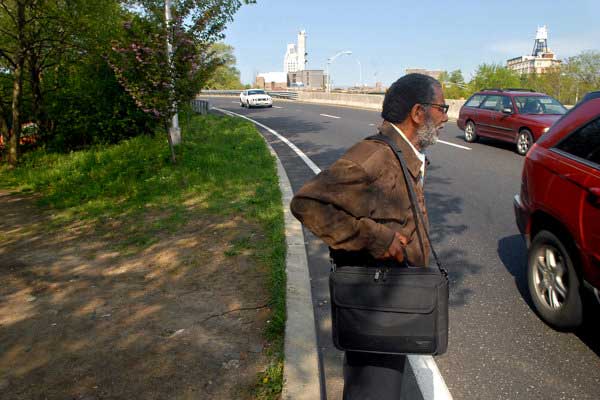 Coincidentally, also in the paper today is a profile of Project H.O.M.E. co-founder Sister Mary Scullion. In 1978, shortly after she joined the Sisters of Mercy, Mary was looking for something besides a one-week retreat in the motherhouse. Instead she spent seven days and seven nights living on the street with other homeless women. "Being with them," she tell Inquirer writer Jennifer Lin, "was the most profound experience I ever had of God."
Could that be the something the guy in the sunglasses...and everyone else is looking for?