When you recall something that changed the lives of millions of people, it seems silly to say: "Look at me, see how this really affected me. Here's a picture of me..."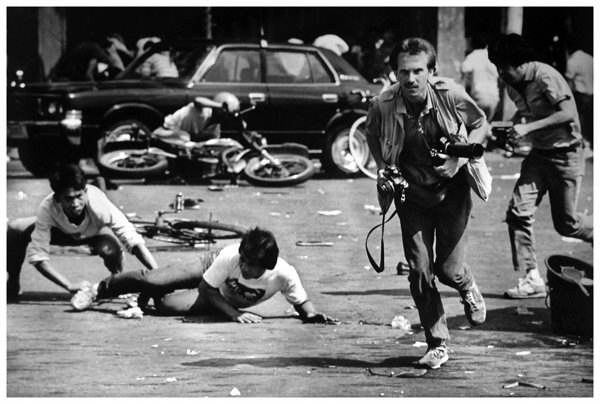 But that's what I'm doing anyway. Covering the 1986 People Power Revolution and Corazon Aquino in the Philippines was indeed one of the most exhilarating assignments of my journalistic career. If nothing else this week, I wanted to share my memories with friends, colleagues and my family. So, yeah, look at me...on Feb. 23, 1986 outside the Filipino White House - Malacañang Palace - where crowds had gathered to protest President Ferdinand Marcos. Chicago Tribune photographer Bill Hogan took the photo.

The street was wall-to-wall people, and I had just waded into the middle and taken off my viewfinder prism (you can see it missing on the camera in my right hand) and was on my tiptoes with my arms extended above my head, looking up into the upside down viewfinder, trying to get some elevation to show crowd, barbed wire barricade and palace guards when they started shooting - into the air - to break up the crowd. I was immediately knocked to the ground as everyone took off running. After crouching behind a cardboard box (?) for a few seconds, I got up and made a dash to the sidewalk.

That was in the middle of the most intense four days of the revolution.