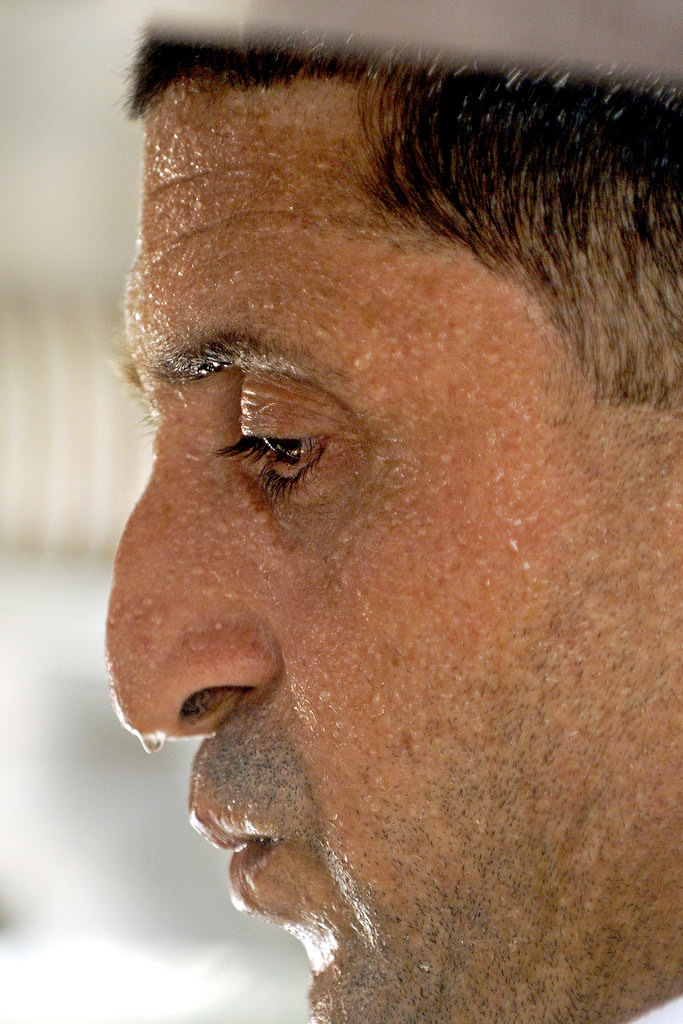 After a couple days of this heat wave, I wasn't looking for kids playing in fountains. Especially on the day Philadelphia actually sets a record (we seldom get above 100 degrees - 104 is really hot).
So when I was assigned - for the fourth day in a row - to make a "news" photo of the weather, I was determined to get something different. The first thing I did was give myself a couple of rules: No kids. No open hydrants. No pools.
On my first try I was able to follow them, but had to bend them a bit as I moved along.
Stopping to get lunch after my morning assignment - a portrait of union leaders - I saw all the sweat beading up on the face of a hotdog cart owner as he prepared a cheesesteak on the grill for some tourists (actually heard them asK: "could we get that with mayonnaise?")
John Ali didn't mind my photographing him as he worked, and he really DID look hot.
Then I set off to wander the neighborhoods north of the Art Museum area where I'd ended up.
I criss-crossed a number of row house streets, and saw dozens of kids being sprayed with hoses, running under sprinkers and park fountains, and splashing in a couple city pools.
Then an enormous Little Tikes Rocky Mountain River Race inflatable water slide/kiddie splash pool (I looked it up later) blocking an entire street caught my eye. Circling around and pulling up, I saw a smaller wading pool on the other end of the block, with two women filling it with water from a hose. Perfect. Grownups. By them time I stopped and was talking with Corlina McKoy and her aunt Eva, they were in the pool for a little adult swim...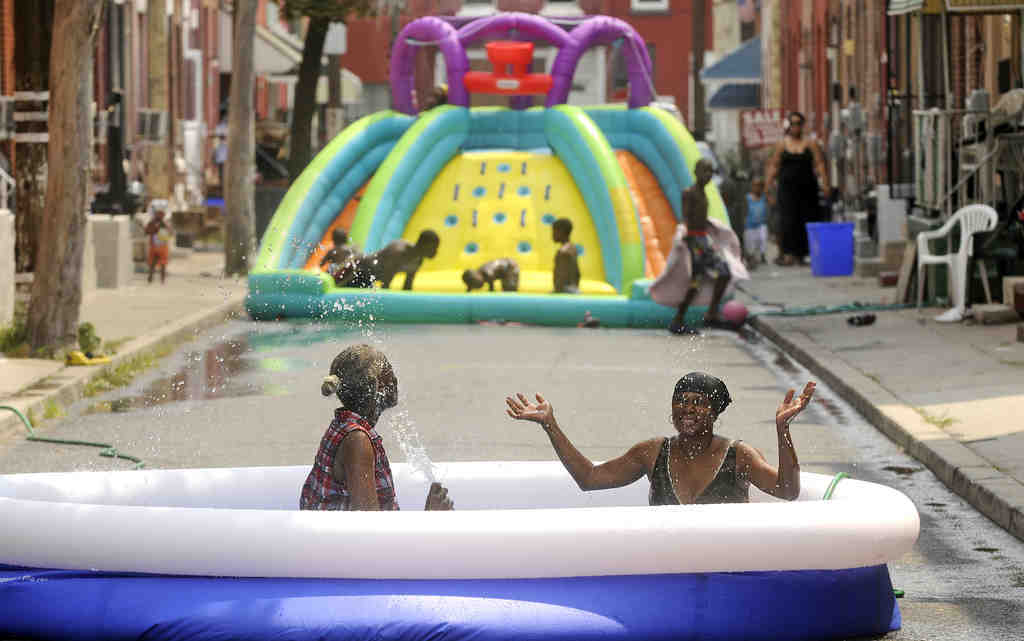 ...with the neighborhood kids in the photo - but in the background.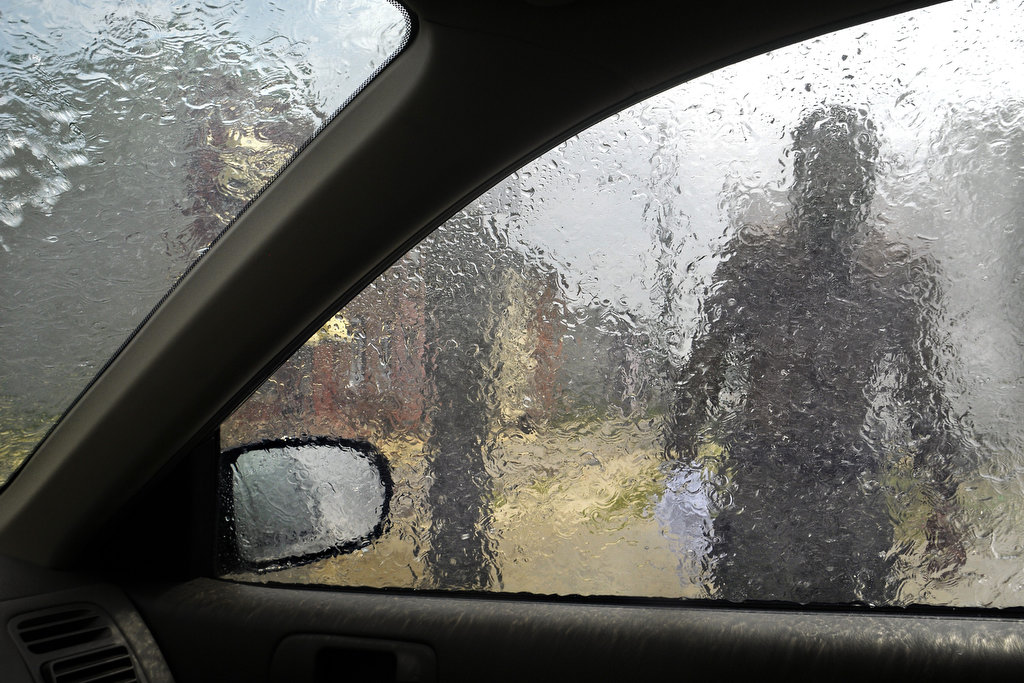 Then I saw an open hydrant sprayer. There weren't any kids playing in it (couldn't break two rules), but it had a rainbow, so I went to check it out, figuring I'd at least give myself an impromtu wash as long as I was there. Pulling up, I couldn't see the rainbow any longer as the water completely enveloped my car, so and coulnd barely see through the sheet of moving water as a gentleman approached me. When I drove out, he offered to give me a more thorough wash. It was only then I realized what an idiot I'd been - driving into cold water with a small ding on my hot windshield. I was lucky, it didn't grow into a three-foot crack.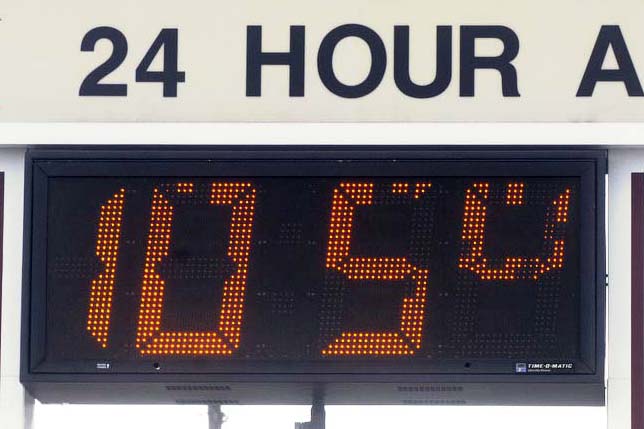 Finally, I didn't fry an egg on the sidewalk, but I did concede one cliche - a triple digit thermometer reading - might be worth a visual record.
That was easier said than done.
I discovered, as with telephone booths, slide rules, S&H green stamps, or people getting embarrassed because their underwear shows, bank time and temperature signs are just something you don't see much of anymore. I found one in New Jersey, along Route 70 in Cherry Hill. And in the few minutes while I was shooting - from inside my air conditioned car, until the temperature started going down! - I saw three cars pull into the parking lot to record the historic numbers. Check out the flash going off on the driver's smart phone:
Click here for a slide show of Inquirer and Daily News photographers' coverage of the heat wave.