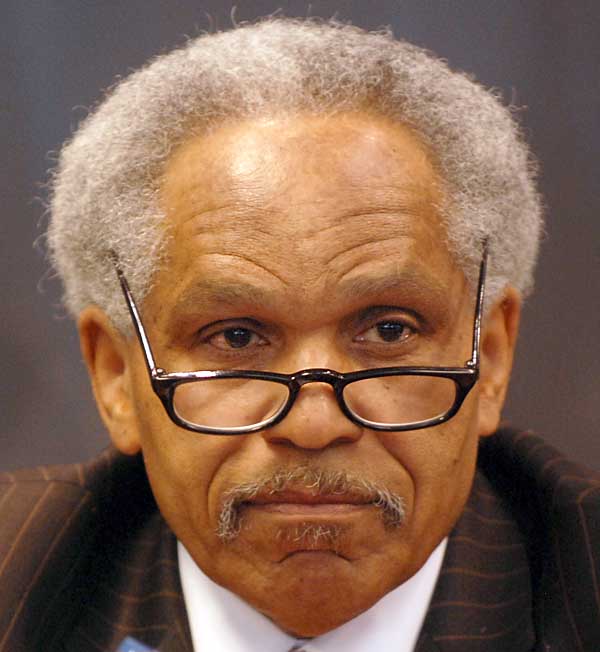 I remember John Street's very first press conference after he took office as the city's 97th mayor in 2000.
A reporter standing in the back of the room asked the new mayor a question, and kneeling in an aisle, I stood up to photograph him as he turned and faced her to answer.
"Excuse me?" Street said, possibly looking directly at me, but I wasn't sure. "I said excuse me," he repeated, this time clearly talking at me. "Do you mind? I'm speaking with the young lady."
He paused long enough for everybody to stare as I moved over a few steps. It wasn't like I was even blocking any eye contact he might have had with the reporter. I was a good 15 feet to the side already. And in years of covering press conferences I don't think any of the Q & A's were ever viewed by any participants as a parlor conversation.
Over his next eight years in office, other photographers - and everyday citizens as well - would be subject to call outs (cell phones and "too many" camera flashes were favorite reasons) from the leader of the sixth largest city in America (then the fifth).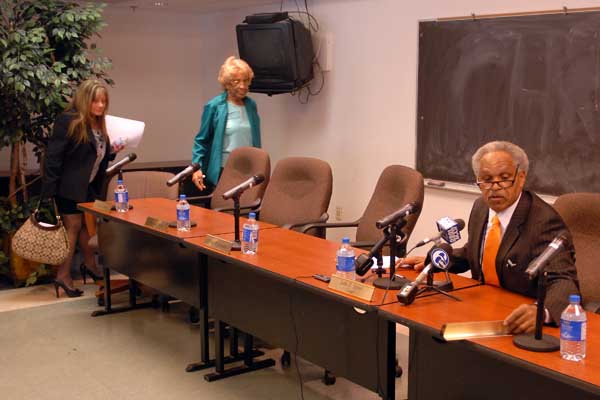 It was a much more subdued Street yesterday afternoon, as I relieved photographer April Saul waiting at Philadelphia Housing Authority headquarters for their scheduled, but delayed, board meeting. Street has been chairman since appointing himself to the PHA board as one of his last official acts as outging mayor.
Reporters were all handed press releases simultaneously with the board's entering the room, so they knew what was going on, but I stayed focused on Street as he began to call the meeting to order. I listened to few minutes of legalese before I could even tell whether they were all resigning or not.
The Philadelphia agency has been in a state of upheaval since the abrupt termination of Executive Director Carl R. Greene last September, and is under investigation by multiple agencies, from HUD to the Departments of Labor and Justice.
As an Inquirer editorial earlier this week said, "The board was either asleep at the switch or hoodwinked as former Executive Director Carl R. Greene spent millions of dollars on outside legal fees and paid hundreds of thousands in tax dollars to settle several sexual harassment cases against him." In addition, the editorial continued, under Street's leadership, "the board has failed to adhere to a most basic rule of thumb that it avoid any appearance of conflict...Street voted on several occasions to send tens of thousands of dollars in legal work to a law firm that employed his son..."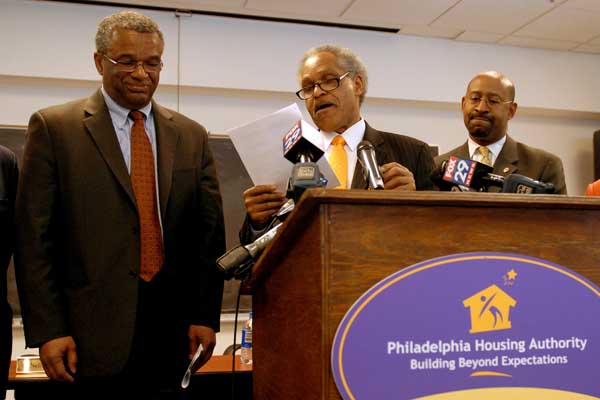 (Street with U.S. Department of Housing and Urban Development Deputy Secretary Ron Sims, left, and Mayor Michael Nutter)
"Life isn't always fair, and we have to accept the good with the bad," the former mayor said as the PHA board agreed to a "voluntary takeover" of the agency. "It's really time for us to go."
********************************
Sunday's Inquirer has a really good story by Mark Fazlollah and Jennifer Lin on the weeks of delicate negotiations among HUD, Street and the other board members, who just on Wednesday had dug in their heels, refusing to leave their posts.