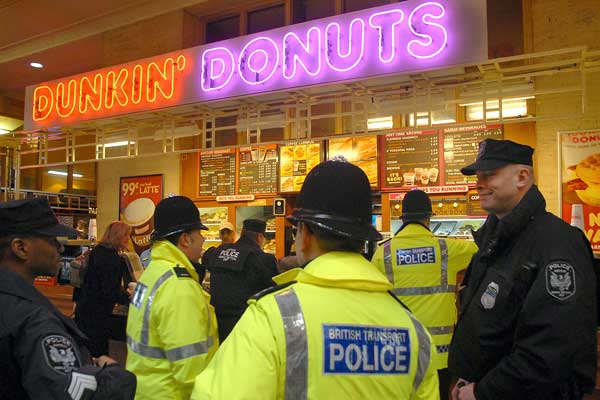 British Transport Police Constables patrolled 30th Street Station Tuesday, working with Amtrak Police as part of an exchange of counterterrorism best practices and security tactics between Britian and the United States.
During a break, the Brits wanted a spot of coffee. Unfortunately for their hosts, the Bobbies didn't head to Au Bon Pain or Cosi - but to the Dunkin' Donuts. The good natured Amtrak Police Officers didn't want to cause an international incident in front of the cameras - mine and AP photographer Matt Rourke's - so they politely followed their guests toward the Cop Photo Op.
While we couldn't resist photographing the chagrined officers, we did promise not to use their names.
Click here or on the photo for a slide show of more of their transatlantic safety and security session.
As the Daily Mail in London quipped, when British officers show their American colleagues around London, presumably in the spirit of cultural exchange, they'll also start the day with some essential English fried cuisine - a bacon sarnie or a fry-up.