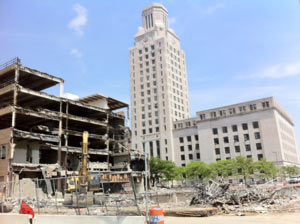 The Parkade Building, which was supposed to help save downtown Camden in 1955, is being torn down to help revive downtown Camden in 2011.
Although it never lived up to expectations, the massive Parkade – which looked rather like an ocean liner from some angles -- was innovative for its time, a true mixed use complex of offices, retail space (including a Food Fair supermarket), and parking. The latter was the Parkade's raison d'etre; in the early 1950s, the Lit Brothers company refused to build a new department store on the east side of City Hall unless the city agreed to provide more parking nearby.
Eager to embrace every faddish, foolish notion of urban renewal, Camden already had paved over a park on the west side of City Hall. I've seen a vintage news clipping and photo of the parking lot's "grand opening;" a bunch of guys in fedoras, posing with a meter amid stentorian pontifications about "Another Giant Step Forward for the Great City of Camden."
So a few years later the city eagerly engaged a developer to build the Parkade on top of the parking lot where once had been a beautiful public garden. The city got the department store, which lasted 17 years, but it also got two block-long behemoths that have endured for decades on either side of City Hall.
The solemn but subtly exuberant Art Deco building -- a near-twin of the Louisiana state capitol -- is emerging from nearly 60 years of visual imprisonment as the Parkade, at last, falls.
And the site of that disastrous downtown Camden project of a half century ago will become a park again.
Urban "renewal," indeed.