Imagining Vick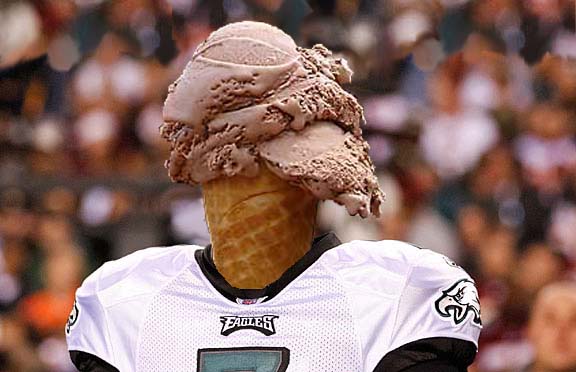 "What if Michael Vick were white?" asks the espn.com headline. What if espn.com ran a stupid headline?
Imagining Vick
"What if Michael Vick Were White?" reads the stupid headline on an otherwise thoughtful Toure essay.
"What if Michael Vick Were A Vegan Ice Cream Cone?" the twittersphere blogged back.
More?
"ESPN's picture of a white Michael Vick reminds me of Eddie Murphy's White Like Me SNL."
"What if Michael Vick was a black Tom Brady?"
"What if Michael Vick's whole universe were just, like, one tiny molecule in some other much bigger universe?"
"What if Andy Reid mastered clock management, spoke articulately, actually said something incisive at a press conference and, oh, maybe won a Super Bowl?" (Ok, that was me.)
"What if sports fans went crazy asking 'what if?' "
The essay has a really misquided Photoshop image of Vick as a white guy, where he looks suprisingly like the actor Brian Austin Green.
--Karen Heller