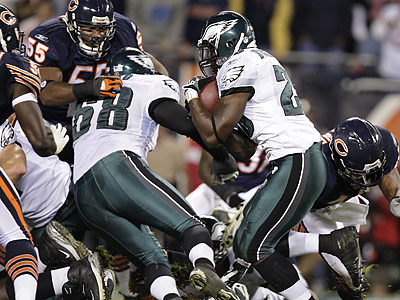 As we begin the ritual dismemberment of Andy Reid, I have start with a personal confession: I don't tend to criticize individual play calls very much. To me, it's just a waste of breath. There are so many things that we don't know about a given situation -- mostly, what the defense is showing -- that it is really hard to make an intellectually-honest case that you had as much information as the head coach when he chose a particular play in a particular spot.
In an over-arching sense, I get on Reid all the time because he throws too much -- mostly because it puts his quarterback at physical risk. But down near the goal line at the end of Sunday night's game, I'm not going to tell you that play-action would have worked any better, or that running to the other side would have mattered, or that they had a pass play that might have shaken something free for the tight end (not the starter), or the running back (not the starter), or the fullback (who has about 4 games' experience), or the wide receiver (missing one of the starters).
I honestly thought that, given everything, handing the ball to Correll Buckhalter from 18 inches away was OK.
But because Buckhalter got stuffed -- because the Eagles got stuffed four times from inside the 4-yard line -- the recriminations will be long and loud. That's all fine and all a part of the gig. We need a head to stick on the end of a pike -- at least until the baseball playoffs get started on Wednesday -- and Reid's is as good as any.
In the end, though, it is about the continuing saga of trying to improve in the red zone, and about the talent on the field. Without the big receiver who was not acquired in the off-season, you limit your options. Without that receiver, tight end L.J. Smith becomes an enormously important target, you limit your options further. Without running back Brian Westbrook, you limit your options even more. And without All-Pro right guard Shawn Andrews, well, you get it.
The Eagles now have only eight touchdowns in 17 red zone possessions. The number by the week. Here are the touchdown scorers: Westbrook 5, Smith 1, Buckhalter 1, McNabb 1.
Key stat: Westbrook 5.
They had tried throwing it the previous time into the red zone (an unsuccessful trip that ended with a field goal). There was a 6-yard pass to Brent Celek, a 4-yarder to Jason Avant, an incompletion to Hank Baskett, a 4-yard loss when McNabb tripped coming away from center, and an incompletion to Avant. It was a fairly typical Reid trip into the red zone. He threw -- oh, and it didn't work. I'm sure there was wailing about that sequence, too.
Look -- I don't know the answer. But I have to believe their impotence on that earlier red-zone trip left Reid wondering if he had any viable passing options down there at the end. He also said McNabb's chest contusion took the quarterback sneak out of the arsenal. And we all know that things would have been much different had Westbrook been able to play -- you know it, I know it, Reid knows it. Even with injuries at tight end, receiver and guard, all significant players, Westbrook would have covered for all of them.
But Westbrook wasn't there.
Given that, given everything, I really do have to admit: I didn't hate a handoff there to Buckhalter from 18 inches away.