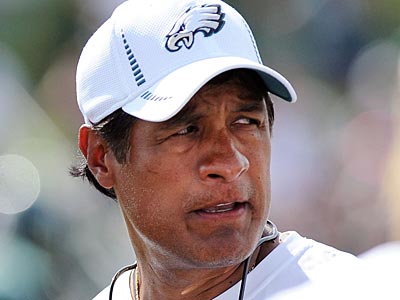 First reaction: stunned.
I am not surprised that Juan Castillo is not calling the defenses for the Eagles anymore -- and especially not after cornerback Nnamdi Asomugha openly criticized schematic decisions at the end of the Eagles' collapse on Sunday against the Lions. But I figured head coach Andy Reid would protect Castillo, leaving him in place and having secondary coach Todd Bowles begin calling the defenses from the press box. That way, Castillo could continue to wear the headset on the sidelines and relay the information to the players and save face. But no.
Yes, stunning. Castillo is out and Bowles is the defensive coordinator. A year and a half after the world guffawed in Reid's face when he turned his offensive line coach into a defensive coordinator, and months after he flirted with the idea of making a change and giving the job to Steve Spagnuolo -- which would have happened had Spagnuolo said yes -- Reid is very publicly admitting a grievous error. There is no other way to read this.
All of the talk about how things were turned around at the end of last season was just that, apparently -- talk. And any benefit of the doubt that Castillo received after this defense got off to such a good start in 2012 also evaporated pretty quickly. This kind of in-season change happens very rarely in the NFL -- and it is hard to remember a coordinator who was fired from a .500 team with overall defensive numbers that are not alarming.