The Food and Drug Administration recently alerted the public about reports of mix-ups between risperidone (Risperdal) and ropinirole (Requip). Some of the reported incidents involved patients who required hospitalization.
FDA evaluated 226 errors involving confusion between these drugs, all of which were reported either to FDA's MedWatch adverse event reporting system or the National Medication Errors Reporting Program operated by my organization, the Institute for Safe Medication Practices.
Risperidone is a drug used for psychiatric conditions like schizophrenia or bipolar disorder. Ropinirole is used in Parkinson's disease and a condition called restless legs syndrome, in which people can't resist an urge to move their legs.
The reasons for confusion between these drugs are many. Besides having somewhat similar names, they include illegibly handwritten prescriptions, and similar product strengths and dosages. Among the available forms, each comes in tablets of 0.25 mg, 0.5 mg, 1 mg, 2 mg, 3 mg, and 4 mg and they are also prescribed by doctors at the same dosing intervals – once or twice a day. In pharmacies, since the drug names are spelled similarly, the manufacturer's containers are usually stored next to one another. Also, since drug names are listed alphabetically on computer screens, doctors and pharmacists sometimes choose the wrong name when processing prescriptions.
To make matters worse, product labels also look alike when pharmacists buy both drugs from the same generic manufacturer (see photos). This presents additional problems when pharmacies don't have a bar code system in place to select drug bottles (something worth asking when selecting a pharmacy).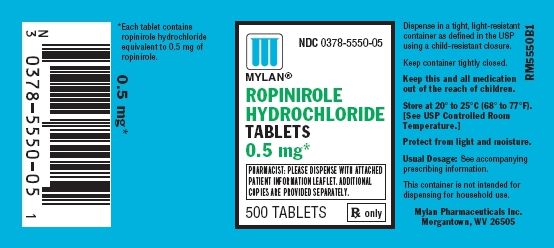 Given all these similarities, it's not hard to understand how mix-ups can occur, so FDA is requiring certain changes. First, it has asked manufacturers to use "tall man" lettering on container labels and carton packaging to help distinguish between the two products. "Tall man" lettering, is a term we coined to describe a method for differentiating the unique letter characters of similar drug names known to have been confused with one another. The drug names will now be depicted as risperiDONE and rOPINIRole. Several studies have shown that highlighting the unique portions of drug names with upper case letters or by other means can draw attention to the dissimilarities, which leads to fewer errors. The Institute for Safe Medication Practices maintains a current list of names with tall man letters. FDA has also asked manufacturers for changes to labels and carton packaging to better distinguish between the generic products.
Doctors have also been warned that when prescribing either drug, the drug name should be printed, and the purpose of the drug should be listed. In pharmacies, the products should not be stored near each other, and tall man letters should be used for storage labeling and computer listings.
FDA said that patients who take Requip, Risperdal, or their generic equivalents should take note of the name and appearance of their medication, know why they are taking it, and ask questions when the medication appears different than what they expect. Both FDA and the institute recommend that patients taking either of these drugs check the name of the medication and the appearance of the tablets in the bottle to confirm that the medication you receive is what you expect. Ask your pharmacist to confirm the purpose of the medication and be sure to raise questions if the purpose is different from what you expect. Finally, as always, talk to your pharmacist if something doesn't seem right.
To check out more Check Up items go to www.philly.com/checkup