"Madame love them Jimmy Choo," croons Lady Gaga in her song, Fashion.
Over the weekend, Tamara Mellon, the "madame" who co-founded, loved and nurtured the brand, announced she is stepping down.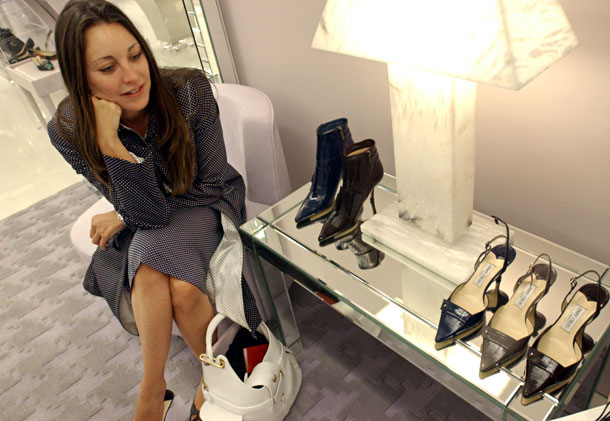 Tamara Mellon, above, in 2003. (AP Images)
The announcement follows Jimmy Choo's takeover in May by Labelux, an Italian luxury goods group.
Labelux, which also owns brands like Belstaff, Bally and Derek Lam, has seen "double-digit growth across all categories and territories" in recent months, reports the Financial Times. The addition of Jimmy Choo has and will continue to be a considerable asset to the private conglomerate, as it looks to expand in Asia. Meanwhile, the loss of Mellon leaves a gaping hole in the future of the brand.
Mellon is responsible for the rise of Jimmy Choo- the brand and the man- after she partnered with the London-based cobbler fifteen years ago. The then-British Vogue accesories editor founded Jimmy Choo Ltd. with the Malaysian designer in 1996. However, his designs had been on the radar of various fashion publications for years, and eventually became a favorite of various international celebrities, including the late Princess Diana.
Mellon's vision for Jimmy Choo not only transformed the small business into a full-fledged fashion house, but also the luxury shoe business as a whole. Along with Manolo Blahnik and Christian Louboutin, Tamara and Jimmy changed the way women perceive and purchase high-end stilettos and kitten heels.
With that said, what are your thoughts? Will Jimmy Choo as a brand rise or fall without Ms. Mellon?