Flyers' penalty breakdown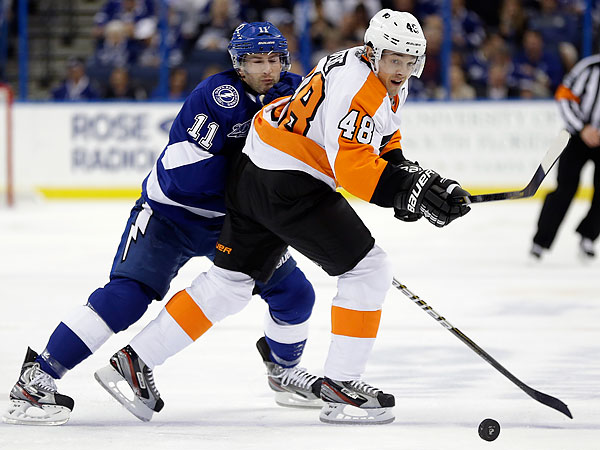 TAMPA, Fla. -- As we pointed out in Monday's Daily News, the Flyers have finished either 29th or 30th in minor penalties in four of the seven seasons played since the 2004-05 NHL lockout. The Flyers lead the league already again this year, by a wide margin. They also lead the league in penalties in minutes (124). In case you were wondering, here are the infractions: MINOR PENALTIES (39): Roughing - 8 Interference - 7 Tripping - 6 Hooking - 4 High-Sticking - 2 Goaltender interference - 2 Abuse of officials - 2 Slashing - 2 Holding - 1 Boarding - 1 Cross-checking - 1 Delay of Game (Puck Over Boards) - 1 Bench (Too Many Men) - 1 Inciting a fight - 1
Flyers' penalty breakdown

TAMPA, Fla. -- As we pointed out in Monday's Daily News, the Flyers have finished either 29th or 30th in minor penalties in four of the seven seasons played since the 2004-05 NHL lockout.

The Flyers lead the league already again this year, by a wide margin. They also lead the league in penalties in minutes (124).

In case you were wondering, here are the infractions:

MINOR PENALTIES (39):
Roughing - 8
Interference - 7
Tripping - 6
Hooking - 4
High-Sticking - 2
Goaltender interference - 2
Abuse of officials - 2
Slashing - 2
Holding - 1
Boarding - 1
Cross-checking - 1
Delay of Game (Puck Over Boards) - 1
Bench (Too Many Men) - 1
Inciting a fight - 1
MAJORS / MISCONDUCTS (8):
Fighting - 6
10-minute Misconduct - 2

PENALTY SHOTS (1):
Tripping on a Breakaway - 1
NOTE: Tye McGinn's 4-minute high-sticking penalty for drawing blood last Thursday against the Rangers only counts as one minor ... Similarly, Wayne Simmonds picked up a 4-minute roughing penalty, which also only counts once.
Just something to keep in mind. Some of these infractions, like roughing after the whistle and tripping/hooking can be cut back with discipline. Others, like delay of game or goaltender interference or inadvertent high-sticking will happen. But they aren't the bulk of the Flyers' problems in the early going...
The Flyers are in New York in preparation of Tuesday night's contest at Madison Square Garden. They are not practicing on Monday.
For the latest updates, follow Frank Seravalli on Twitter: @DNFlyers