Before I get into today's post, let me get some business out of the way first:
- Don't forget to sign up for next week's free game on FanDuel. There is $300 in guaranteed prize money, plus a bonus if you can beat my score. And like I said, it's FREE to join.
- You can also sign up for a chance to win a grand prize of $75,000 playing fantasy baseball. That's right, $75K, plus tons of other payouts (over $200,000) in FanDuel's Fantasy Football Championship.
- Don't forget about fantasy baseball. There's still time to play, and you can actually still earn a seat in FanDuel's Daily Fantasy Baseball Championship, with a chance to play for $25,000.
- Finally, I will be on The Broad Street Line podcast tonight at 7 pm with Kris Domingo and Roy Burton. We'll talk fantasy sports, from rankings to the impact of Peyton Manning's, Arian Foster's, and Jeremy Maclin's injuries.
Now on to the good stuff....
Last night was the draft in my Fantasy Island Football League. While it was a real draft, and not a mock draft, I figure it's a good chance to break down some of the picks, especially the surprises, and take a look at how each team's roster filled out.
I guess the best place to begin is the first round: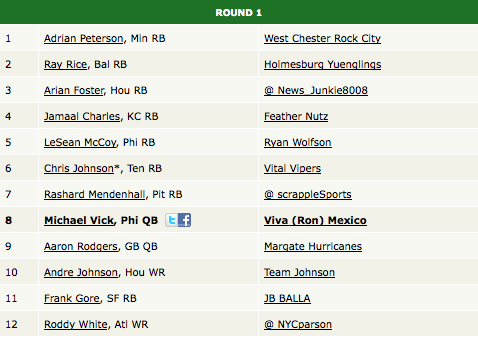 Adrian Peterson earned the top spot in our draft, and I'm not sure how much Arian Foster's injury had to do with that. Either way, they are both in the top three, and that seems right to me.
The one thing that stands out here is Ray Rice. I had him ranked as the No. 5 running back. I'm not completely shocked that he went this high, as there are concerns with some of the other top backs. Personally, I would not have taken him there, but it's not a bad pick at all.
The first seven picks were all RB, until I - Viva (Ron) Mexico - took Mike Vick with the 8th pick. Aaron Rodgers was the second QB to go. Both went about where I expected.
Two WR's also crept into the first round - Andre Johnson and Roddy White. Both worthy of first round selections, although I would have taken the other Johnson, Calvin Johnson, over White.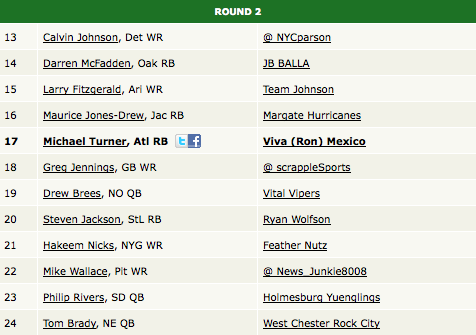 Darren McFadden at 14? He had some BIG games last season, but I don't see the consistent value there. He likely could have fallen.
The real shock here is Tom Brady at 24. For those keeping track, AP and Tom Terriffic have fallen to the same team.
I really like the Mike Wallace pick at 22. I had him ranked as the 3rd WR heading into the draft, and he was the 7th taken. Pretty good value there.
Through two rounds (24 picks), here is what has been drafted: 12 RB, 7 WR, 5 QB.
I am not shocked that half of the picks have been running backs, but I am shocked that there have been more receivers taken that quarterbacks. I wrote a few weeks back, when I was ranking the running backs, that QB's have taken over the game as top scorers. I took a quarterback and running back with my first two picks. However, there were two players who took receivers with each of their first two picks.
That would make a little more sense to me if it were a PPR, but both seemed to make out okay with QB's, nabbing Tony Romo and Peyton Manning in the 4th round.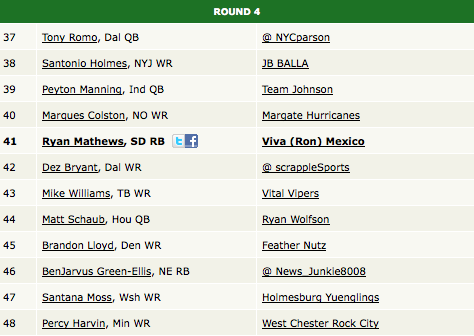 The real shocker of the third and fourth rounds is Peyton Manning. I can't believe that Tony Romo went ahead of him, and that he stuck around until the 39th pick. I don't think his injury will keep him out that long, and that's a great pick.
After having some time to analyze the draft results, here is my take on who had the best, and worst drafts:
1. @news_junkie8008 - Arian Foster, Mike Wallace, Matt Ryan, Vincent Jackson
2. West Chester Rock City - Tom Brady, Adrian Peterson, Peyton Hillis
3. Viva (Ron) Mexico - Mike Vick, Michael Turner, Dwayne Bowe, Ryan Matthews, Ryan Grant
4. Margate Hurricanes - Aaron Rodgers, Maurice Jones-Drew, Miles Austin, Mark Ingram
5. @NYCParson - Roddy White, Calvin Johnson, Tony Romo, Ahmad Bradshaw
6. Feather Nutz - Jamaal Charles, Hakeem Nicks, LeGarrette Blount, Ben Roethlisberger, Austin Collie
7. Team Wolfson - LeSean McCoy, Steven Jackson, DeSean Jackson, Matt Schaub, Ochocinco
8. Team Johnson - Andre Johnson, Larry Fitzgerald, Felix Jones, Peyton Manning
9. JB Balla - Frank Gore, Darren McFadden, Jeremy Maclin, Josh Freeman
10. Holmesburg Yuenglings - Ray Rice, Philip Rivers, DeAngelo Williams, Santana Moss, Plaxico
11. Vital Vipers - Chris Johnson, Drew Brees, Matt Forte, Mike Williams, Brandon Marshall
12. @ScrappleSports - Rashard Mendenhall, Greg Jennings, Reggie Wayne, Dez Bryant, Eli Manning.
I could go through every pick, but that would take too long. Here's a look at how all the rosters filled out, including what pick each player went at:
West Chester Rock City
1 Adrian Peterson, MIN-RB
24 Tom Brady, NE-QB
25 Peyton Hillis, CLE-RB
48 Percy Harvin, MIN-WR
49 Wes Welker, NE-WR
72 Sidney Rice, SEA-WR
73 Fred Jackson, BUF-RB
96 Robert Meachem, NO-WR
97 Jets, NYJ-D/ST
120 Jerome Simpson, CIN-WR
121 Jay Cutler, CHI-QB
144 Darren Sproles, NO-RB
145 Neil Rackers, HOU-K
168 Justin Forsett, SEA-RB

Holmesburg Yuenglings
2 Ray Rice, BAL-RB
23 Philip Rivers, SD-QB
26 DeAngelo Williams, CAR-RB
47 Santana Moss, WAS-WR
50 Plaxico Burress, NYJ-WR
71 Julio Jones, ATL-WR
74 Willis McGahee, DEN-RB
95 Eagles, PHI-D/ST
98 Braylon Edwards, SF-WR
119 Mark Sanchez, NYJ-QB
122 Deion Branch, NE-WR
143 Davone Bess, MIA-WR
146 Donald Driver, GB-WR
167 Ryan Longwell, MIN-K

@newsjunkie_8008
3 Arian Foster, HOU-RB
22 Mike Wallace, PIT-WR
27 Vincent Jackson, SD-WR
46 B. Green-Ellis, NE-RB
51 Steve Johnson, BUF-WR
70 Matt Ryan, ATL-QB
75 A.J. Green, CIN-WR
94 Thomas Jones, KC-RB
99 James Jones, GB-WR
118 Patriots, NE-D/ST
123 Kyle Orton, DEN-QB
142 Saints, NO-D/ST
147 Andre Roberts, ARI-WR
166 Billy Cundiff, BAL-K

Feather Nutz
4 Jamaal Charles, KC-RB
21 Hakeem Nicks, NYG-WR
28 Legarrette Blount, TB-RB
45 Brandon Lloyd, DEN-WR
52 Ben Roethlisberger, PIT-QB
69 Austin Collie, IND-WR
76 Joseph Addai, IND-RB
93 Jordy Nelson, GB-WR
100 Matthew Stafford, DET-QB
117 Hines Ward, PIT-WR
124 Antonio Brown, PIT-WR
141 Montario Hardesty, CLE-RB
148 Lions, DET-D/ST
165 Adam Vinatieri, IND-K

Team Wolfson
5 LeSean McCoy, PHI-RB
20 Steven Jackson, STL-RB
29 DeSean Jackson, PHI-WR
44 Matt Schaub, HOU-QB
53 Chad Ochocinco, NE-WR
68 Steve Smith, CAR-WR
77 Steelers, PIT-D/ST
92 Mike Thomas, JAC-WR
101 LaDainian Tomlinson, NYJ-RB
116 Jerome Harrison, DET-RB
125 Mike Sims-Walker, STL-WR
140 Ronnie Brown, PHI-RB
149 Mike Williams, SEA-WR
164 Nick Folk, NYJ-K

Vital Vipers
6 Chris Johnson, TEN-RB
19 Drew Brees, NO-QB
30 Matt Forte, CHI-RB
43 Mike Williams, TB-WR
54 Kenny Britt, TEN-WR
67 Bandon Marshall, MIA-WR
78 Daniel Thomas, MIA-RB
91 James Starks, GB-RB
102 Malcolm Floyd, SD-WR
115 C.J. Spiller, BUF-RB
126 Roy Williams, CHI-WR
139 Bears, CHI-D/ST
150 Josh Brown, STL-K
163 Ryan Fitzpatrick, BUF-

@ScrappleSports
7 Rashard Mendenhall, PIT-RB
18 Greg Jennings, GB-WR
31 Reggie Wayne, IND-WR
42 Dez Bryant, DAL-WR
55 Jahvid Best, DET-RB
66 Beanie Wells, ARI-RB
79 Eli Manning, NYG-QB
90 Pierre Thomas, NO-RB
103 Joe Flacco, BAL-QB
114 Nate Kaeding, SD-K
127 Donovan McNabb, MIN-QB
138 David Garrard, JAC-QB
151 Chargers, SD-D/ST
162 Garrett Hartley, NO-K

Viva (Ron) Mexico
8 Michael Vick, PHI-QB
17 Michael Turner, ATL-RB
32 Dwayne Bowe, KC-WR
41 Ryan Matthews, SD-RB
56 Anquan Boldin, BAL-WR
65 Ryan Grant, GB-RB
80 Pierre Garcon, IND-WR
89 Michael Bush, OAK-RB
104 Ravens, BAL-D/ST
113 Matt Cassel, KC-QB
128 Michael Crabtree, SF-WR
137 Steve Smith, PHI-WR
152 Rob Bironas, TEN-K
161 Roscoe Parrish, BUF-WR
Margate Hurricanes
9 Aaron Rodgers, GB-QB
16 Maurice Jones-Drew, JAC-RB
33 Miles Austin, DAL-WR
40 Marques Colston, NO-WR
57 Mark Ingram, NO-RB
64 Jonathan Stewart, CAR-RB
81 Mike Tolbert, SD-RB
88 Packers, GB-D/ST
105 Sam Bradford, STL-QB
112 MDanny Woodhead, NE-RB
129 Nate Burelson, DET-WR
136 Steve Breaston, KC-WR
153 Dolphins, MIA-D/ST
160 Mason Crosby, GB-K


Team Johnson
10 Andre Johnson, HOU-WR
15 Larry Fitzgerald, ARI-WR
34 Felix Jones, DAL-RB
39 Peyton Manning, IND-QB
58 Shonn Greene, NYJ-RB
63 Tim Hightower, WAS-RB
82 Lee Evans, BAL-WR
87 Reggie Bush, MIA-RB
106 Danny Amendola, STL-WR
111 Kevin Kolb, ARI-QB
130 Alex Henery, PHI-K
135 Falcons, ATL-D/ST
154 Bernard Scott, CIN-RB
159 Denarius Moore, OAK-WR

JB BALLA
11 Frank Gore, SF-RB
14 Darren McFadden, OAK-RB
35 Jeremy Maclin, PHI-WR
38 Santonio Holmes, NYJ-WR
59 Cedric Benson, CIN-RB
62 Josh Freeman, TB-QB
83 Marshawn Lynch, SEA-RB
86 Johnny Knox, CHI-WR
107 Ryan Williams, ARI-RB
110 Ryan Torain, WAS-RB
131 Ricky Williams, BAL-RB
134 Roy Helu, WAS-RB
155 Stephen Gostkowski, NE-K
158 Giants, NYG-D/ST

@NYCParson
12 Roddy White, ATL-WR
13 Calvin Johnson, DET-WR
36 Ahmad Bradshaw, NYG-RB
37 Tony Romo, DAL-QB
60 Mario Manningham, NYG-WR
61 Knowshon Moreno, DEN-RB
84 Brandon Jacobs, NYG-RB
85 Lance Moore, NO-WR
108 Jacoby Ford, OAK-WR
109 Ben Tate, HOU-RB
132 Jason Campbell, OAK-QB
133 Rashad Jennings, JAC-RB
156 Chiefs, KC-D/ST
157 Sebastian Janikowski, OAK -K
Who do you think had the best draft?
---
Matt Mullin is a sports producer at philly.com. You can reach him by e-mail at mmullin@philly.com. Follow Matt on Twitter: @matt_mullin