Here are three things I learned in the first week of the 2011 Fantasy Island Football League:
1. NEVER UNDERESTIMATE A WOMAN

Week 1 of the FIFL is in the books. If I've learned one thing, it's not to underestimate girls.
The league consists of 11 men, and one very brave woman. Shawna, owner of team Vital Vipers, reached out to me and asked to join the league. I figured it would be good to have a female in the league, but never expected her to be a threat to my title hopes.
Week 1 certainly proved me wrong, as she went out and not only won her game, but outscored every single man in the league. I'm impressed to say the least. It seems fantasy football is no longer just a "man's game."
2. PRESEASON RANKINGS ARE STUPID
Just like in the college football polls, preseason fantasy football rankings are never accurate predictions of the season. If you look at the list of the Week 1 scoring leaders, there are about seven players in the top 10 spots for points scored this week that weren't even ranked in the TOP TEN at their own position.
I know it's a long season, but Chad Henne and Cam Newton nipping at the heels of Tom Brady?
While I don't expect that to last, it's a good time to begin evaluating what players are out there that went unnotticed in the preseason but now offer something to your roster.
3. RIP PEYTON MANNING (and in turn, all Colts receivers)
Kerry Collins, who replaced the injured Peyton Manning, lead the Colts against one of the worst pass defenses in the NFL. The only player on the team to score double digits was Reggie Wayne (17). After Wayne, the only other receivers to score for the Colts were Dallas Clark and Pierre Garcon, who had 3 points each.
I think its safe to say those numbers would look a little different with Manning under center. Now is the time to go into panic mode if you own more than one Indianapolis receiver.
Here's a look at the matchups from this weekend's FIFL games: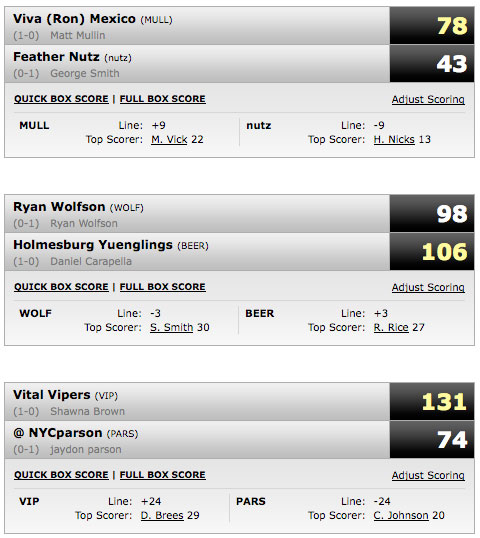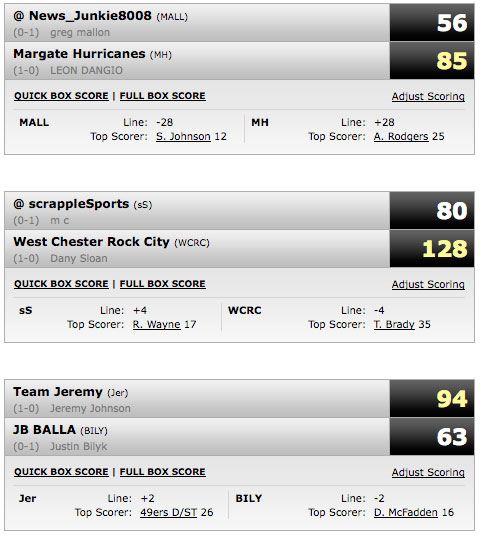 Now here is a look at the standings after Week 1. As you can see, Vital Vipers sits atop the leaderboard.
| | | | |
| --- | --- | --- | --- |
| Team | Record | Points | Week 1 MVP |
| 1. Vital Vipers | 1-0 | 131 | Kenny Britt - 26 points |
| 2. West Chester Rock City | 1-0 | 128 | Tom Brady - 35 points |
| 3. Holmesburg Yuenglings | 1-0 | 106 | Ray Rice - 27 points |
| 4. Team Jeremy | 1-0 | 94 | 49ers D/ST - 26 points |
| 5. Margate Hurricanes | 1-0 | 85 | Aaron Rodgers - 25 points |
| 6. Viva (Ron) Mexico | 1-0 | 78 | Mike Vick - 22 points |
| 7. Team Wolfson | 0-1 | 98 | Steve Smith - 30 points |
| 8. @scrappleSports | 0-1 | 80 | Reggie Wayne - 17 points |
| 9. @NYCparson | 0-1 | 74 | Chris Johnson - 20 points |
| 10. JB BALLA | 0-1 | 63 | Darren McFadden - 16 points |
| 11. @News_Junkie8008 | 0-1 | 56 | Steve Johnson - 12 points |
| 12. Feather Nutz | 0-1 | 43 | Hakeem Nicks - 13 points |
---
Matt Mullin is a sports producer at philly.com. You can reach him by e-mail at mmullin@philly.com. Follow Matt on Twitter: @matt_mullin