Ranking the 76ers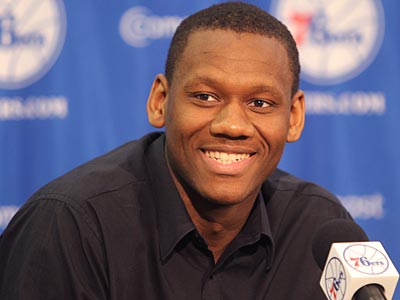 NBA lockout news first: According to a report by the Associated Press this morning, the NBA Player's Association representatives and league owners' reps will meet on Wednesday (tomorrow) in New York City. Expected to be present: commissioner David Stern, deputy Adam Silver, lead owner representative Peter Holt, player's association executive director Billy Hunter, and union president Derek Fisher. Essentially, all of the heavy hitters. Wednesday's meeting will be only the second between the two sides since the beginning of the lockout on July 1. The other meeting came almost exactly a month ago, on Aug. 1. The situation is entering crunch time. Stern has said that if progress isn't made by Labor Day, things will look bleak. And with NBA training camps scheduled to start around the end of Sept. (the 76ers started camp last season on Sept. 28), and with the two sides so far apart that they don't actually seem to be getting down to nitty gritty negotiating yet, it's wishful thinking to believe that this season will begin on time. (Trust me, I still possess this thinking, and when I wonder aloud if maybe training camp will start on time, anyone involved in this process makes it clear that's not happening.)
Ranking the 76ers

NBA lockout news first: According to a report by the Associated Press this morning, the NBA Player's Association representatives and league owners' reps will meet on Wednesday (tomorrow) in New York City. Expected to be present: commissioner David Stern, deputy Adam Silver, lead owner representative Peter Holt, player's association executive director Billy Hunter, and union president Derek Fisher. Essentially, all of the heavy hitters. Wednesday's meeting will be only the second between the two sides since the beginning of the lockout on July 1. The other meeting came almost exactly a month ago, on Aug. 1. The situation is entering crunch time. Stern has said that if progress isn't made by Labor Day, things will look bleak. And with NBA training camps scheduled to start around the end of Sept. (the 76ers started camp last season on Sept. 28), and with the two sides so far apart that they don't actually seem to be getting down to nitty gritty negotiating yet, it's wishful thinking to believe that this season will begin on time. (Trust me, I still possess this thinking, and when I wonder aloud if maybe training camp will start on time, anyone involved in this process makes it clear that's not happening.)
For the last few weeks, ESPN has been running a full NBA player ranking, but releasing it from the bottom up. If you're a serious Sixers' fan, you probably have seen a few of these lower rankings, but this morning we'll consolidate them into one place because basketball news is -- on this Tuesday morning -- a little limited. Here's the full list so far, if you're interested: Rankings. We're listing Sixers currently under contract or recently drafted (no Jason Kapono, Darius Songaila, etc.). The list is still being revealed, so a good amount of the better Sixers don't have a specific ranking yet. There are 500 players on the list. ESPN asked 91 experts to rank eligible NBA players on a scale of 1-10 in terms of "the current quality of each player." We'll take you through the available rankings and sprinkle in some updates on each player.
No. 500 (1.22): Lavoy Allen, PF, from Temple. The team's second-round draft pick in the 2011 NBA Draft; he's ranked as the NBA's worst player in this ranking.
No. 454 (1.99): Craig Brackins, F, from Iowa State. First-round pick of the Bucks, acquired just before the 2010-11 season. Brackins has signed to play the first half of the upcoming season with Maccabi Ashdod of the Israeli Premier League.
No. 391 (2.42): Nikola Vucevic, C, from USC. The Sixers' first-round pick in the 2011 NBA Draft. Vucevic will play this season in his home country of Montenegro, for KK Buducnost Podgorica. Both Vucevic and Brackins (whose contract only runs through December) have opt-out clauses, meaning once the NBA resumes, they are free to return to the Sixers.
Likely next three listed: Marreese Speights (250-300), Jodie Meeks (200ish), and Spencer Hawes (200ish).
Welcome to the first two months of NBA lockout! This is what we have to entertain ourselves. If you want to follow the release of this list on Twitter, you can do so here: @NBAonESPN. And the hashtag is #NBArank. Anyone who wants to follow me can do that here: Deep Sixer. And if you have a question, you can email me at kfagan@phillynews.com.
--Kate
---
Each week, Kate will check in from the road and answer fan questions about the Sixers. Click here to ask Kate a question or e-mail her at kfagan@phillynews.com.