Bank robbers who apparently acted independently of each other knocked over two banks on Street Road in Bensalem this afternoon, police said. One alleged robber has been caught so far.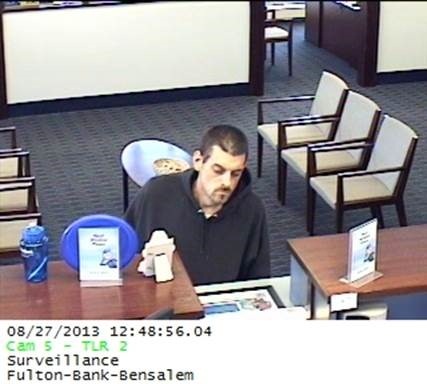 The first robbery occured shortly before 1 p.m. when a man (pictured) walked into the Fulton Bank and gave the teller a note that indicated he had a gun, police said. He then took off with an undisclosed amount of cash and remains on the loose.
The second alleged robber is in custody. He had jumped the counter of a TD Bank shortly after 2 p.m. and snatched some cash before fleeing, police said. Several people chased him. And a dye pack exploded as he fled toward Parx Casino, which is where officers caught him, police said.
Police have not yet released the name of alleged robber who is in custody.