Saved from wrecking ball, historic Tennent house needs work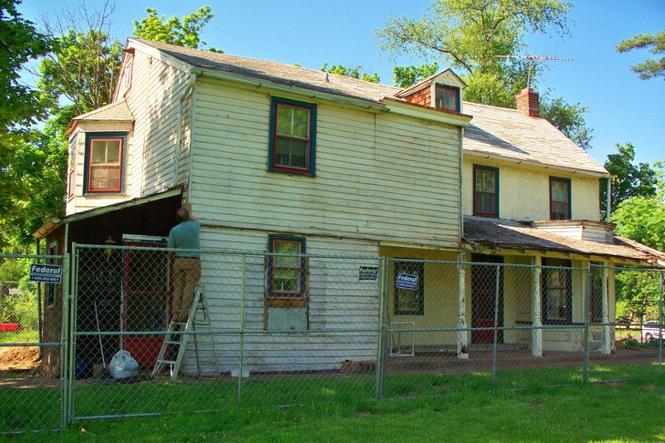 A volunteer group is looking to raise $150,000 and line up help to restore the home of a Presbyterian educator and open it for tours.
Saved from wrecking ball, historic Tennent house needs work

History buffs who managed to save the 304-year-old William Tennent house from demolition now need manpower and money to restore the Warminster Township landmark.
"We're looking for people who want to join us" to help with fundraising, grant writing, restoration work, landscaping and maintenance, says Ed Price, a leader of the volunteer group. "The big thing is funding to go ahead."
For the past four months, Price and a few other volunteers have cleaned up the two-story house along York Road, pulling vines off the sides and roof and stripping asbestos shingles and black sheathing off a 20th-century addition.
While clearing the overgrown yard and garden, they unearthed artifacts from colonial times, including a canon ball, a metal button, a shoe buckle, and nails. They also found pieces of redware, colonial white kaolin pipe stems, and artifacts that need to be identified.
Inside, they came across a blown-glass window dating to 1708 and others from the 1800s. Several doors are of the narrow stock of the colonial period, when latches were mounted on the surface instead of being mortised. Random-width floor boards in the dining room measure up to 15 inches wide.
"I've never seen such variable-width flooring," Price said.
The house's unique construction — English post-and-beam framing with stone filling — should qualify it for listing on the National Register of Historic Places, he said.
The original stucco house — one room and a loft – dates to 1708. A four-room, two-story addition was built with a basement about 1726, and Tennent bought the house in 1735, Price said.
The Scottish-born Presbyterian lived there while teaching students at his neighboring "Log College." Dozens of colleges, including Princeton University, trace their origins to students taught at the rustic school.
Log College closed when Tennent died in 1746 and is long gone. His house eventually became part of Christ's Home, a nonprofit serving children and the elderly. It was used as a superintendent's house into the late 1990s, but was deteriorating for more than a decade.
In September, with utilities cut off and demolition about to start, Price and his fellow history buffs convinced Christ's Home to sell them the house for $1.
The sale came with conditions. The group must get township approval to split the 1.3-acre parcel from Christ's Home's property. The subdivision, which requires a survey, will cost about $7,500, and Price said he hopes to complete it this year.
They also must erect a fence and "make sure the house looks like the houses in the neighborhood," Price said. They are paying for a temporary chain-link fence around the house and have plans for a 600-foot-long split-rail fence that will cost $6,000.
Meanwhile, the group of about 25 volunteers has formed the William Tennent House Association and has filed to be a nonprofit organization.
The group has a three-year plan and budget of about $150,000, Price said, including $30,000 needed in the first year.
The plan is to restore the house partly as it was in Tennent's time, while keeping two newer bedrooms for an office and a library and artifacts room. Some of the newer features, such as a porch roof, a bathroom dormer, kitchen equipment and electrical fixtures, will be removed.
To plan the restoration, the group wants to hire a historic architect, costing $5,000 to $7,000, Price said.
As Price was working on the house Tuesday, a seminary class from Kansas stopped to see it. "I gave them a roadside tour."
By the end of the three years, the volunteers plan to open the restored house for tours and events promoting the history of the site and the township, Price said.
To draw attention to the house and the restoration work, battery-powered, LED candles shine in the windows at night.
"People will see changes happening all the time, Price said. "It's going to be a labor of love, but I think it will be well worth it."