Phillies' First Hits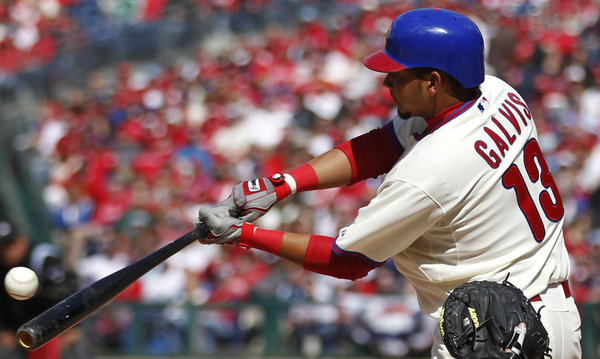 A look at the first major league hits of someselected Phillies.

Phillies' First Hits

Phillies rookie infielder Freddy Galvis finally got his first major league hit — in his 15th plate appearance — in Monday's home opener against the Marlins.
Here's how long it took some selected players who debuted in the big leagues with the Phillies to break through, what their first safety was and off whom.
| | | | | |
| --- | --- | --- | --- | --- |
| Player | PA | Hit | Date | Opposing Pitcher |
| Dick Allen | 3rd | Double | Sept. 3, 1963 | Denny Lemaster, Braves |
| Rich Ashburn | 2nd | Single | April 20, 1948 | Johnny Sain, Braves |
| Bob Boone | 5th | Single | Sept. 12, 1972 | Jim McAndrew, Mets |
| Larry Bowa | 6th | Single | April 9, 1970 | Ken Holtzman, Cubs |
| Pat Burrell | 3rd | Single | May 24, 2000 | Octavio Dotel, Astros |
| Don Carman | 54th | Single | May 16, 1987 | Storm Davis, Padres |
| Chris Coste | 15th | Single | June 16, 2006 | James Shields, Rays |
| Darren Daulton | 4th | Single | Oct. 1, 1983 | Cecilio Giante, Pirates |
| Del Ennis | N/A | Single | April 30, 1946 | Ken Gables, Pirates |
| Freddy Galvis | 15th | Double | April 9, 2012 | Anibal Sanchez, Marlins |
| Cole Hamels | 17th | Single | July 17, 2006 | Woody Williams, Padres |
| Dave Hollins | 1st | Single | April 12, 1990 | Jose Nunez, Cubs |
| Ryan Howard | 2nd | Single | Sept. 6, 2004 | Travis Smith, Braves |
| Chuck Klein | N/A | Single | July 31, 1928 | Pete Alexander, Cardinals |
| Mike Lieberthal | 2nd | Single | June 30, 1994 | Pedro Astacio, Dodgers |
| Greg Luzinski | 4th | Single | Sept. 11, 1970 | Carl Morton, Expos |
| John Mayberry | 2nd | Home Run | May 23, 2009 | Andy Pettitte, Yankees |
| Mickey Morandini | 2nd | Single | Sept. 1, 1990 | Greg Harris, Padres |
| Scott Rolen | 2nd | Double | Aug. 1, 1996 | Donovan Osborne, Cardinals |
| Jimmy Rollins | 2nd | Triple | Sept. 17, 2000 | Chuck Smith, Marlins |
| Carlos Ruiz | 4th | Single | May 9, 2006 | Pedro Martinez, Mets |
| Juan Samuel | 2nd | Triple | Aug. 24, 1983 | Mark Davis, Padres |
| Mike Schmidt | 2nd | Single | Sept. 12, 1972 | Jim McAndrew, Mets |
| Chris Short | 46th | Single | June 28, 1961 | Dick LeMay, Giants |
| Lonnie Smith | 24th | Double | Sept. 20, 1979 | Jim Rooker, Pirates |
| Chase Utley | 3rd | Home Run | April 24, 2003 | Aaron Cook, Rockies |
| Bobby Wine | 5th | Single | Sept. 23, 1960 | Bob Purkey, Reds |