Not Too Short So Far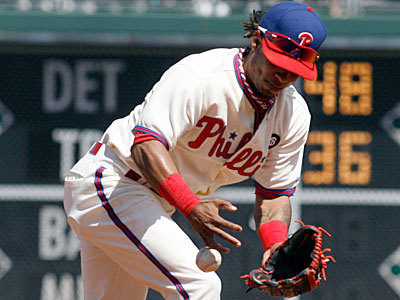 Phils' backup shortstops have filled in admirably well so far.
Not Too Short So Far

Although there is still a ways to go before Jimmy Rollins' return, Wilson Valdez and Michael Martinez are filling in nicely at the plate so far in his sted.
Rollins' replacements have a hit in seven of the nine games he has not started this season and are batting .290. The Phils are 6-3 in those contests.
A game-by-game look (*indicates two starts by Martinez, others are by Valdez):
| | | | | | | | |
| --- | --- | --- | --- | --- | --- | --- | --- |
| Date | Opponent | Result | AB | R | H | BI | Also |
| May 26 | *Reds | W 10-4 | 4 | 1 | 2 | 2 | 2B, SF |
| June 1 | at Nationals | L 1-2 | 2 | 0 | 0 | 0 | |
| June 5 | at Pirates | W 7-3 | 4 | 1 | 1 | 0 | IBB |
| June 6 | Dodgers | W 3-1 | 3 | 1 | 1 | 0 | 2B, K |
| June 7 | Dodgers | L 2-6 | 4 | 0 | 2 | 0 | |
| June 8 | Dodgers | W 2-0 | 4 | 0 | 0 | 0 | K, K |
| Aug. 22 | Mets | W 10-0 | 3 | 1 | 1 | 1 | IBB |
| Aug. 23 | Mets | W 9-4 | 3 | 0 | 1 | 1 | 2B, SF, K |
| Aug. 24 | *Mets | L 4-7 | 4 | 1 | 1 | 0 | K |
| Totals | | (6-3) | 31 | 5 | 9 | 4 | |