Missing Jim Johnson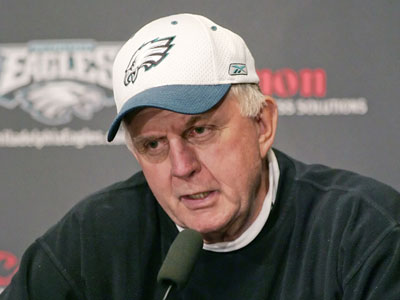 The Eagles defensive numbers since the death of Jimmy Johnson.
Missing Jim Johnson

There is was no question that following Jim Johnson (left) as the Eagles defensive coordinator would be difficult, and the numbers — especially for the last 2 1/2 seasons — have been mediocre, at best.
But one gets the feeling that if they had just gotten to the opposing quarterback a little more often (0 sacks in the last 202 minutes-plus), the Birds would have a win or two more and Juan Castillo would still have a job.
Here are the Eagles' defensive numbers and NFL ranks since Johnson's death (May, 2009):
Coordinator:
SEAN McDERMOTT
JUAN CASTILLO
Season:
2009
2010
2011
2012
Total
Rank
Total
Rank
Total
Rank
Total
Rank
Net Yards/Gm.
321.1
12th
327.2
12th
324.9
8th
330.8
12th
Yards/Play
4.95
5th
5.25
16th
5.29
12th
5.13
10th
Rushing Yards/Gm
104.7
9th
110.4
15th
112.6
16th
104.5
15th
Yards/Rush
4.06
11th
4.17
14th
4.35
19th
4.07
18th
Net Passing Yds./Gm.
216.4
17th
216.8
14th
212.3
10th
226.3
15th
Net Yds./Pass Play
5.55
5th
6.03
14th
5.98
11th
5.83
10th
Interception Pct.
4.31%
5th
4.29%
2nd
2.71%
17th
3.10%
12th
Sack Pct.
7.05%
t-8th
6.78%
10th
8.80%
1st
3.01%
30th
First Downs/Game
18.4
14th
19.3
t-18th
18.1
8th
18.7
9th
Third Down Pct.
33.0%
2nd
38.3%
t-17th
35.5%
13th
29.1%
4th
Opp. Points/Game
21.1
19th
23.6
t-21st
20.5
10th
20.8
13th