Don't Wake Worley Early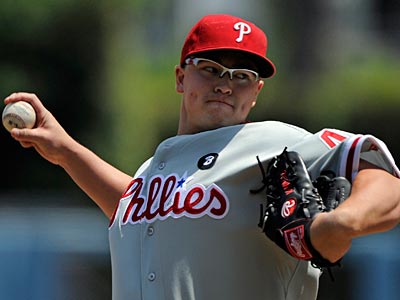 Vance Worley has struggled in early afternoon games.
Don't Wake Worley Early

Maybe the Vanimal should only come out at night.
The Phillies' Vance Worley has started just 16 games in his major-league career, but he seems to be much more effective when he takes to the mound later in the day rather than in an afternoon game (as he is shown above, taking on the Pirates on Sunday, July 31).
His career breakdown in starts:
| | | | | | | | | | | |
| --- | --- | --- | --- | --- | --- | --- | --- | --- | --- | --- |
| Local Start Time | W-L | ERA | GS | IP | H | R | ER | HR | BB | SO |
| Before 4 p.m. | 1-2 | 6.23 | 5 | 26.0 | 36 | 21 | 18 | 3 | 6 | 26 |
| After 4 p.m. | 7-0 | 1.44 | 11 | 68.1 | 40 | 11 | 11 | 3 | 26 | 51 |