Bye-Bye Brad Lidge, Part 2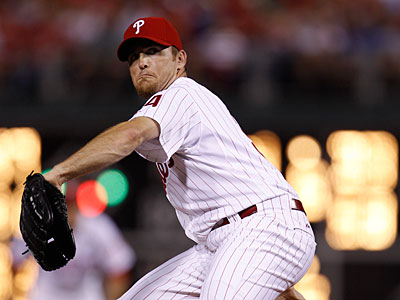 A look at Brad Lidge's 48-for-48 2008 and some other odds and statistical ends.
Bye-Bye Brad Lidge, Part 2

More numbers on Brad Lidge, including a detailed breakdown of his 48-save performance in 2008:
♦ Lidge pitched in 22 postseason games in his Phillies career. He allowed runs in just two of them.
♦ Lidge in 2008 (regular season and postseason): 105 strikeouts in 78.2 innings.
♦ In his 48 save opportunities in 2008, Lidge's strikeouts-per-nine-innings number was 13.22.
♦ Nineteen of his 48 saves in 2008 were 1-2-3 innings.
♦ In addition to his 11 blown saves in 2009, Lidge was 0-8 (7.21). Only one player in Phillies history (Russ Miller 0-12 in 1928) had a worse record in one season without a victory.
Here are how his 48 saves in 2008 broke down:
LEAD
BATTERS FACED
One Run
19
Three Batters
19
Two Runs
16
Four Batters
12
Three Runs
13
Five Batters
10
Six Batters
6
Seven Batters
1
PITCHES
HOME RUNS
0 to 9 Pitches
2
0 Home Runs
46
10 to 19 Pitches
28
1 Home Run
2
20 to 29 Pitches
16
30 to 39 Pitches
2
RUNS
HITS
0 Runs
41
0 Hits
29
1 Run
7
1 Hit
12
2 Hits
4
3 Hits
3
WALKS
STRIKEOUTS
0 Walks
32
0 Strikeouts
7
1 Walk
9
1 Strikeout
16
2 Walks
6
2 Strikeouts
20
3 Walks
1
3 Strikeouts
5