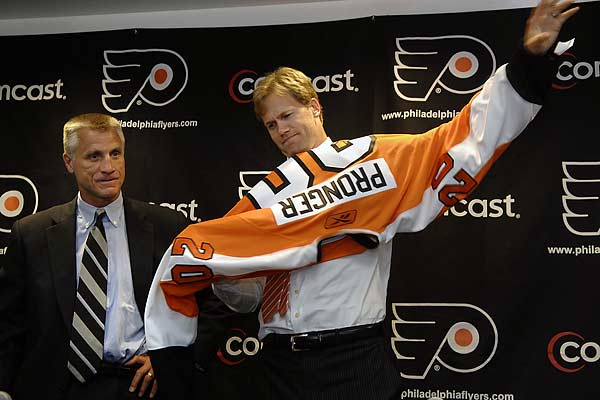 Apples and oranges? Or just midnight green and orange?
Both the Flyers and the Eagles operate in the world of a hard salary cap, although the enormous revenue generated by the NFL makes it a lot harder to spend too much there.
The Flyers are in a league where the cap is not only holding steady, but might be falling soon.
That didn't stop the Flyers from taking a big risk, and taking on a potentially big contract, to play for a Stanley Cup win right now.
They went out and traded for Chris Pronger, giving up two valuable draft picks, a recent first-rounder in defenseman Luca Sbisa and a decent scorer in Joffrey Lupul. In making the trade, they were also unable to resign winger Mike Knuble. Heavy trade, very heavy.
But as I tried to point out in a column in today's Inquirer, it was also the right move. Because you have to take big chances and big risks to win it all. Maybe they fall flat, but they are taking their shot.
Now, rightly or wrongly, the perception in Philadelphia is that the Sixers also take big chances (albeit not the right ones all the time), that the Phillies finally spent enough to get to the World Series (barely), and that the Eagles think they play in the National Fiscal League.
Is that a fair assessment of the Eagles? Well, they have been far, far under the cap at times, and based on actual dollars spent, some studies indicate they are somewhere in the middle of the league. Looking at that, it is difficult to disagree.
Part of the reason they were way under the cap last season was that they didn't have any of those 24-to-28-year-old guys they wanted to lock up forever. And that's at least partly because they have been developing them as rapidly in recent seasons as they did in the past. Being less talented isn't the goal, but it sure saves money.
The Eagles have two months until the opening of the season. Let's see them make some roster additions that match up, in risk and possible reward, with the Flyers' trade for Pronger. Then, promise, we'll stop talking about this terrible unfair perception.