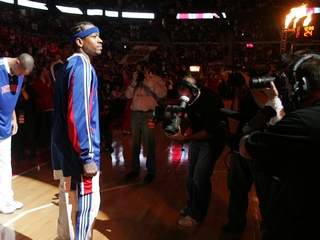 You don't have to feel sorry for Allen Iverson. He doesn't feel sorry for himself. But his journey after leaving Philadelphia hasn't been what he would have imagined.
The Detroit Pistons, thrilled to have his salary off their cap -- even if that freedom came at the price of destroying their season -- did not make an offer when the free agency period began last week and Iverson was available to talk to any team.
There are rumors that me might end up in Memphis or Miami, probably for the $5 million mid-level or veterans exception, or even in Charlotte with Larry Brown. That would be very Larry Brown-like, and maybe it would work.
Iverson talked with the Detroit Free Press about the next stage of his career. There wasn't much new, but it's still amazing to think that Allen ends up like this, essentially unwanted, a bench player who won't accept that role, a legacy from another generation.
Note to Ed: Don't even think about it.