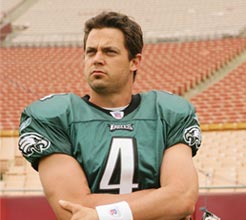 Or, more to the point, will Andy Reid and the Eagles stick with the kid regardless of what's happening Sunday, just to make the point that they stuck with the kid?
If Kevin Kolb manages the game well enough and the defense plays as it did against Carolina, it's a moot question. The Eagles take a win over New Orleans, Donovan gets another week to heal, and Kolb gets the start again the following game against Kansas City.
But what if that's not how it goes? What would it take for Jeff Garcia to get on the field this Sunday. It could be a game in which the offense is flat, the outcome is still in doubt and the game is headed into the fourth quarter. Andy Reid doesn't like to be wrong, but he also doesn't like to lose games, particularly conference games when you never know how many wins are necessary to secure home-field advantage in the playoffs.
When Garcia was here the first time around, he was amazed that the backup never got to take snaps with the first-team offense during the week. The starter got all the reps with the starting unit -- unlike many other places -- and that's still the case. Kolb, according to Reid, will take all the snaps with the No. 1's, while Garcia and Michael Vick split snaps on the scout team. What good that will do Garcia as he runs the other team's offense and hands the ball to Eldra Buckley is difficult to determine.