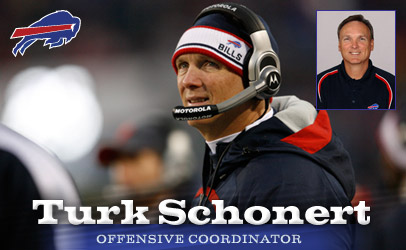 If someone had told you the Buffalo Bills would fire their offensive coordinator one week before the start of the regular season, I know you would have thought old friend Terrell Owens would have something to do with it.
That's wasn't the case when the Bills cut loose Turk Schonert (if the Turk cuts the players, who cuts the Turk?) over the weekend.
Now, admittedly, the Bills did fail to score a touchdown in five preseason games, and that's difficult to do, but the word is that the offensive woes didn't worry head coach Dick Jauron as much as they worried owner Ralph Wilson Jr., who ordered the firing.
All of this has taken place with Terrell on the sidelines with a bad toe. Owens told his Twitter public he expects to be ready for the season opener and dished out a reminder from Proverbs that from the Lord's mouth comes knowledge and understanding, which puts the Lord at least two ahead of T.O.