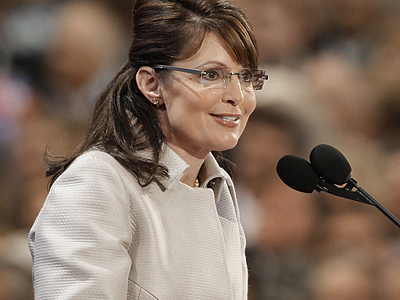 Sarah Palin delivered a great speech tonight -- for her party, for John McCain, for herself, for what she set out to accomplish. This was America's first real glimpse at the Alaska governor, and what we saw was a boffo politician who speaks in a plaintive prairie voice that channels America's Heartland like a chilling breeze rippling a field of wheat, who knows how to tell a joke, how to bring down the house and bring a tear to a few eyes. She is proud of her family, as she should be, and there is much to admire in her own "personal journey of discovery" (don't we all have these, by the way?) including her efforts to raise her son Trig. It is indeed nice to think that there would be an advocate for such children inside the corridors of the White House, although I'd surely like to hear what -- if anything -- she's done for special needs kids as governor of Alaska.
But...it was a great speech -- written for someone else, a male in fact, days before the Palin selection was even a gleam in John McCain's eye, but a great speech nonetheless. The pundits are fawning over it as I write this -- Tom Brokaw said she could not have been "more winning and more engaging" -- and in a world that is dominated by horse race journalism I can understand why, because I agree that Palin's one-of-a-kind story has given her long shot running mate a decent chance now of pulling this one out at the finish line.
It's a good metaphor, a horse race, because in the end it finishes right near where it started -- just as it will be for America if John McCain and Sarah Palin are sworn in on Jan. 20, 2009. Yes, it was a great speech politically, and a great night for her family, but an empty speech for America -- and for America's families. It was defined by its lowest moment, Palin's shameless lie about "the Bridge to Nowhere."