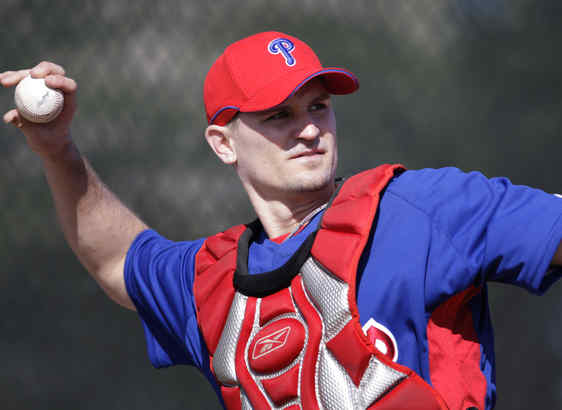 They say that unpopular news is dumped on a summer Friday night, and given the popularity of back-up catcher
Chris Coste
with a faction of Phillies' fans (maybe
Generation Jones
, the perpetual wannabes?), it was probably an unintended irony that the team announced late this Friday that
Coste was headed to the Houston Astros
. I openly rooted for Coste here on Attytood a number of times -- I don't know if I could say he was my favorite Phillie but he was my favorite story on the Phillies, and a journalist loves a great story almost as much as he loves winning a World Series. Almost.
Raised in the obscurity of Fargo, N.D., Coste came up with a novel idea for making it to the Major Leagues. It was called hard work and perserverence. He signed on the lowest level of independent minor league baseball and played in far-flug outposts from Manitoba to Venezuela while learning to catch (because he realized that was the easiest path to the Show, relatively). Slowly, he climbed the baseball ladder, then made it to a big-league spring training camp, and even though he was now in his early 30s, he worked his way in a position to finally become what became the title of the book he wrote about his experience, "
The 33-Year-Old Rookie
."
That made Coste a hero to anyone who believed in late-life opportunity (hey, 33 is late in the life of a pro athlete) and to many fans at Citizen Bank Park. Yet I got a surprising amount of hate here in the past for writing about Coste from people who didn't care about his Horatio Alger baseball saga and seemed bizarrely bitter that a back-up catcher who hit .285 in four seasons wasn't the Second Coming of Johnny Bench.
Here's what one Attytood reader emailed me from his mother's basement this morning: "The player was overmatched as a hitter, subpar defensively, and pitchers did not want to throw to him." There are some elements of truth in that -- but what I saw was a player who relied on the smarts he developed during his 10-year climb but maybe didn't have the God-given skills of some of the other players on the field.
So what? Not only did Coste give a smile to a lot of Philadelphia fans with his feel-good story, but the guy contributed. His 4-for-4 late game surge against the Mets last August,
capped by the game-winning hit
, was worth two games in a pennant race that wasn't decided until the next-to-last day. The kid from the sandlots of Fargo played in a World Series, and now he leaves Philly with the blinding bling of a World Series ring. If the phrase hadn't been ruined by some other dude, I might say, "Mission Accomplished."
I hope Coste does great for 156 out of 162 games for Houston, or anywhere else that he lands after this, because backup catchers usually last until they can barely walk. After that, I'd love to see him back here with the Phillies on the coaching staff, but if he simply wants to go back to Fargo and raise his family and polish his ring, why not? The guy has already Lived the Dream.
He can Coste from here on out.