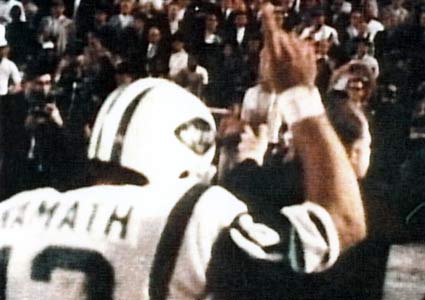 ...in Super Bowl III, which was re-broadcast in living color last night on the NFL Network, the oldest existing videotape of a Super Bowl telecast (from January 1969, of course; in case you forgot there was the late Curt Gowdy doing a promo for NBC coverage of "President Johnson's final State of the Union address on Tuesday night." Think LBJ could have gotten health care passed?....sorry, I digress.)
Just about the only thing I've ever achieved in life is that I've seen every single Super Bowl, starting in 1967, when I was age 7-going-on-8, and it was cool to thus re-watch the last quarter of the Jets' mega-upset over a ridiculously young-looking Don Shula's Colts. I'm curious if anyone else saw here it, and saw these things that shouldn't have been surprising but still were, such as...
-- watching the Jets' non-soccer-style kicker Jim O'Brien kick a 9-yard field goal (!), which was actually a lot harder than it sounds, because it was such a sharp angle from the hashmark, through the narrower goalposts that were set on the goal line.