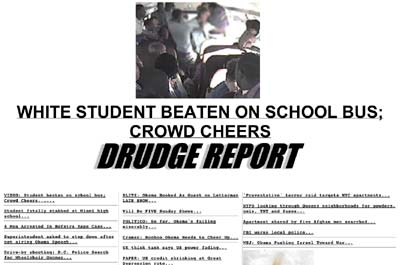 It's been a noteworthy springtime for news here in my hometown of Philadelphia -- a mayoral election, a fast start for the Phillies while the Flyers imploded in the NHL playoffs, the gruesome murder of a 9-year-old girl. Yet through all of this, there has been one story that has remained the long-term No. 1 most read story on Philly.com, the website of the Inquirer and Daily News. The headline: "City's black residents now top all groups."
There's no doubt that Philadelphia readers have long taken an interest in racial matters, but that's not the main reason the article drew so much traffic online. It was largely because the story got a coveted and prominent link from the Drudge Report, the once-pioneering news website that remains a major driver of Internet news traffic despite rapidly evolving ways that people consume news on the Web.
Actually, the story about Philadelphia's black population was just one of a number of outstanding stories in both the Inquirer and the Daily News using the new Census data showing how key neighborhoods have changed over time -- but none of those other stories seemed to intrigue online news impresario Matt Drudge. Conversely, it might not be clear to some why Drudge's global audience would care all that much about what feels like a local story for readers in one large U.S. city. Not clear unless you understand the Drudge formula of recent years -- appealing heavily to one political class, a segment that is terrified about social change and race and the idea that whites will soon be an American minority, as they have already become within the city of Philadelphia.