WITH U.S. REP. Chaka Fattah's debut on local airwaves this week, all five Democratic mayoral candidates are now running television ads.
No one will be as ubiquitous as millionaire candidate Tom Knox, whose ads started in December and who has dropped millions on TV time. The other candidates have much less cash because their fundraising is restricted by new campaign-contribution limits.
But now that the race is in the final weeks, expect a deluge of political ads. All of the candidates will be striving to set themselves apart in these spots by touting their achievements, endorsements or personal hard-luck stories.
Will anyone go negative? So far no one has dared, in part because you need serious cash to air attack ads and then to defend yourself from counterattacks. But it could happen. May 15 is a long way off.
We asked two veteran politcal consultants - Democrat Larry Ceisler and Republican Chris Mottola - to review the ads for us. Here's a breakdown:

AD: Nutter's newest spot is a follow-up to his first ad in which he criticized Mayor Street's record in City Hall. In this one he speaks directly to the camera and explains why he's going after Street. "I'm running against the things he's done wrong. His indifference to the crime and murder epidemic, for allowing political corruption to flourish," he says. He then says: "If that makes some of you uncomfortable, I'm sorry, you can vote for one of my opponents. But if you want to move us in a better direction and manage the city in the right way, I'm your man."

DOLLARS SPENT: Roughly $286,000 on broadcast and $2,600 on cable television.

REALITY CHECK: It's no secret that Nutter has been battling Street for years. So his declarations that he is running against Street's record appear to be real.

STRATEGY: Ceisler and Mottola both called the ad bold. "He's trying to capture the 20 percent of black voters, probably in the professional class, who don't like John Street," Ceisler said. "I think it's a very risky strategy, but when you're sitting where Mike Nutter is, that's what you do." Mottola said the ad made Nutter look tough. "What this does is it makes Nutter a strong leader," he said. "It gives him juice and it gives him courage and it shows he's not a go-along to get-along guy."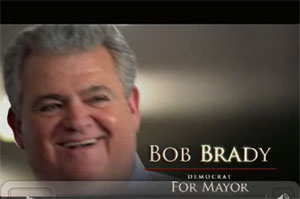 AD: "Rec Centers." Brady's fourth ad since going on the air in February features District Attorney Lynne Abraham. Brady pledges to put after-school programs in every rec center in the city. He also talks about how a crime summit he organized led to the creation of 1,000 jobs. Between those moments with Brady, Abraham says he can make the city safer. She concludes by saying, "Bob Brady is the mayor who will do something."

DOLLARS SPENT: This week he's spending $50,000 on cable television, according to a media insider. (Not all the spending will necessarily be for just this ad; the same goes for the other candidates.)

REALITY CHECK: After Brady's crime summit last fall, the Chamber of Commerce set a goal of creating 1,000 paid summer jobs for young people. So far they have created 600 and hope to reach the target. Brady has proposed an expansion of after-school programs, and he says he will seek increased federal funding to pay for them. But getting that funding can be a competitive business.

STRATEGY: Ceisler said this ad is an attempt to distance Brady from his reputation as a ward-politics insider. "Brady's trying to portray himself as the accessible neighborhood guy who cares about everyday rowhouse issues as opposed to others who would portray him as the consumate insider," Ceisler said.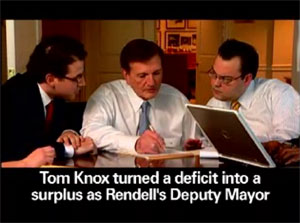 AD: "Five Candidates." This ad opens with side-by-side pictures of all five candidates. First Knox and Evans are highlighted and a narrator says that they both led the fight for tougher gun laws. Then Knox and Nutter are singled out and the ad says that they are the two reformers in the race. The ad then concludes by saying: "But only Tom Knox has turned a huge city deficit into a surplus as Ed Rendell's deputy mayor. And Tom Knox knows how to fund his plan to put a thousand more police on the streets."

DOLLARS SPENT: By far the biggest buy with $468,000 on broadcast and $65,000 on cable.

REALITY CHECK: Knox is trying to align himself with Nutter's and Evans' records of achievement, while suggesting he is still the best qualified candidate overall. But on the gun issue, Knox held one petition drive in support of tougher laws, and Evans has fought for gun control in the state House for years. And Nutter has actually passed ethics-reform legislation in City Council, whereas Knox has spent most of his career in the private sector.

STRATEGY: The pundits called this the first comparison ad of the race and noted that it could help Knox gain votes from Nutter and Evans, who are at the bottom in the polls. "He's saying to people, 'You know what? I know you like Michael Nutter and Dwight Evans, I know they're your first choice, but on Election Day I know you want to vote for a winner, so I want you to consider me as a second choice,'" said Ceisler. But it also could be an attempt to damage his closest rivals, Fattah and Brady. "He's playing push and pull," Mottola said. "It's clearly designed to draw down both Fattah and Brady."


Chaka Fattah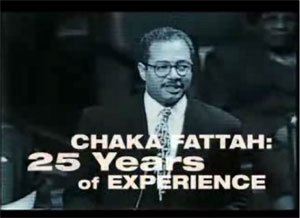 AD: "Transform." Over clips of Fattah, ranging from young community organizer to congressman, a narrator talks about his long legislative record, noting his work creating education programs. "Now Fattah has the boldest plan to lift our communities — targeting illegal guns, improving early education, adding after-school programs to give our kids a safe place to go," the narrator says.

DOLLARS SPENT: About $214,000 on broadcast television this week.

REALITY CHECK: Fattah has released ambitious plans to improve education and social offerings in the city. But he has said he plans to pay for many of those initiatives by leasing the Philadelphia International Airport — which could take a long time.

STRATEGY: Mottola said Fattah was playing it safe with this ad, a typical approach for candidates who are doing well. "It's decent spot," he said. "I think it's a front- runner spot." Fattah came in second in the most recent Daily News/Keystone poll, falling from his first-place spot earlier in the year.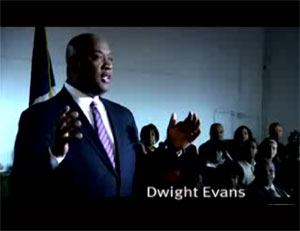 AD: "Table." Evans compares a safe community to a table with four legs, which he describes as a well-trained police force, a criminal-justice system with speedy trials, high-quality schools, and engaged parents and communities. As he describes the legs, a child carries a small table onto a bus. At the end, the kid places the table down in front of City Hall with a sign taped to it that reads, "Do Something."

DOLLARS SPENT: This week he has about $148,000 on broadcast television and $25,000 on cable.

REALITY CHECK: Evans is saying that as mayor, he will push for these four priorities. But he doesn't give specific plans or how he will pay for them.

STRATEGY: While experts thought the ad was clever and attractive, they also said it might be a little too high-concept for the average viewer. "It's such a torturous metaphor, and I don't know if it sinks in," said Mottola. Ceisler agreed.

"If it was entered in the Philadelphia Film Festival, it could win an award," Ceisler said. "It's a beautiful ad, it's beautifully shot, but you have to think about it and you have to view it a couple times.

He also questioned "why a person with so many tangible accomplishments has to speak in the abstract."