Elena Feliciano, 10, said she signed up for cooking class because when she is hungry, she wants to be able to cook for herself. But she also loves doing the dishes. "It's so roomy," she said, standing as the master of the cafeteria's triple sink. "I love having the space to myself."
Laylah Rivas, 11, likes cooking and baking and learning about new foods. But more than anything else, she loves hanging out after school with her No. 1 best friend, Elena.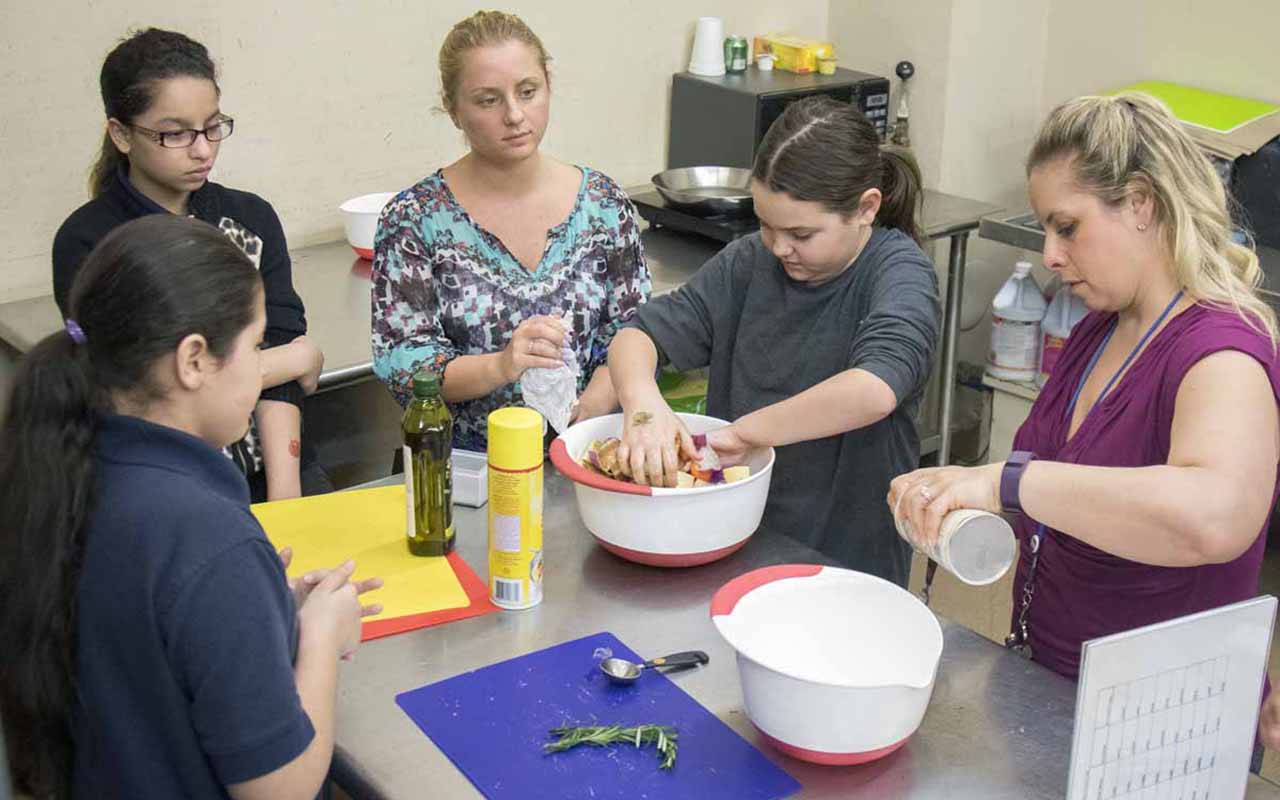 The two friends at Cayuga Elementary School in North Philadelphia are among 200 students around the region learning to cook nutritious meals at classes taught by 80 volunteers as part of the My Daughter's Kitchen program. But as we have learned since the program began, the children find things to love about the classes that we never anticipated.
Two Cayuga teachers, Jaimie Piotrowicz and Suzanne Rady, who are running the classes, have succeeded in teaching cooking skills at the weekly classes, but they also see the other ways the class lets the kids shine.
Roasted chicken and root vegetables were on the menu this week, and the onions needed to be peeled and chopped, the same with the carrots. But there was a question about whether to peel the potatoes.
Caytiria Esquilin, 10, had strong feelings.
"You might think it would give it a bad taste, but it doesn't," she said. "The skin has a lot of fiber and nutrition," she lobbied. "We should leave it on."
"She loves health class and she really pays attention," said Rady. "She is always giving us lessons."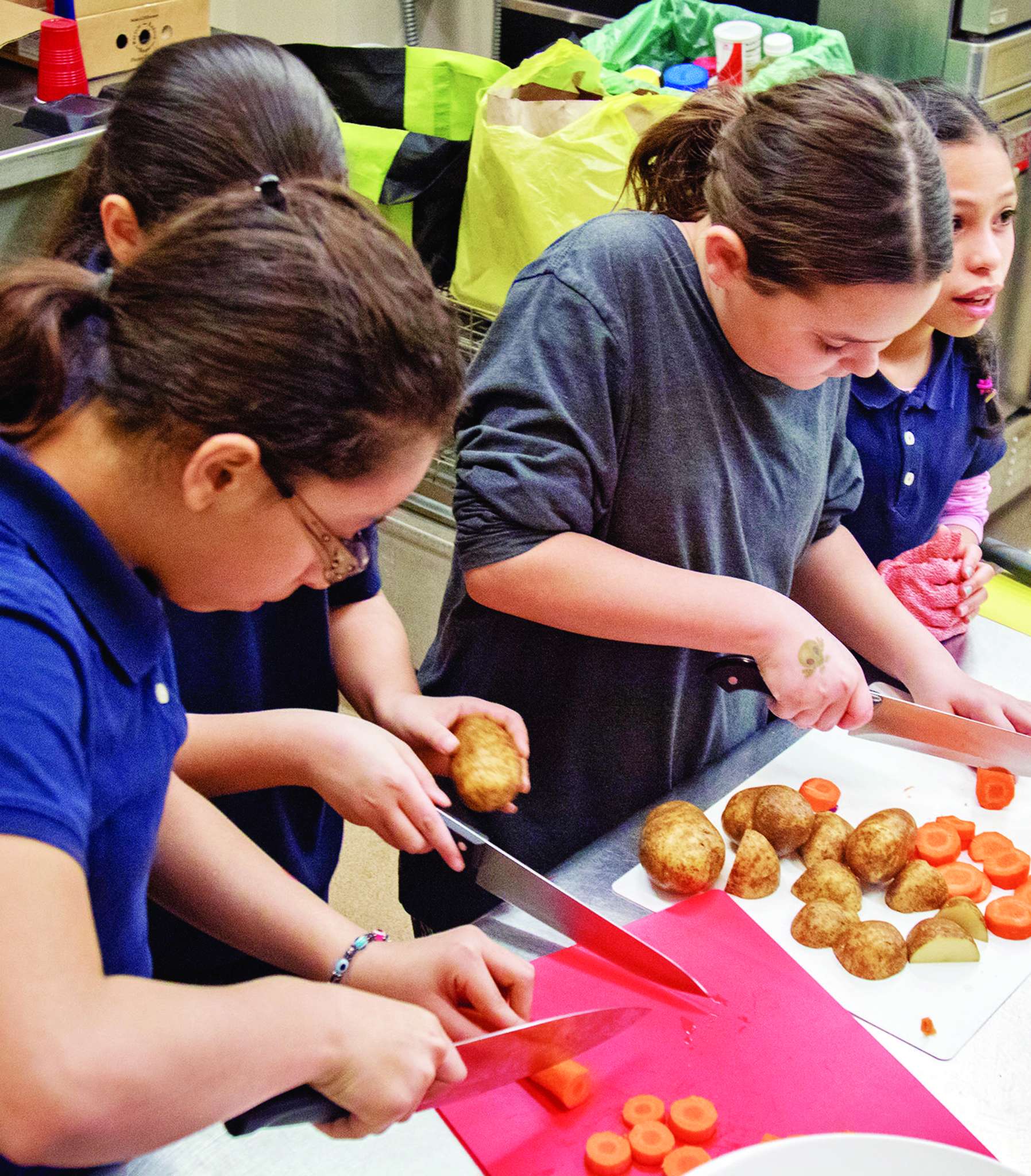 Rady and Piotrowicz talked about the healthy advantages of the recipe: the chicken is baked and not fried, therefore lower in fat, and the root vegetables are full of vitamins and minerals they absorb from growing in the ground.
But Jazmarie Estrada, 9, looking at the carrots and purple onions and red potatoes, had another observation: "We are eating a rainbow!" she said.
"Yes, we are," said Rady, explaining that vegetables of different colors provide  different benefits.
Jazmarie knows how to cook simple stuff at home, but she came to cooking class because she wanted to be able to do even more. "I was pretty excited they picked me, and I've been so excited since the first day," she said. "It inspires me to cook."
Piotrowicz said they also stress that these are meals on a budget. "This meal cost about $14. The kids don't always appreciate it, but their parents do, when we tell them."
The kids felt the fresh rosemary in the recipe looked and smelled like a Christmas tree, and they weren't quite sure what it would taste like.
"It will taste much better when it's cooked," Piotrowicz said. "I promise."
The chopped vegetables were spread between two sheet pans, then drizzled  with oil and vinegar and the chopped rosemary, before the chicken was nestled on top. Once it started cooking, and the aroma wafted through the kitchen, the sharp smell of rosemary blended with the chicken and the onions gave them a preview of what the meal would taste like. When it emerged from the oven, they were in awe of the beautifully roasted result.
"It's so beautiful!" said Caytiria.
"It looks so yummy!" said Laylah.
And all agreed the chicken tasted as good as it looked: "This chicken is so good, I want to marry it!" said Laylah. Though she and her friend Elena were not quite as enamored of all of the vegetables.
But Jazmarie loved the vegetables and said they tasted "smashy." And Caytiria couldn't resist another nutrition plug: "A wonderful meal that is really healthy and there was a lot of fiber," she wrote in her journal. Caytiria watches her grandmother cook every day and couldn't wait to take her home some leftovers to taste.
The other schools agreed with the assessment: "This was our best week yet," wrote volunteer Dia Becker at the Gesu School. "The girls were particularly excited about preparing a dish with meat. Jadah Sheppard expressed great surprise at how fantastic everything tasted without needing additional salt. Experiencing low-sodium meals has been a struggle with this group, and it was great to finally hear that something didn't need more salt."
"This week's roast chicken and vegetables was a smashing success with the students and the lucky faculty who were driven to the kitchen by the emanating aromas," wrote Jim Zaccario of Blessed Trinity. "Students and teachers all agreed that it was one of the best chicken dishes they had ever eaten. Students who don't normally eat onions or garlic, like Theresa Symes, gobbled them down," he wrote.
After waiting patiently for a long 45 minutes, it was time to eat. "They loved the texture of the vegetables and gobbled them up," wrote Katie Rhodes, the volunteer at Community Partnership School. "Isjeer Lowery came up with a new term for the chicken: 'It's crispunchy -- a mix of crispy and crunchy!'"