The holy celebration of St. Patrick's Day is reserved for March 17, but in Philadelphia, we're getting ahead of the game. The Erin Express, the bus that carts revelers around the city, begins its two-week run Saturday, so that means it's time to plan ahead. Here's a list of drinking and nondrinking events.
The free Erin Express was started decades ago by Cavanaugh's William Pawliczek and Smokey Joe's Paul Ryan Sr. as a safe way to transport St. Patrick's Day partyers between their two bars. It has since expanded in size and popularity: 10 buses and a Jameson Irish Whiskey-sponsored roll call of 16 bars, many of which (like Bonner's Irish Pub at South 23rd Street) host block-party-like bashes. Just keep it clean, kids. Think of the neighbors, and bring your own barf bags.
9 a.m.-6 p.m. Saturday. Free, beginning at Cavanaugh's Headhouse Square, 421 S. Second St., erinexpress-philly.com.
Buses shuttle from Northern Liberties' Monarch Philly (formerly North Shore Beach Club) and the Electric Factory, where bands and DJs will provide entertainment all day. The party at Monarch starts at 11 a.m., Electric Factory opens at 2 p.m., and bands start playing at 3 p.m. And at 5 p.m., Club Risque will be added to the lineup.
11 a.m.-9 p.m. Saturday. Register at Monarch Philly, 1031 Germantown Ave. $30, erinexpress.com.
The Center City Irish bar goes all out for its celebrations, which span two weekends. This weekend and next Friday and Saturday, doors will open in the wee hours (7 or 8 in the morning) to accommodate those who want to watch soccer and rugby, as well as those who want to milk every ounce out of their St. Pat's weekend. Expect live music Saturday and on the big day itself, March 17 (both days have a $5 cover).
Saturday, Sunday, and March 17 & 18, Fadó Irish Pub, 1500 Locust St., fadoirishpub.com.
Laurel Hill Cemetery offers "dead-men-tell-no-tales" reveries from Irish natives — Jerry McCormick and Bill Doran — whose families are buried in the Hills. After the death trip, Kearney Kommissary will serve Irish beer and nibbles at the cemetery Gatehouse.
Since 1984, the Leprechaun five-mile race, two-mile walk, and newly added Lucky 7-Mile Race have raised cash for Special Olympics Philadelphia athletes.
7:30 a.m. Saturday, starts where Martin Luther King Drive meets West River Drive and the Schuylkill Trail Connector by the Art Museum's Paine's Park. $25-$40, specialolympicspa.org.
Not content to let Philly have all the fun, South Jersey's saloons and gastropubs -- Vera Bar & Grill, Cooper House, Kaminski's, Irish Mile, and Keg & Kitchen -- got together to host the first Irish Exit, a day-to-night bar crawl for wanna-be-Erin attendees with DJs (Eric Bartell, Chillio Ortiz) and live music (The Loop Band). Leave the car at home: There's complimentary bus service among the party spots.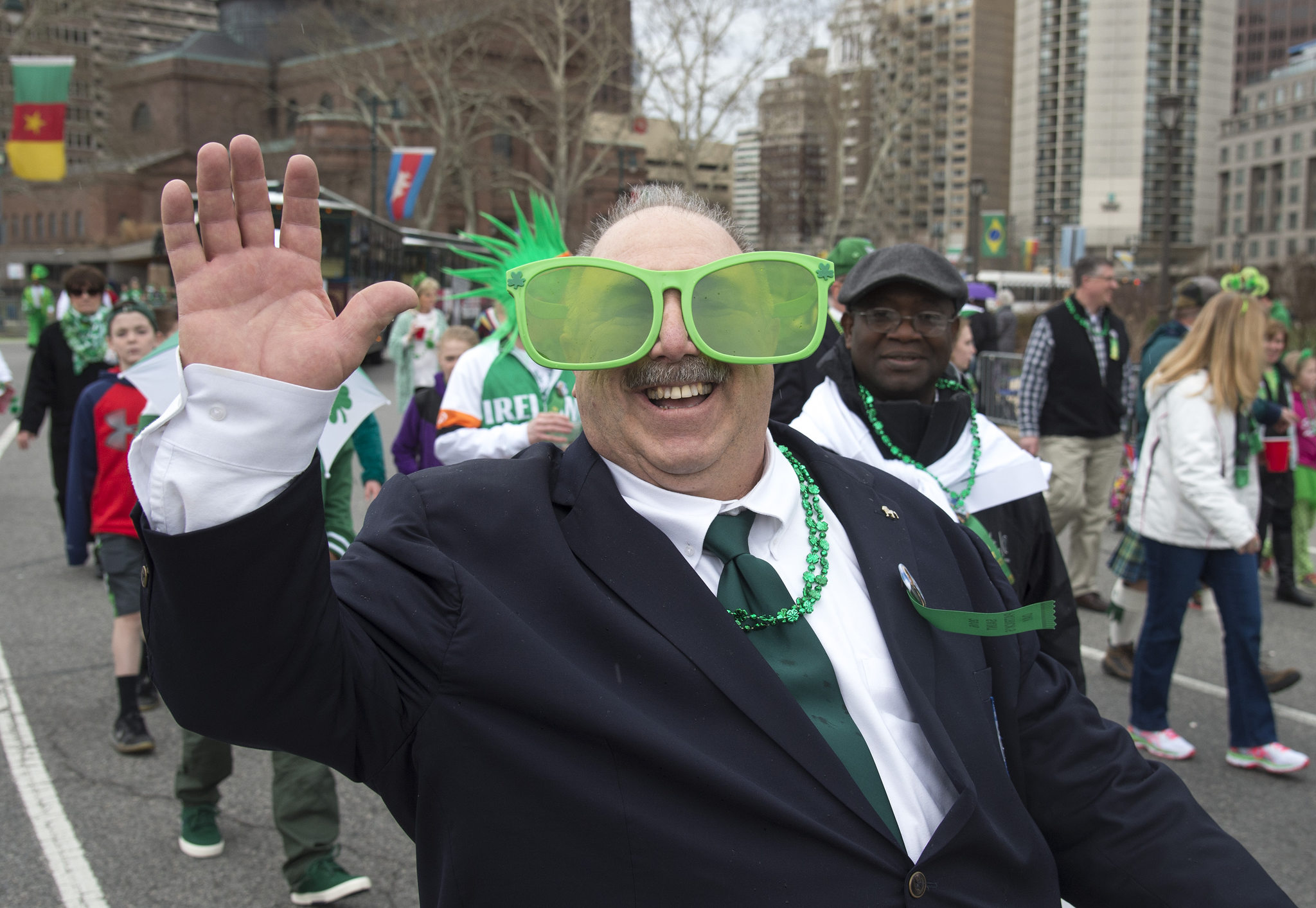 The 247-year-old parade, led by 2017 Grand Marshal Barney Boyce, starts at 9 a.m. in Center City with a procession led by the Emerald Society Pipe Band and the singing of the National Anthem of Ireland before a 9:15 a.m. commemorative Mass officiated by Archbishop Charles Chaput at St. Patrick's Church (20th and Locust Streets). The revelers and their decorated floats march to Penn's Landing and a staging area crammed tight with marching bands, dance groups, youth groups, and Irish associations from across the United States and abroad. (You can also catch the parade live on Fox29 television.) This year's theme is "St. Patrick, Protect and Guide Our Police Officers."
If you're not a drinker or are just looking for some family-friendly fun, Sober St. Patrick's Day is a party alternative to the often-booze-filled festivities. After Philly's St. Patrick's Day Parade, WHYY's Public Media Commons is to host a variety of entertainment in an alcohol-free setting. Performers include fiddlers, Irish dancers, and more.
God and St. Patrick bless Fishtown's Johnny Brenda's and DJ Greg -- who, for the sake of the Irish, bears down hard on an all-heavy-metal, all-vinyl playlist. Plenty of Thin Lizzy records here.
10 p.m.-2 a.m. next Friday, Johnny Brenda's, 1201 N. Frankford Ave.  Free. 215-739-9684, johnnybrendas.com.
Ten-plus bars in the Old City area —  among them The Gaslight, JJ Bootleggers, Common Wealth, Lucha Cartel, Las Vegas Lounge, Silence Dogoods — will offer music, booze specials, and lots of green swag (think green beads). Get a ticket, and skip the cover charges for all participating watering holes.
Noon to 8 p.m. next Friday, starting at The Gaslight, 120 Market St. $8-$15, 215-925-7691.