The new City at Sea Tour includes visits to never-seen-before areas of the ship, including medical and dental facilities and the post office.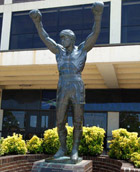 One of Philadelphia's most famous pieces of public art is a bigger-than-life boxer… literally. The fictional Rocky Balboa of Sylvester Stallone's Rocky movies was immortalized in bronze in 1980. Originally created for Rocky III, the sculpture is now a real-life monument to a celluloid hero. After filming for the movie completed, Stallone donated the statue to the City of Philadelphia. The statue was first located atop the steps of the Art Museum, as portrayed in the film. It was then moved to South Philadelphia, to the front of the Wachovia Spectrum at the sports complex. To mark the 30th anniversary of the original Rocky, and as part of Philly Loves Rocky Week, the statue will be moved back to a site at the Philadelphia Museum of Art. Soon you will be able to do your best Rocky impression, running up the Art Museum steps, and then pose for a picture next to the Italian Stallion himself.
26th Street, Benjamin Franklin Parkway, Philadelphia, PA
Youth dance teams, bands, choirs and other organizations will be entertaining park visitors this weekend. Know a talented group who's like to participate? Encourage them to sign up today.
Sunday, May 19 • 10:00 AM to 6:00 PM •
Sesame Place • 100 Sesame Rd., Langhorne, PA