Bon Jovi shoots back in court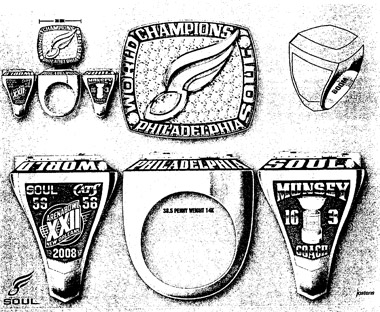 The rocker -- and jewelry designer? -- sues the former sales manager of the Philadelphia Soul.
Bon Jovi shoots back in court
Michael Klein, Philly.com
Last month, Joe Krause of Jenkintown took Jon Bon Jovi to Common Pleas Court, accusing the rocker and his partners at the Philadelphia Soul Arena Football League team of not paying him nearly $125,000 in wages and commissions after the league went on hold.

Yesterday, Bon Jovi's lawyers went to U.S. District Court to claim that Krause, the Soul's former sales manager, used the Soul trademark for himself -- even making and selling his own version of Soul championship rings, allegedly infringing on a design that Bon Jovi himself copyrighted.

JBJ's suit says Krause organized events last month in Reading to sell rings to Soul fans for $275 a pop. The unauthorized events had been advertised first under the name "Lost Souls" and later as "A Night to Remember," the suit says, adding that appearances by a coach and cheerleaders had been advertised.

The suit attached renditions of both designs:

Bon Jovi's ring design includes the familiar Soul logo with such inscriptions as "Philadelphia Soul World Champions," "Arena Bowl New Orleans XXII 2008," "Soul 59, Cats 56" and "Boom" (a team cheer).

Krause's design, which does not include the logo or even the word Soul, is inscribed "World Champions," "PHL," "ABXXII," "07-27-08," "PHL 59, SJS 56," "16-3" and "BOOM."

Krause's attorney, George Bochetto of Bochetto & Lentz, called the suit a "laughably, sick act of retaliation against Mr. Krause for filing a lawsuit — nothing more or less."

"We disagree," Bon Jovi attorney Camille M. Miller of Cozen O'Connor told me. "His client used the Philadelphia Soul trademark in connection with marketing and promoting an event. It looked like the Soul was sponsoring the event."

Meanwhile, if you're a Soul season ticket-holder, please e-mail me at mklein@phillynews.com.