Climbing out
Briana Scurry, a star of the United States' last women's World Cup championship team, is fighting to overcome the head injury that ended her career.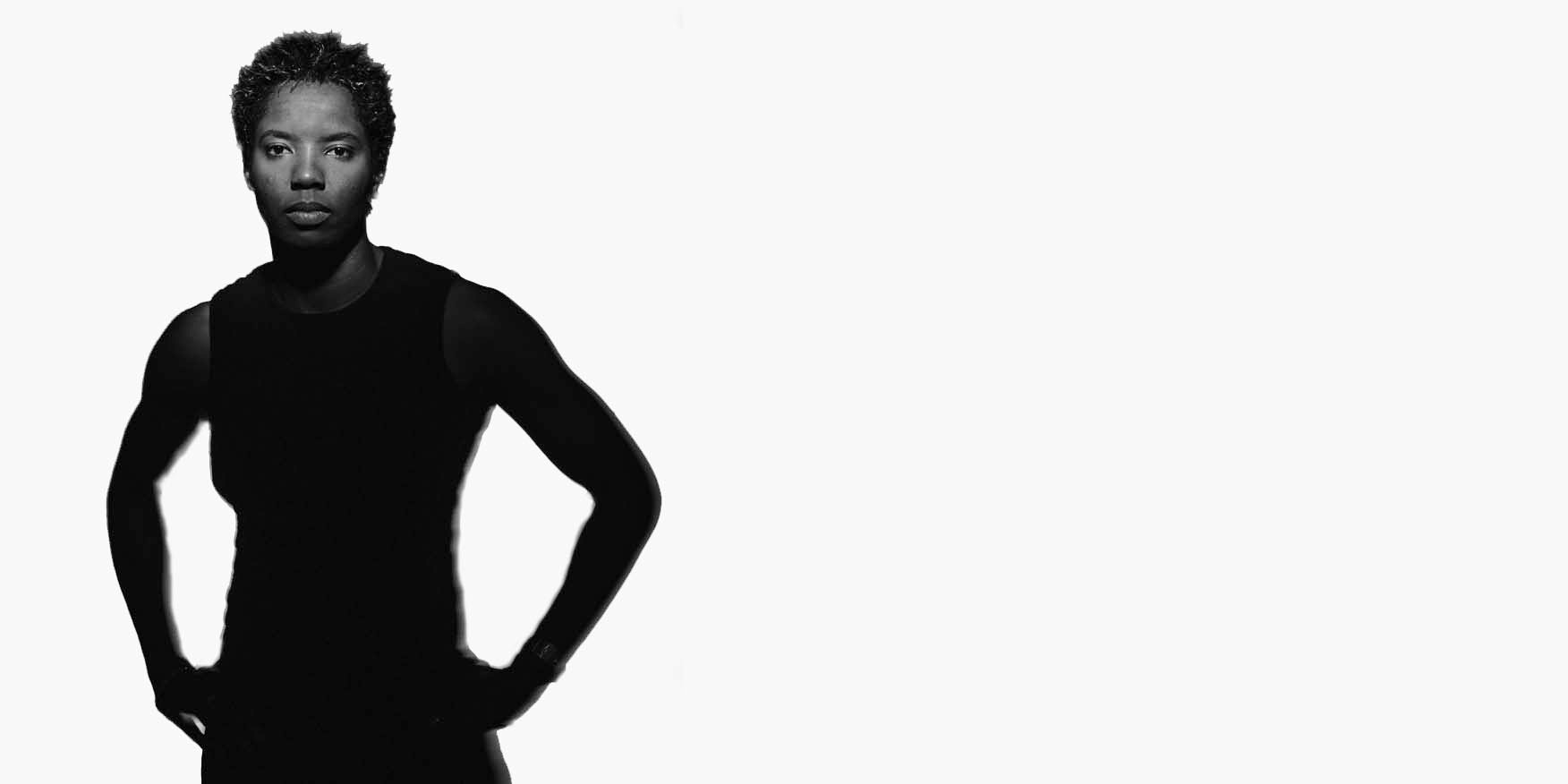 It was an April day in 2010, an early-season road game at West Chester University. A soccer ball headed toward Briana Scurry, arriving as a blur. The great goalkeeper of her era had to tell herself, "OK, grab it now." She guessed right.
Minutes later, walking off the field at halftime, Scurry kept veering off course, practically sideways. The field started to tilt. She couldn't fully make out the names on the backs of teammates' jerseys. A trainer asked her, "You OK?"
Scurry never played again.
A core player on the iconic 1999 U.S. women's World Cup championship team, maybe the most indispensable part of maybe the most important women's team in American sports history, Scurry, now 43, is asked all the time about her save against China in penalty kicks and about her best-in-the-world goalkeeping throughout that landmark tournament. By the time the United States reached the women's World Cup final in the Rose Bowl, the tournament had crossed over into popular culture.
When Scurry speaks to groups about her soccer career now, the talk is just as likely to start more than a decade later, with that April day in West Chester, with the play that changed her life - and the darkest of thoughts Scurry couldn't stop from flickering through her brain.
"I've only been able to bring myself to look at it like three times," Scurry said of the collision that did her in, causing a concussion and nerve damage that finished her career and short-circuited several years of her life. The sharp focus and her ability to overcome mental obstacles, the traits she believes had driven her to the top, "It went right down an elevator shaft," Scurry said.
DIETHER ENDLICHER / Associated Press
Briana Scurry, left, goalkeeper for the U.S. women's Olympic soccer team, and Carin Gabarra, carry a U.S. flag onto the field Thursday, Aug. 1, 1996 at Sanford Stadium in Athens, Ga., after the team's 2-1 win over China for the gold medal.
Scurry had been scrambling for a loose ball in front of her Washington Freedom goal during a Women's Professional Soccer game. A Philadelphia Independence forward tucked a toe in, trying to get the first touch. There was nothing dirty about it, but a knee collided with Scurry's head, and both players tumbled over.
JOHN G. MABANGLO / AFP/Getty Images
U.S. goalkeeper Briana Scurry (left) and teammate Joy Fawcett (14) defend against a Brazilian attack by Pretinha on goal in the women's World Cup semi-final match between the U.S. and Brazil July 4, 1999 at Stanford Stadium in Palo Alto, California. The U.S. defeated Brazil 2-0 to advance to the final.
"I may have instantaneously blacked out and then blacked back in," Scurry said of the play. "I don't remember standing up. But I stood up. The referee didn't even blow the whistle. It wasn't even a foul. It wasn't anything."
A trip to the hospital after returning to Washington provided Scurry routine instructions: don't drive, don't watch television, stay on the couch and relax. Because she'd been hit in the head before (Scurry says she suffered at least two earlier concussions), she was expecting things to clear up. But this time, she'd take a baseline cognitive test and just bomb it. A number or a letter would flash in front of her, and she would try to remember what she'd seen. She couldn't do it.
The league had a disabled list, and she went from 15 days to 30 days to 60. Soon, the season was gone.
Fast forward a year later, and Scurry was part of ESPN's coverage of the 2011 women's World Cup in Germany.
"When I'm on the set, and I'm analyzing a play - in my mind, it's going really slow, and I can't find the words," Scurry said. "I have to find the file of what I want to say, and I have to put it together. I was having to think about it. I couldn't find that file. That was scary."
Scary? It would make you want to go home each night and throw up.
"I did," Scurry said. "Essentially, I was in hell. . . . I'm thinking I'm saying everything really slow, and I'm tripping over my words, and I went and looked at it and I wasn't. 'That's weird. Why do I feel like it's a mess and it doesn't sound like a mess?' I looked fine, and I wasn't."
STEPHEN DUNN / Getty Images
Scurry, playing as goalkeeper of Atlanta Beat on July 29, 2001, driven from the field after being injured versus the San Diego Spirit during their WUSA game at Torero Stadium in San Diego, Calif., won by the Spirit 3-1.
More pleasant memories: Walking down a sidewalk in Pasadena, Calif., the day after the '99 World Cup final. Scurry's life, she realized, was suddenly different.
"It went from playing soccer to everybody knowing me all of a sudden," Scurry said. "Going to lunch, people were honking, 'Hey, Scurry!' One guy actually stopped his car in the middle of the street, got out, came over, high-fived me."
"As the game was getting helter-skelter, Bri got calmer. As the game got faster, it seemed to get slower for her."
— Tony DiCicco, Surry's coach
The day before, Scurry had stopped one of five penalty kicks in a shootout against China in the U.S. victory. Just before, her coach, Tony DiCicco, had told her that if she stopped one, she'd be a hero; two, a legend. She remembers telling him hero was good with her. She didn't even look at her teammates taking their kicks and believed with absolute certainty that the third kick would be the one. That was the only time, she said, that she really stared down the Chinese player taking the kick.
The game plan wasn't to guess where to go and hope for the best. It was to get a read as late as possible. Even if Scurry missed, the late jump would increase the shooter's nerves. And when she saw those nerves, she pounced.
That save on the third kick was the climax of the whole thing, but Scurry's finest work may have come in the semifinals against Brazil. Two or three Scurry saves that afternoon were the difference. Talking about it 16 years later, Scurry grabbed the top of her water bottle. "That was the difference - this much," she said, referring to how close those saves were, the margin between stopping the ball and it finding the net. All her years of experience added up to a bottle top.
"As the tournament went along, she kept getting better and better," said DiCicco, himself a former goalkeeper. "People don't realize her mental skills. Late in games, you're up a goal, the other team is throwing everything at you - as a coach, you're counting players; it seems like they have 15 on the field. As the game was getting helter-skelter, Bri got calmer. As the game got faster, it seemed to get slower for her."
Migraines. Deep depression. Still a lack of balance. Doctors weren't helping.
"My ability to overcome things . . . my mentality - that element was gone," Scurry said. "That was what was broken by the concussion. So the one thing that I always went to, to get myself to the highest pinnacle, was the thing that was broken."
Scurry's career accomplishments
1993: Playing for Massachusetts, Scurry is named top collegiate goalkeeper.
1993: Scurry joins women's national soccer team.
1994: Named starting goalkeeper for United States women's national soccer team.
1996: Helped lead the team to an Olympic gold medal in Atlanta.
1999: Scurry's shoot-out save against China was key to a championship win in the World Cup. Giving up only three goals in the entire World Cup, Scurry was named the tournament's top goalkeeper.
2001: One of the first women in the world to participate in a woman's paid professional league. She played in two WUSA Championship Games as captain of the Atlanta Beat.
2003: Scurry is named WUSA Goalkeeper of the Year.
2004: Helped lead the team to her second Olympic gold medal in Athens.
2009: Begins playing for the Washington Freedom.
2010: Retires, holding the record of 173 international appearances, the highest among female goalkeepers.
She thought back to the great comeback of her career, after '99. She had so enjoyed her post-World Cup success, she said, that she forgot to keep working out. Maybe because she was so instrumental in '99, none of her teammates called her out. But she didn't play a minute in the 2000 Olympics. The star was suddenly the backup.
"It was hell - it was absolute hell," Scurry said. "I was bitter. I was angry. I felt betrayed. It was interesting because, looking back on it, I'm the one who betrayed."
When listing the achievements of her career, Scurry puts her second Olympic gold medal, when she started for the United States in 2004, right up there with the '99 World Cup. (When the women's World Cup begins June 6 in Canada, the United States will be trying to win for the first time since '99.)
But those tools she used to get back to the top after 1999 proved useless after the concussion. It wasn't a shot flying by her and into the net. Life itself was getting by her.
"I was in a really deep hole at the end of 2011," Scurry said, admitting that her thoughts of how to end the pain got very dark, edging toward suicidal. "It was fleeting, but frequent enough to be a concern, where I thought to myself - I can't let this get a hold of me because of my mom. That was what kept me above it, what caused me from dipping too deep into that hole."
Women's Professional Soccer folded after the 2011 season, so her case turned into a worker's compensation claim, she said, which meant every medical turn brought bureaucratic entanglements. Almost a year after hearing about a Baltimore neurologist, Kevin Crutchfield, Scurry finally saw him in 2013. A former college soccer player, Crutchfield knew all about Scurry. He had watched the China game.
"He told me to sit down," Scurry said. "He said, 'I'm going to help you.' The way he said it, I believed him. He had soccer jerseys on the wall [of] youth players and MLS players he had helped with their head injuries. . . . As we talked, he took his hand and pushed right behind my left ear, and I literally jumped off the table. He said, 'OK, good. I want you to stand on your feet and walk to that corner, come back, close your eyes, and walk.' Within 10 minutes, he had diagnosed me."
Yes, she had suffered a concussion, he concluded, but she also had suffered damage to her occipital nerve, which goes up from the spine through the neck to the back of the head.
"Watch the replays of these athletes getting concussive injuries," Crutchfield said in a phone interview last week. "Stop looking [just] at the head. . . . I rarely ever see a human head injury without some degree of neck involvement."
Scurry had surgery to repair the nerve damage. She began climbing out of the hole.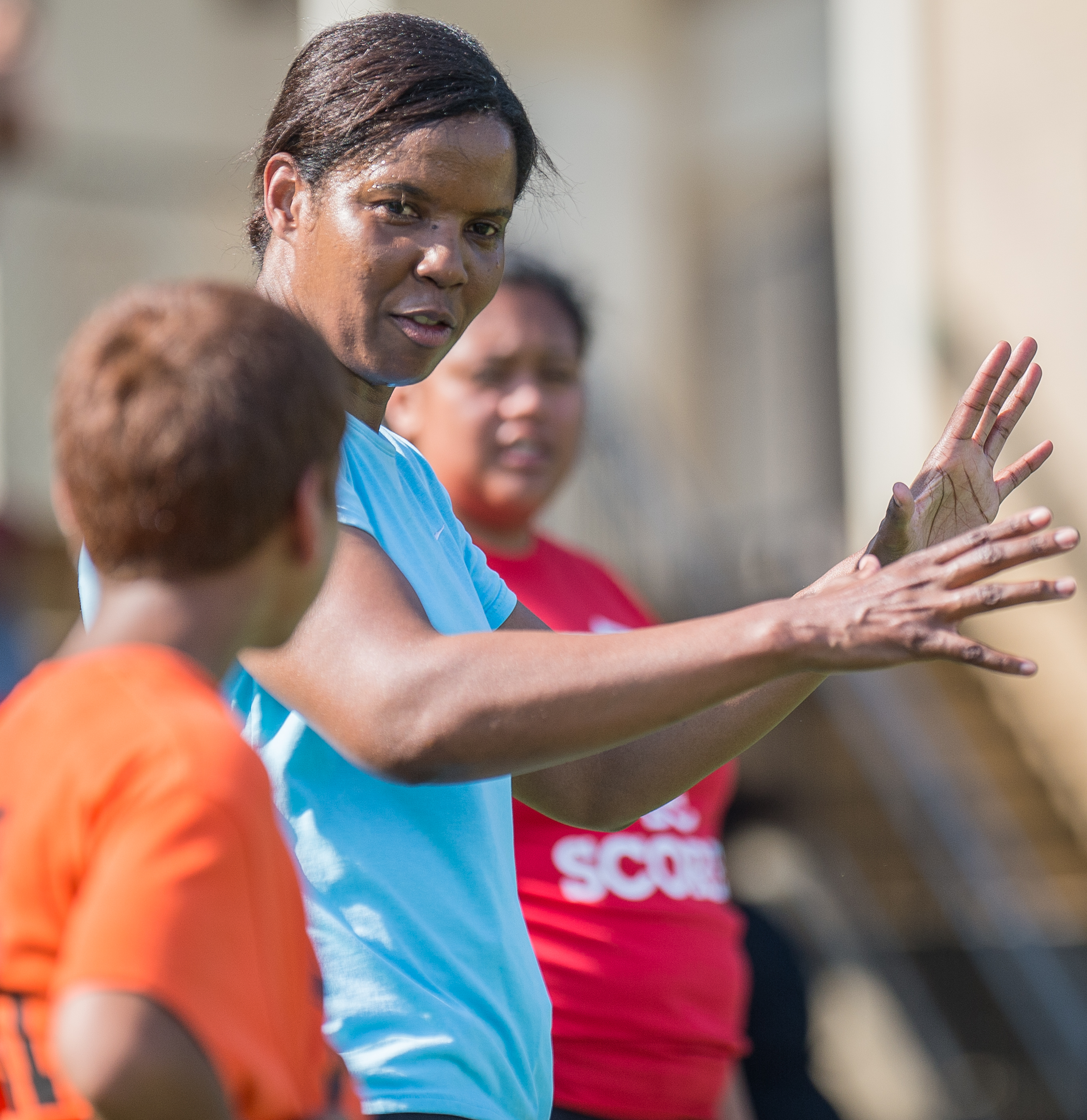 BRYAN WOOLSTON / For the Philadelphia Inquirer
Briana Scurry offers advice to student athletes during a soccer clinic at Marie Reed Elementary School in Washington, D.C., Tuesday, May 19, 2015. Scurry led the clinic for DC Scores, a non-profit offering leagues for low income, inner city youth.
"What, did she used to be a soccer player?"
A mother was watching Scurry, still looking close to game shape, conduct a mini-clinic earlier this month with some goalkeepers from DC Scores, a Washington after-school program.
"You have a lot of responsibility and a lot of glory," Scurry told the keepers.
One boy cut to the chase.
"How much money do you make?"
Scurry has thought about coaching full-time, she said, but decided her best work can be done in concussion awareness. She believes she is at 95 percent overall, occasionally having balance problems after a strenuous workout.
"I can remember things," Scurry said, sitting inside a few hours before the mini-clinic. "I know that the way I'm talking to you, I'm aware, I'm finding the information, I'm saying it, it's all happening in real time. And no more anxiety, no more depression."
Has she become any more outspoken on concussions?
"I love my game, it is the beautiful game," Scurry said. "But on the flip side of that coin, it is the not-so-beautiful game. That part showed itself in the men's' World Cup last year when no less than three massive hits to the head had players passed out, like knocked out, and then back in the game again. I was going crazy. I actually wrote an open letter to FIFA during the World Cup."
"The ability that I built to be able to do it took many years, and it only took a moment to lose it."
— Briana Scurry
She also talked about research indicating that brains are still developing up to age 14. She wants heading banned in soccer until that age.
"Most of the time it's going to be fine, but in that 1 of a 100 or 1,000, it's not, and that kid is 14 years old, and they can't figure out their work, and they can't interact with their friends, and they can't be a kid," Scurry said. "Did that situation really need to occur?"
She knows injuries happen, that her own injury was basically unpreventable. But that also should be useful information, she said. It was a fluke, but it happened to a player who had risen to best in the world.
"The ability that I built to be able to do it took many years, and it only took a moment to lose it," Scurry said. "And it's taken many years to build it back again."
She didn't share any of this with the boys and girls at the after-school clinic, in the Adams-Morgan section of Washington. That 2010 day in West Chester never came up. Scurry did tell the young goalkeepers, "There will be goals. You cannot save everything."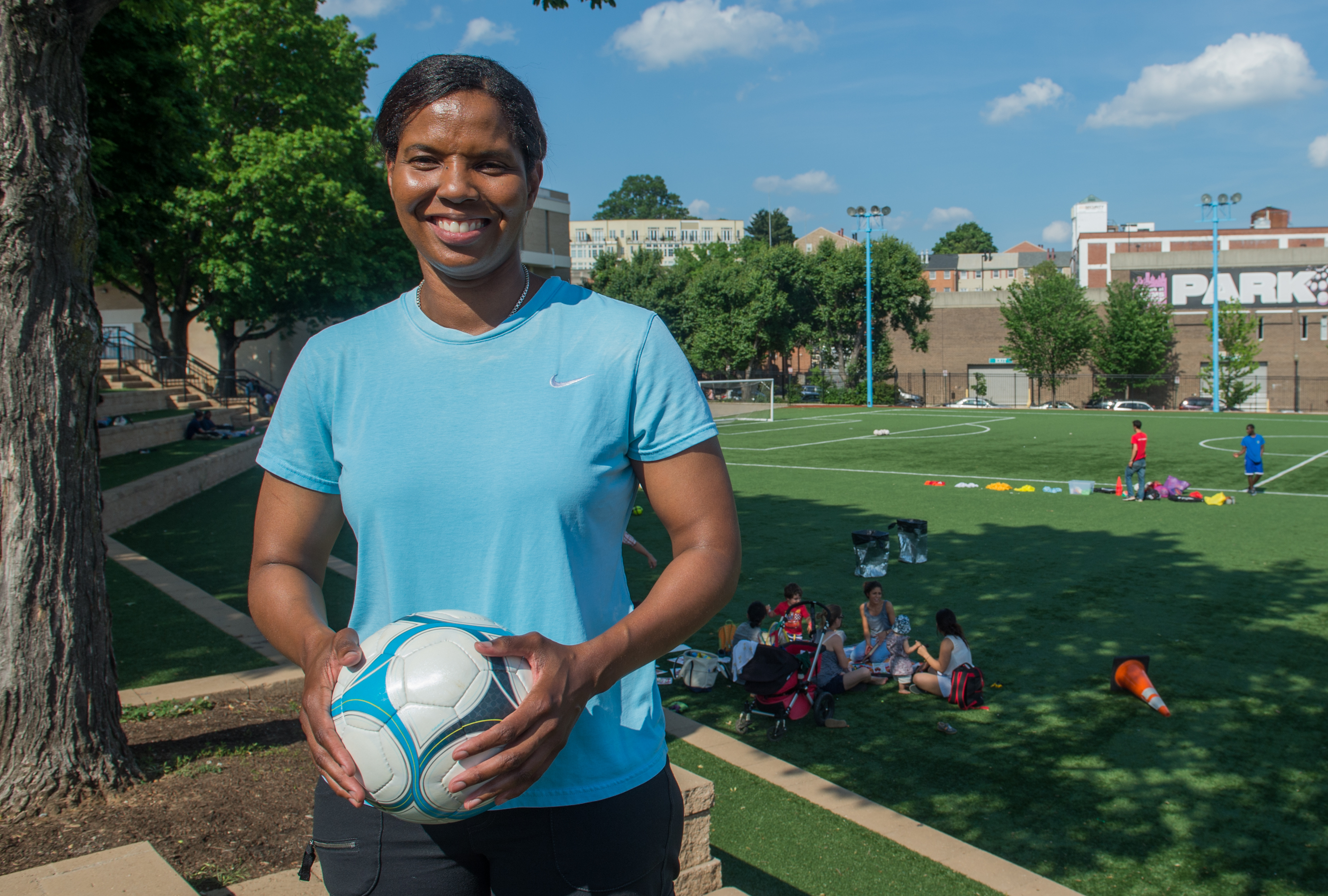 BRYAN WOOLSTON / for the Philadelphia Inquirer
Scurry pauses for a photograph before leading a soccer clinic in D.C. Tuesday, May 19, 2015.
mjensen@phillynews.com | @jensenoffcampus
---