This post is rather long, but hey, it's my last postgame writeup of the season. So here are some thoughts from me after the Union closed out their inaugural season with a disappointing 3-1 loss to the Crew in Columbus. The video highlights are here, if you can stomach them.
- I really think the Union could have won this game if they'd put some creativity into it from the start. We all know what Sebastien Le Toux and Danny Mwanga can do, but they can't do everything themselves. Someone has to get them the ball from further back on the field.
In Peter Nowak's system, that job should fall to the other midfield players - not just Le Toux, and perhaps not even Le Toux at all. But none of Justin Mapp, Eduardo Coudet and Stefani Miglioranzi are true linking players. Each is capable of filling that role, but Mapp is really a winger and the other two play more defensive positions.
Theoretically, Le Toux was set up to be that linking player yesterday. But he's a guy that likes to make runs with the ball at his feet, and he isn't really a setup guy in that way. For as many assists as he's recorded this season, Le Toux is at his best when he's on the receiving end of the play.
- Danny Mwanga didn't see much of the ball at all. I think that was a side effect of Le Toux's role. Mwanga got the ball with his back to goal a few times, but he has shown that he is best when he can face goal and shoot without getting too fancy.
That may sound simple, but it's not a bad thing. If anything, it calls for Le Toux and Mwanga to be paired together up front. Le Toux's creativity in tight spaces complements Mwanga's finishing ability. Moving Le Toux up top would also free up a spot in midfield, and allow the Union to use its midfield depth even more.
On top of all that, both players are pretty young. There's real potential for Le Toux and Mwanga to play together with the Union for a few years. That would be great to see, especially in the Designated Player era.
- So who should fill that vacant spot in midfield if Le Toux moves up top? I think you already know my answer to that question. Roger Torres fits the bill, and he showed it again yesterday when he came on as a substitute midway through the second half.
I really liked the word that Kyle Martino used on the local TV broadcast yesterday to describe the way Torres plays: he has "ideas." You could also call it improvisation, or invention, or any number of other things. It takes a certain mindset and abity to see the field in a certain way, and it's not something that every soccer player has.
I also wouldn't discount Fred's ability to play the creative role. We don't always see it, and we've discussed the reasons why before on here. But the risks that Torres presents with his youth and lack of size are not problems with Fred.
- The back line was most at fault for the final score. Time and again, either Michael Orozco Fiscal or Danny Califf did not to react to a situation properly. Sometimes thery were out of position, sometimes they misplayed clearances and more than once they just plain slipped.
The trouble started in only the third minute, when Califf froze and let a ball that got past Eddie Gaven bounce right off his chest. That let Gaven claim possession, and when Orozco Fiscal came over to challenge Gaven he left Guillermo Barros Schelotto unmarked. It took a last-second tackle from Jordan Harvey to disrupt the play just enough for Stefani Miglioranzi to be able to step in and clear the ball out for a corner.
Miscues on the back line were a major factor in Columbus' third goal. Orozco Fiscal had a chance to close down Schelotto early in his run, but didn't take it. When both players reached the edge of the 18-yard box, Califf left Andres Mendoza to try to help Orozco Fiscal. Mendoza was thus completely unmarked, and Schelotto had no trouble finding his teammate for the easy shot.
- Chris Seitz came off his line too often for my liking. I counted three occasions in the first nine minutes alone. On the second of them, Seitz wasn't even in the camera frame after Emilio Renteria ran past him in pursuit of the ball. On the third, he kicked a clearance straight into the stiff wind, and it didn't go very far.
Seitz did make some nice saves, including a spectacular diving parry of a swerving Schelotto free kick in the 10th minute. But he got quite decisively burned in the 42nd minute, when Emilio Renteria beat the offside trap - which was poorly executed, it should be said - and caught Seitz completely stranded.
- The foul that led to Columbus' penalty kick clearly took place outside the box. Even the Columbus local TV broadcasters said so. I'm willing to give the referee the benefit of the doubt about whether there was a foul in the first place, but here's the evidence of where the contact occurred: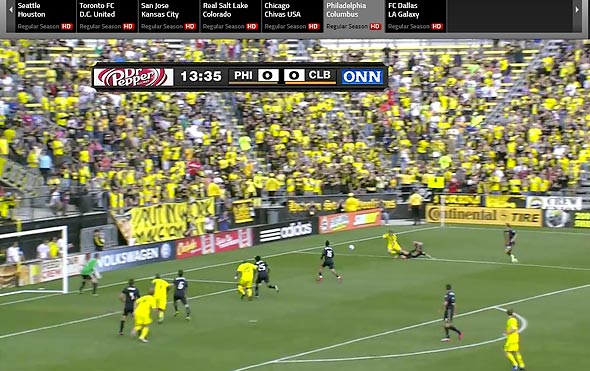 - Elsewhere in MLS, three great players bid farewell to their professional careers over the weekend. C.J. Brown, Brian McBride and Jaime Moreno all made significant contributions to Major League Soccer, and are worthy of the many plaudits they have received.
Brown has been a steady presence on Chicago's back line since the Fire's inaugural season back in 1998. He logged 25,813 minutes on the field in 296 games, and in all that time acquired just 51 yellow cards and five red cards. The most bookings he was ever given in one season was seven in 2000 and 2007.
The exploits of McBride and Moreno are much better-known. Both players joined MLS in its inaugural season, and ended their careers in cities they genuinely considered to be their homes.
McBride grew up in Arlington Heights, Illinois. Even though the first ever draft pick in MLS history started his career in Columbus, it only made sense that he joined the Fire when he decided to come back from England.
Of course, McBride's most famous moments came with the U.S. national team. He scored 30 goals in 96 games for his country, and is widely considered to be the best pure striker in American soccer history. It is a challenge to pick out just one famous goal from his career, but there is one that I personally will never forget.
It came in a World Cup qualifier against Guatemala at RFK Stadium on the Saturday of Labor Day weekend in 2000. With the U.S. playing a man down, Cobi Jones led a counter-attack and served a high cross from the right side. McBride hit a first-time volley past the goalkeeperf from close range, and fell on his face as the ball crossed the line. The roar of the crowd told him that the ball was in the net, and he put up his fingers in celebration as he lay on the turf.
Perhaps some of you were there that day; others of you who watched on TV might remember Jack Edwards' exclaimation that the building was shaking. I was out of town for the holiday weekend, so I was watching the ABC broadcast of the game (yes, U.S. World Cup qualifiers used to air on network television).
When McBride scored, I let out a whoop and slammed my fist on the carpet in celebration. I distinctly remember that it spooked my mother on the other side of the room. It really was that big of a goal, and it led to McBride scoring an even bigger one in South Korea two years later.
As for Moreno, he goes into the record books as simply the greatest player in D.C. United history. He doesn't have much pace anymore, but Union fans know all too well that he still has plenty of guile. And the Bolivian can still finish, especially from the penalty spot: he scored from there on Saturday to reclaim the title of top scorer in MLS history with 133 goals.
In addition to his longevity on the field, Moreno put down real roots in Washington off the field. Moreno and his family live in the northern Virginia suburbs, and he has raised his children there. He even joined the D.C. United supporters' club for a game earlier this season, and was caught on camera banging a drum in the Barra Brava.
You can watch some of the tributes D.C. fans paid to Moreno below. Personally, I hope that United finds a way to keep him on board in their front office. The player, the club and the fans he entertained for so many years deserve that.