Twitter crashed this morning and it's all David Beckham's fault. If you tried to access Twitter on Thursday morning, you were greeted with this lovely landing page.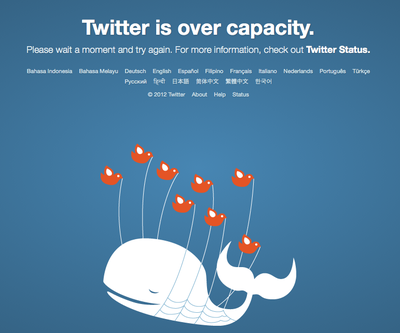 This message popped up at nearly the exact instant that David Beckham emerged from a Paris doctor's office and news broke that he had reached a deal to take his talents to Paris Saint-Germain. Coincidence? I think not. When Twitter came back, the top trend was #PSG.
He'll look to win a league championship in a fourth country, having won in England, Spain and the U.S. already. Much of the buzz surrounding the move, though, involves speculation as to how it will affect his wife—former Spice Girl Victoria—and family. Victoria Beckham has reportedly wanted her hubby to play in Paris for some time now because, fashion.
Beckham ended his six-year stint in the U.S. last month after winning two MLS Cups, moving back to London with his wife, former Spice Girl Victoria, and their four children.
Now Beckham's family will be just a short flight or train ride away from the Champs-Elysees. [AP]