Sixers draft pick projections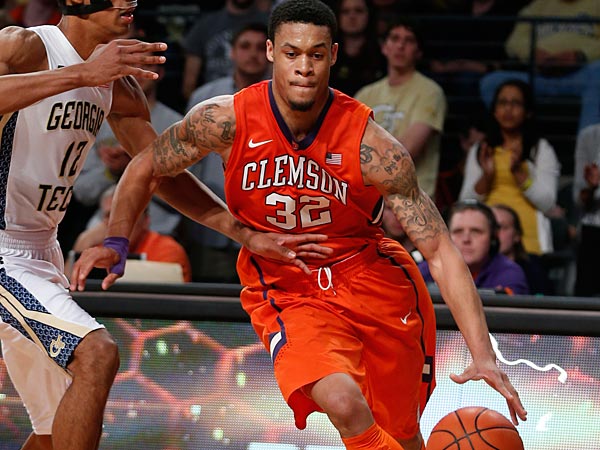 The Sixers may have made themselves better in the long term on Thursday night, but those looking for instant impact were likely disappointed.
Sixers draft pick projections

The Sixers may have made themselves better in the long term on Thursday night, but those looking for instant impact were likely disappointed.
The Sixers top two picks in the draft, Joel Embiid and Dario Saric, won't appear on the court for the team until, at the earliest, January and the 2015-16 NBA season, respectively. The team did snag some talent in the second round that could contribute on the court this season however, in forwards KJ McDaniels and Jerami Grant.
Let's take a look at how each of these picks project for the future of the franchise:
Joel Embiid, C, Kansas: For the second year in a row, the Sixers landed the guy that was initially tagged as the top talent in the draft but slid because of injury issues. Embiid was an extremely bold pick, especially on the heels of Nerlens Noel sitting all season and the Andrew Bynum debacle the year before. The potential upside is enormous, but so is the potential risk. Make no mistake about it, missing out on another top-ten talent in the 2014 Draft for a player that ends up oft-injured would be detrimental to the development of the Sixers.
When he does come back, his fit with the franchise is as a frontcourt fixture alongside Nerlens Noel. He will provide a constant presence in the paint, and if he expands offensively he could develop into a reliable source of production from the post.
Best-case scenario: Embiid recovers well from his current injury issues and has a long, productive career as a dominant paint protector for the Sixers.
Worst-case scenario: Embiid is doomed for a career of injury issues and cannot stay on the court consistently enough to truly help the franchise.
Dario Saric, F, Croatia: Saric could be a really nice piece for the Sixers…eventually. He is a supremely talented forward who can handle the ball, make the right read, rebound, pass, and run the floor. Although he may not develop into the next Nowitzki, Saric compares himself to more of a Toni Kukoc/Lamar Odom type, he has the potential to be a very good NBA player.
The Saric selection was not risk-free however, and what would the fun be in that anyway? (Or at least that seems to be the Sixers' draft day motto). The forward recently inked a fresh deal in Turkey, and he won't be over in America for at least a season, likely more. What if he suffers a career-altering injury before he ever comes over and suits up for the Sixers? What if he decides that he loves Turkish basketball and doesn't want to come play in the superstar-centric NBA? (In his defense, he did say that he was not a 'liar', and promised to eventually come play for the Sixers in his post-selection press conference). Nonetheless, risk is still present.
As far as his fit with the franchise, and his frontcourt fit with Noel and Embiid, well that is difficult to project. Sam Hinkie confirmed as much Friday afternoon, saying that he was not sure how exactly the three would fit together down the line, and that he was ultimately collecting assets. Considering that approach, the Sixers got themselves a potentially very valuable asset in the multi-faceted forward.
KJ McDaniels, F, Clemson: McDaniels represents a value pick here for the Sixers, as many mocks had him pegged as a first round talent. McDaniels also represents the first Sixer selection of the 2014 Draft that can actually suit up to start the season. McDaniels is an explosive athlete that will fit in nicely in the Sixers' uptempo system, as he is extremely active on the glass and in the open court.
Along with Noel, McDaniels is one of the players who may be most exiciting to watch in the upcoming summer leagues, due largely to his ability to explode to the ball and to the rim.
Depending on his development throughout the summer and training camp, McDaniels may have an opportunity to contend for the starting small forward spot on the SIxers next season. If not, he could at least be a reliable rotation perimeter player.
Jerami Grant, F, Syracuse: Grant was another value pick here. Hinkie said he was 'shocked' that Grant was still available at the time of his selection, and he didn't miss out on the opportunity. Grant, whose NBAdraft.net NBA-comparison is Thaddeus Young, is an athletic forward who has a varied skill set, but doesn't do one thing exceptionally well. Like Young, Grant may be a sort of 'tweener', in that he isn't necessarily a polished perimeter player, but also doesn't possess the size to bang on the block.
Like McDaniels, Grant's greatest tool may be his athleticism, but also like McDaniels, he is not yet a consistent shooter; something that the Sixers desperately need. Considering that Glenn Robinson III, somone the Sixers were reportedly interested in, was available, Grant's selection was somewhat of a head-scratcher. Still, he is an excellent athlete that may be able to excel in the Sixers' system. He projects as a rotation player for the upcoming season, providing the team with some depth and versatility off of the bench.
Vasilje Micic, PG, Serbia: Micic has one thing that Hinkie and Brett Brown really seem to like: size at the point guard position. At 6'6'', Micic has great size for the position, and it allows him to see over the defense and make good reads/plays. He has elite passing skills, and he is described as being excellent in the pick and roll, a positive for the Sixers' offensive approach.
Unfortunately, Micic isn't a consistent shooter. A solid shot would greatly improve his value, and hey, it would sure help the Sixers. Realistically, Micic will probably be stashed overseas for some seasons, but eventually he could conceivably compete for a back-up point guard role.
Jordan McRae, SG, Tennessee: At long last. Fifty-eight picks into the draft, the Sixers selected someone who could shoot. McRae is not a Ray Allen-clone or anything, but he showed some range and consistency in college, and definitely has some shot-making ability. He is immediately one of the better shooters on the Sixers' roster, although that's not saying much. At his best, he is someone that could help to space the floor for Michael Carter-Williams and open up the offense.
McRae could benefit from bulking up, and if he does, his defensive ability could potentially make him a solid two-way player, and there's always room for those in a rotation. McRae will be someone to keep an eye on throughout summer league, as he will likely have to earn his spot next season.