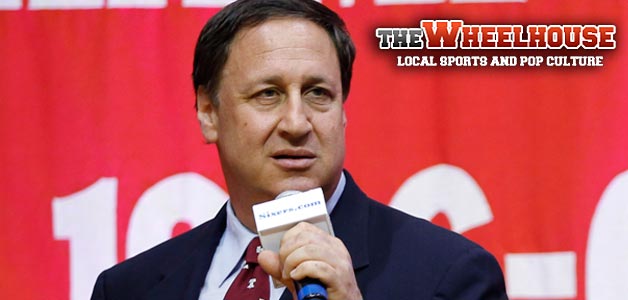 Adam Aron's 2013 Apology Tour is underway, as the Sixers co-owner and chief tweet-appeaser makes himself available to give vague, elusive responses to the fans.
"This is a move that should have worked," co-owner Aron said, reflecting on the Bynum trade during an interview with CSN Philly.
The situation of "everyone connected to the Sixers" was called a "raw deal." A ticket-hawking billboard featuring Bynum was called "a mistake by the billboard company." (Oh, those bumbling, madcap stooges at the billboard plant!)
This trade and all the aspects of it will continue to be discussed, but in the mean time, the Sixers have a future to plan for.
76ers are going global. Will play preseason games in Bilbao, Spain and Manchester, England.

— Dan Gelston (@APgelston) March 5, 2013
Classic PR move. If there's one place a Bynum-less Sixers squad will be appreciated, it's overseas, where Sixers legends go to make their mark.
ALL THE TIME IN THE WORLD
The World Baseball Classic may be harder to follow, as the players aren't as recognizable and some of the Japan-based games don't start until 6:30 in the morning (our time), but it still serves as a global reminder that baseball is universally uplifting/emotionally destructive.
China and Brazil squared off in a mostly empty stadium early this morning, both teams trying to punch through and secure their first tournament win. A comeback grounder, some stifling pitching, a blown five-out save, two bases loaded walks, and some horrified gasps later, we had our first t-shirt idea of the WBC:
"I just did what Ray Chang could do."
--Ray Chang, China IF
LIKE A ROCK
Harrison Ford is having a busy month, for an old man who doesn't like to be bothered.
After rumors started that the 70-year-old actor could reprise his role as Han Solo in the upcoming Star Wars: Episode VII, it was announced that he would be asked to sit gruffly behind a desk and growl at the camera as an iconic news reporter in Will Ferrell's Anchorman sequel.
The action will unfold in sunny San Diego, where we can presume that something horrible happens to Ford's family in a shoehorned subplot about him getting them back at any cost, with intermittent cuts to Brick Tamland getting his hand stuck in a toaster oven.
THE OLD COLLEGE TRY
There will be intense, championship basketball at the Wells Fargo Center in a couple of weeks, only none of the Sixers will be playing.
The WFC is hosting a few second and third round games of the NCAA March Madness tournament on March 22 and March 24, putting a refreshing spin on the sport as, again, the Sixers will not be the ones playing it.
Maybe some underdog college team can do for the building what the Sixers seemed completely incapable of doing in it all year long.
Sixers have lost 10 straight on the road for the 8th time in franchise history.

— Bob Vetrone Jr. (@BoopStats) March 4, 2013
Then again, maybe the building wasn't the problem.