Philly's Three-Win Day Roll Call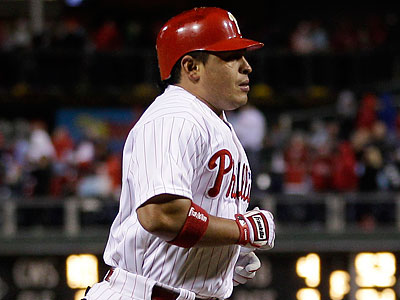 Recapping the 24 days on which three Philadelphia sports teams won.
Philly's Three-Win Day Roll Call

The Flyers' big comeback Wednesday topped off the 24th day in Philadelphia sports history in which three professional teams won. A complete listing of those dates and scores is below (postseason games in bold).
Notable: The trifecta has happened four times since 2008 ... Two of Wednesday's victims are on this list multiple times. The Penguins have been the Flyers' victim the most times (five) and the Marlins have been the Phillies victim the most times (three). In fact, both teams lost on March 31, 2003 and coupled with a Sixers OT win in Orlando to notch Triple Day No. 20 ... Four times in 1980, teams pulled the trifecta. It was also done on back-to-back Sundays in 1985 ... On Dec. 26, 1982, the Eagles, Flyers and Sixers all won on the road ... On Sunday, April 21, 1985, the Phillies, Flyers and Sixers all won at home. In the afternoon, the Phils topped the Mets and the Sixers beat the Bullets at the Spectrum, which then turned over to hockey and the Flyers topped the Islanders. Both Spectrum games were postseason contests.
Day, Date
Baseball
Football
Hockey
Basketball
Sunday
Sept. 25, 1938


Phillies 5,
@Dodgers 1 (G2, 7)
Athletics 6,
Senators 5 (G1, 10)
Eagles 14,
Giants 10


—



—



Sunday
Sept. 28, 1952


Phillies 7,
@Giants 4
Athletics 9,
Yankees 4
Eagles 31,
@Steelers 25


—



—



Sunday
Dec. 17, 1967
—

Eagles 28,
Browns 24
Flyers 2,
Penguins 1
Sixers 139,
@SuperSonics 124
Sunday
Oct. 24, 1971
—

Eagles 23,
Giants 7
Flyers 2,
Blackhawks 1
Sixers 111,
@Cavaliers 93
Sunday
Nov. 30, 1975
—

Eagles 27,
49ers 17
Flyers 5,
Canucks 3
Sixers 113,
@Jazz 96
Sunday
Dec. 12, 1976
—

Eagles 27,
Seahawks 10
Flyers 7,
Maple Leafs 4
Sixers 107,
@Bucks 102
Sunday
Dec. 17, 1978
—

Eagles 20,
Giants 3
Flyers 4,
Blues 1
Sixers 103,
@Lakers 96
Saturday
Oct. 11, 1980
Phillies 5,
@Astros 3 (10)
—

Flyers 5,
@Blues 1
Sixers 126,
@Bullets 120 (2 ot)
Sunday
Oct. 19, 1980
Phillies 4,
@Royals 3
Eagles 17,
Cowboys 10
Flyers 2,
Canadiens 1
—

Sunday
Nov. 9, 1980
—

Eagles 34,
@Saints 21
Flyers 3,
Nordiques 1
Sixers 136,
@Bucks 121
Sunday
Dec. 14, 1980
—

Eagles 17,
Cardinals 3
Flyers 5,
Blues 4
Sixers 114,
@Nets 107
Friday
April 24, 1981
Phillies 6,
@Cubs 4
—

Flyers 3,
@Flames 2
Sixers 110,
Celtics 100
Sunday
Dec. 26, 1982
—

Eagles 24,
@Cowboys 20
Flyers 6,
@Capitals 3
Sixers 124,
@Spurs 122
Sunday
April 21, 1985
Phillies 10,
Mets 6
—

Flyers 5,
Islanders 2
Sixers 113,
Bullets 94
Sunday
April 28, 1985
Phillies 3,
Cubs 2
—

Flyers 1,
Islanders 0
Sixers 127,
@Bucks 105
Sunday
April 26, 1987
Phillies 6,
Pirates 4
—

Flyers 6,
@Islanders 4
Sixers 125,
@Bucks 122 (ot)
Sunday
Dec. 17, 1995
—

Eagles 21,
Cardinals 20
Flyers 6,
Penguins 5
Sixers 101,
@Timberwolves 99
Wednesday
April 8, 1998
Phillies 9,
Marlins 5
—

Flyers 6,
@Lightning 1
Sixers 109,
Hornets 101
Saturday
Jan. 19, 2002
—

Eagles 33,
@Bears 19
Flyers 3,
@Maple Leafs 0
Sixers 97,
Knicks 89
Monday
March 31, 2003
Phillies 8,
@Marlins 5
—

Flyers 6,
@Penguins 1
Sixers 118,
@Magic 113 (ot)
Friday
April 4, 2008
Phillies 8,
@Reds 4
—

Flyers 3,
Devils 0
Sixers 109,
@Hawks 104
Sunday
April 19, 2009
Phillies 5,
Padres 4
—

Flyers 6,
Penguins 3
Sixers 100,
@Magic 98
Sunday
April 24, 2011
Phillies 3,
@Padres 1
—

Flyers 5,
@Sabres 4 (ot)
Sixers 86,
Heat 82
Wednesday
April 11, 2012
Phillies 7,
Marlins 1
—

Flyers 4,
@Penguins 3 (ot)
Sixers 93,
@Raptors 75