Phantom Call?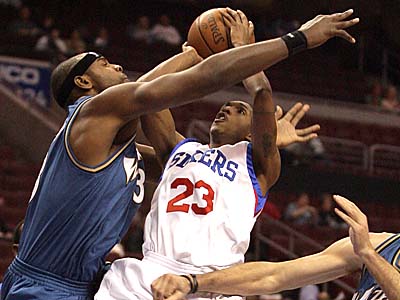 The 76ers lost tonight, 90-89, when replacement referees called a three-shot foul with 0.3 seconds left on Willie Green. Green had just made 1 of 2 free throws to give the Sixers a 89-88 lead with 1.0 seconds left.
Phantom Call?

The 76ers lost tonight, 90-89, when replacement referees called a three-shot foul with 0.3 seconds left on Willie Green. Green had just made 1 of 2 free throws to give the Sixers a 89-88 lead with 1.0 seconds left.
The Wizards called a timeout then inbounded the ball on the sideline. Wizards guard Mike James heaved a three at the buzzer, which fell short. The game appeared to be over, the Sixers PR staff even dropped the streamers they save only for victories. But, within James' final attempt, one of the referees saw a foul on Green -- who appeared to be far away from James -- and blew his whistle. Multiple replays seemed to show James went untouched, but I was squinting at the little TV box on press row, looking at the Comcast broadcast. The closest Sixer to James appeared to be Jason Smith.
After the game, we talked to Green about the call. He was very forgiving. In the video player at the right, you can check out the video of Green in the Sixers locker room post-game. In his post-game press conference, Eddie Jordan said, with a little smile on his face, "It's the pre-season, we're all a little bit rusty."
So, moving on from the end-of-game issue, let's look at the game itself.
Before the game, in his press conference, Jordan commented on how resilient his team had been, how they had managed to find a way to win this pre-season. As this game played out, that's exactly what seemed to be happening. The Sixers played poorly in the first half and even in the third quarter things weren't looking pretty. Before the end-of-game call, that's exactly what the story seemed to be: Sixers play poorly but still find a way to win. Before the fourth quarter, the story seemed to be that the Sixers were a week away from the season opener and seemed totally out of sync. This team keeps you on your toes.
(Also of note, the Wizards were missing Antawn Jamison, Gilbert Arenas, and Mike Miller ... so, basically, their three best players.)
During the game, I made a few notes about certain plays I found interesting:
1.) There was one possession in the second quarter -- with the second unit -- where they didn't even get into a set until there were about 7 seconds left on the clock. Royal Ivey called "horns" (interesting, since he's from UTexas), which is a high 1-4 set. Ivey gave it to Green, who took one dribble and shot a bad jumper going left. The Sixers called this "horns" play at least three times tonight. On one occasion, Lou Williams waited until the left wing cleared, dribbled off the on-ball at the high post, and got to the basket.
But, back to the reason for the discussion of this second-quarter possession: There were too many possessions like this tonight, where the Sixers were trying to get into a set with under 10 seconds on the 24-second clock. There just seemed to be too many wasted possessions. But what can you say? It's pre-season, so it's tough to tell what is being done as exercise and what is being done for real. Guess we'll know the answer on Oct. 28, at the Orlando Magic.
2.) On one play, also in the second (the Sixers scored only 17 points in each of the first two quarters), Elton Brand grabbed a rebound on one end, ignored Iguodala and Williams, dribbled up court to the elbow, penetrated to the block, tried to make a move, and missed a bad shot. This appeared like a frustration possession from Brand, clearly. He played 23 minutes tonight and went 1 for 4. Four shots? Four? Four shots for the power forward who's supposed to take this team to the next level? Tonight, Brand was like the 4th option, at best. There did not seem to be a place for him in this Princeton Offense.
Marreese Speights looked effective, per usual. He sure does like to shoot, but at least he's shooting a high percentage -- 6 for 12 tonight. Jason Smith played very well in the fourth quarter, I'd go so far as to say he sparked the comeback and definitely played his strongest minutes since returning from the torn ACL.
It's tough to say exactly where the Sixers are right now. Just when they look bad, and you think they're far behind, they have an amazing quarter and steal the game. Hard to question a team that started the pre-season 5-1. The played strong defense tonight and their presses (both full-court and three-quarter) were effective. I will say that I think the Princeton Offense is not as far along as Jordan is claiming. He said before the game that he's taught this team, in three weeks, what usually takes other teams two months to learn. Maybe they know it and they aren't using it? But what they showed tonight -- for much of the game -- was not a mastery, or even the beginnings of mastery, of this offense. It barely looked like comprehension.
That's it for now. I'm feeling like there won't be too many answers until Oct. 28,
--Kate