Hawes excited about Cavs opportunity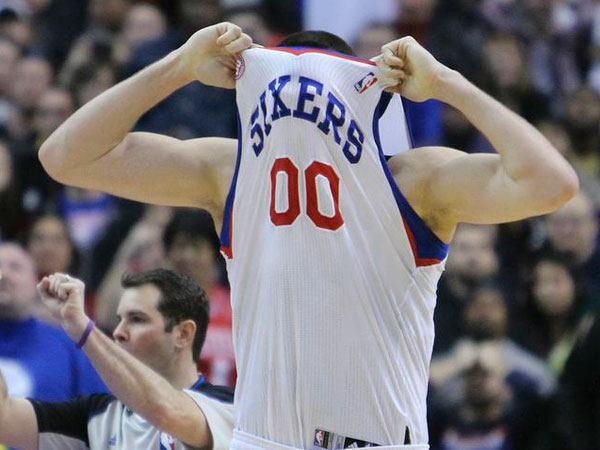 Here's what Spencer Hawes had to say after being traded to Cleveland.
Hawes excited about Cavs opportunity

The 76ers traded Spencer Hawes to the Cleveland Cavaliers for forward Earl Clark, center Henry Sims and two draft picks Thursday morning. I caught up with the 7-foot-1, 245-pound center after he addressed his (now) former teammates and cleared out his belongings from the Sixers practice facility at Philadelphia College Osteopathic Medicine Thursday afternoon.
Here's what he had to say:
On being a Sixer for 3 ½ seasons after being traded from Sacramento in June, 2010:
"I had an unbelievable time here. I have nothing but good things to say about the city. The people here, that's who you miss most."
How would you grade the 76ers' trade deadline deals?
On becoming a Cav:
"It's a good opportunity going forward. It's a chance to kind of start anew and start fresh with another organization."
On this message to his former teammates:
"I just went in and wanted to tell everybody goodbye and thanks, I had a great time playing with them and best of luck with everybody. Best of luck with the organization going forward."
On his fondest memory as Sixer:
"Probably that playoff run [in 2012]. To be a part of that was special to me and the guys here."
On when he found out about the trade:
"I found this morning. My agent gave me a call. The limbo is probably the toughest thing about it. You hear your name so much floated here, floated there. It's nice to kind of have a result."
On did he think he would be traded:
"I did, I thought given the whole situation, it made sense for both parties involved and both organizations. It turned out pretty well. So that's the kind of deal you want to make."
On the excitement on going to the Cavs, who won six straight games:
"I think they have been playing really well recently. Obviously, you can attest to that the other night [Tuesday's 114-85 win over the Sixers]. So it's good to be a part of that, make the most out of the stretch run."
On improving in the Sixers organization:
"The organization gave me a wonderful opportunity when I was only 21 years old to really come out here and kind of try start my career and put it in a different direction, which I think I was able to do. And I think coach [Brett] Brown kinda gave all us the freedom to try to expand our games and improve. And I think it's all helped me out."